I think I have probably admitted more than once that making school lunch is not my favorite thing to do.  Breakfast, no problem.  After-school snacks, easy.  Weeknight dinners, fun times!  But my inspiration for school lunches is usually reheated leftovers from dinner.  I know, yawn.

Baked Black Bean or Chicken Taquitos Recipe
Ingredients
Unrefined, cold pressed, extra virgin olive oil for brushing tortillas
12 5-inch corn tortillas (thinner ones work better than thicker)
1 ½ cups refried black or pinto beans or 1 (15-ounce) can (Trader Joe's and Amy's brands have no BPA in can liner) OR
2 cups cooked, shredded taco chicken meat*
⅔ cup shredded cheese (optional)
Suggested accompaniments: guacamole and salsa
Instructions
Preheat oven to 400 degrees. Line a large baking sheet with parchment paper and brush lightly with olive oil.
Warm tortillas on a griddle or in a skillet until warm and pliable (about 30 seconds on each side.) This will prevent them from cracking when you roll them.*
Place the tortilla on a plate or cutting board and spoon 1 ½ Tablespoons of beans across the diameter of the tortilla. Sprinkle with 1 Tablespoon of cheese, if desired.
Roll tortilla up into a cigar and place seam down on the baking sheet. If they do not stay rolled up, you can keep them closed with a toothpick.
Continue filling and rolling remaining taquitos and assemble them evenly spaced on the baking sheet.
Brush the tops of the taquitos with olive oil.
Bake for approximately 15 minutes until brown and crispy.
Serve plain or with guacamole and salsa.
Notes
*If your tortillas are a few days old, you can brush them with a little water before heating them. You can also heat all the tortillas before filling and keep them warm in a thin, clean, barely damp dish towel.
Notes: you can also make "flautas" with flour tortillas instead of corn!
*See
this recipe
for one way to do this.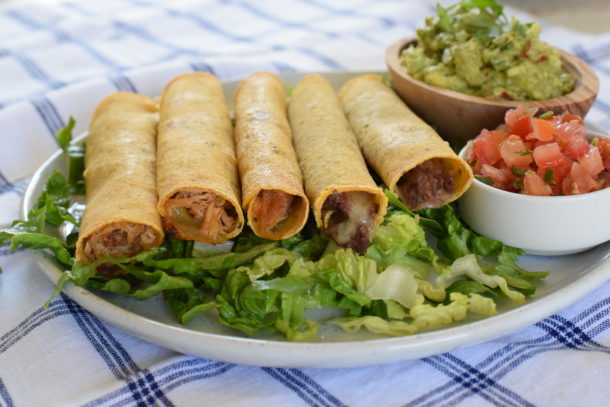 Since Tuesday of this week was the first day of school for Mr. Picky, I am back in lunch-making mode which means I am always talking about it.  "Mr. Picky, what are you thinking for lunch tomorrow – soup or almond butter and banana sandwich?"  "Mom, I haven't even eaten today's lunch yet. Can I let you know later?"  Ugh.  Later turns into never and then I start stressing if Mr. Picky goes to bed without having agreed on a lunch for the next day.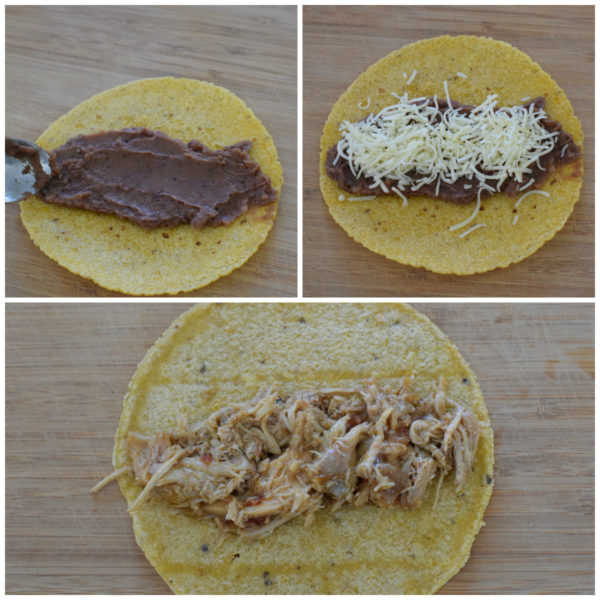 However, one lunch that he always loves is taquitos of any kind.  But the ones in the frozen section of your favorite supermarket are guaranteed to have tons of junk added and they are often fried.  Uh oh.  Lucky for us, they are simple to prepare at home.  I usually make black bean or chicken.  This recipes gets really easy if you use canned refried beans or leftover slow cooker chicken taco meat.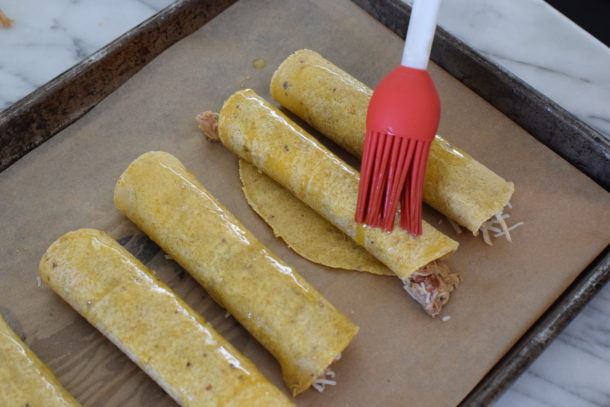 It's as simple as warming your tortillas until they are pliable, adding a filling, rolling them up, brushing the outside with oil so they crisp up and baking them until golden.  Any taquitos not eaten immediately get frozen for those days when I have no plan.  If you want to freeze them, instead of baking them all the way, bake for 10 minutes, cool and freeze.  To reheat, bake frozen taquitos for 8-10 minutes.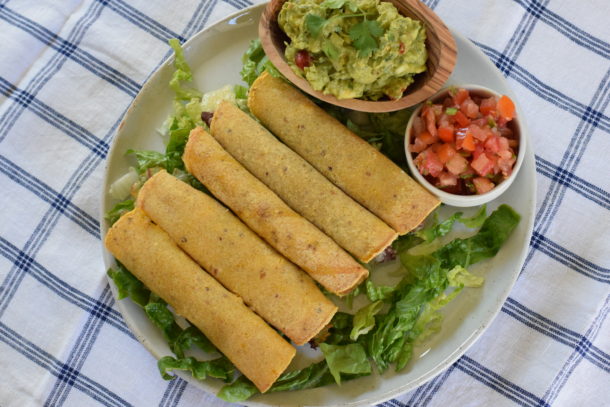 I prefer using sprouted, organic corn tortillas whenever possible because they taste great and they are the most nutritious option in a field of genetically modified, preservative -laden products.  But, sadly the sprouted corn tortillas don't hold their shape as well when they are rolled up and baked.  Just a warning.  You can still find organic, non-GMO tortillas which I would recommend.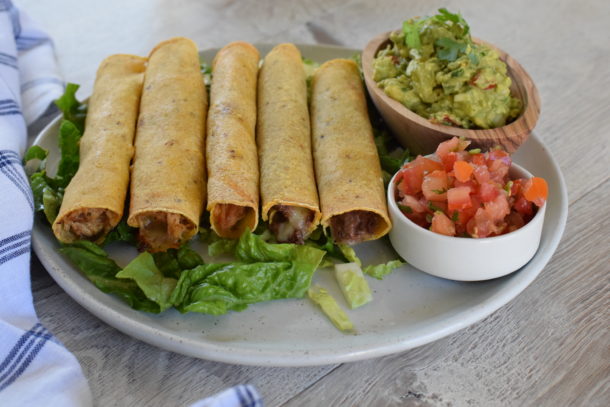 Here's hoping your back-to-school experience is a good one and may your lunches be effortless!