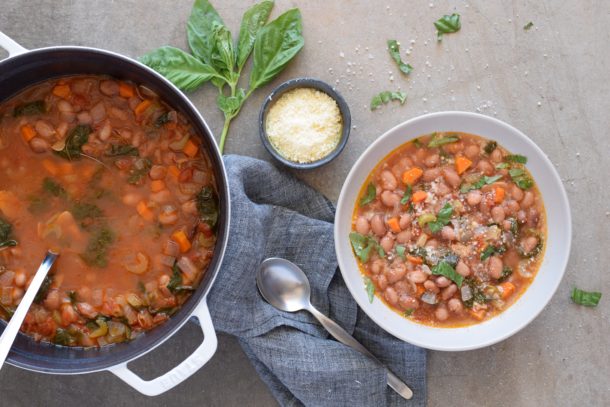 Let me get right to it — this soup is made with "Cranberry Beans," not cranberries and beans.  This came up a lot when I taught this soup last fall in my cooking classes.  The lovely and tasty cranberry bean is also known as a "Borlotti bean," and might be my favorite bean ever, which says a lot since I am legume crazy!  All beans are not created equally, amongst varieties and brands.  Cranberry, aka Borlotti, beans are rich and flavorful with a soft and creamy interior.  They make the best soups.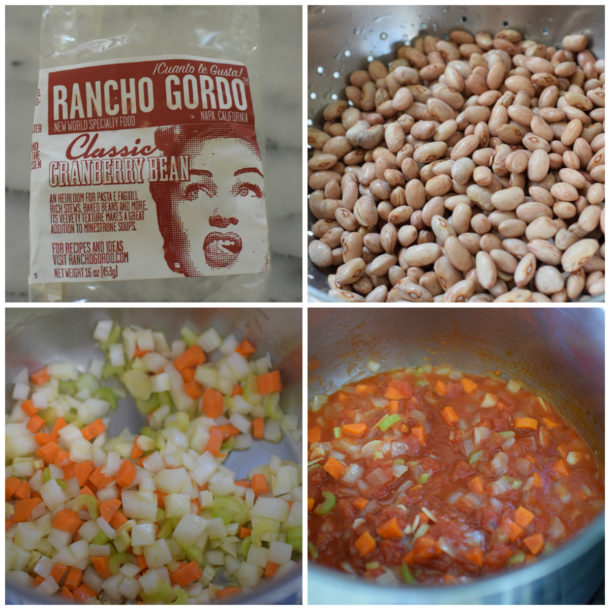 Rancho Gordo is probably my favorite source for dried beans.  They have the freshest product and the most interesting varieties.  I buy them at Grow, a local store in Manhattan Beach, but they can also be ordered online directly from Rancho Gordo.  That said, you can substitute pinto beans in this recipe and you will still love this soup.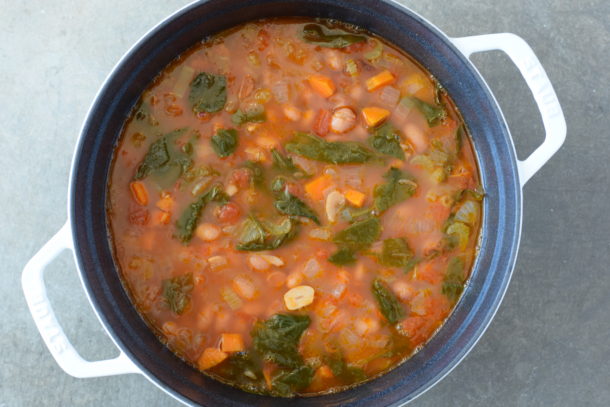 I could eat this soup all the time.  It is so delicious, hearty and satisfying.  I usually use some sort of stock in my soups, but these beans have so much flavor, I used water and everyone thought there was stock or pork in the soup.  Nope!  Plus, I did add my favorite secret Italian soup ingredient, a piece of Parmesan rind, which always adds a huge flavor boost.  If you don't have a piece of Parmesan on hand, you can check the cheese counter at your local market.  My Whole Foods sells the rinds.  I'll buy a container of them and keep them in the freezer.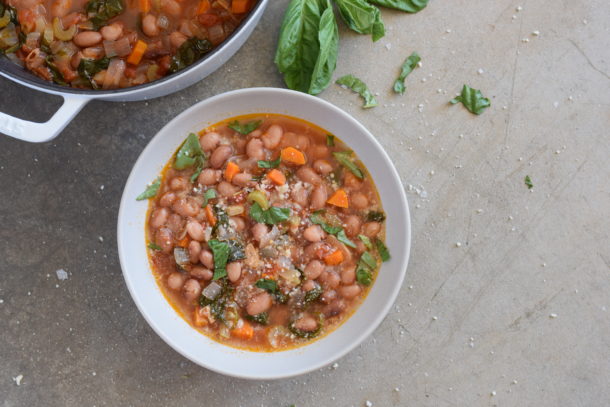 Otherwise, this is a very simple soup with great results.  I usually make this for lunch on the weekends or a Meatless Monday meal since there's tons of protein from the beans.  The soup is always enough for me, but if my husband wants a little more, I'll make a side salad or some avocado toast.  Since my daughters are both in college now (sniff, sniff), I am finding that one recipe of soup is too much for the three of us.  So whatever is left can be frozen easily.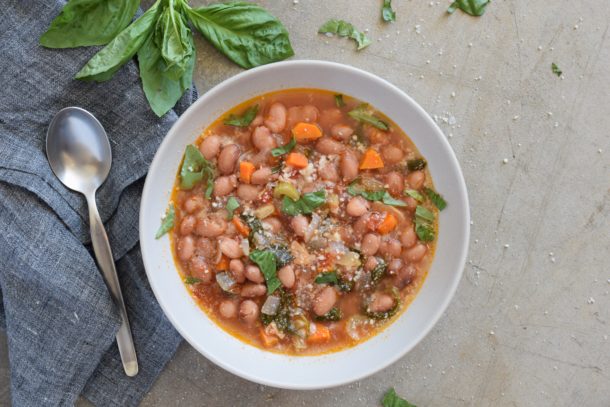 It has been crazy warm in LA up until recently, so I was waiting for that first cool evening to share this soup recipe.  Voila!  I also think this would be the perfect pre-trick-or-treating meal (BTW, that would be a week from Monday!)  I always like to fill up those bellies so that as little candy as possible can fit in there.  Hope you have a cozy week!

Cranberry Bean Soup Recipe
Ingredients
2 Tablespoons unrefined, cold-pressed extra-virgin olive oil
1 large onion, chopped
4 garlic cloves, thinly sliced
2 carrots, diced
2 stalks celery, sliced
1 18 ounce jar diced tomatoes with juice (I like Jovial)
1 pound dried cranberry beans (aka Borlotti beans), soaked at least 6 hours or overnight and drained (I prefer Rancho Gordo), or use pinto beans
Large piece of rind from a wedge of Parmigiano-Reggiano cheese (if you have it)
8 cups of water, or homemade chicken or vegetable stock
3 cups baby spinach leaves or chopped Swiss chard leaves
2 teaspoons sea salt or more if using unsalted stock or water
Freshly ground black pepper to taste
Sliced basil leaves or pesto for garnish (optional)
Freshly grated Parmigiano-Reggiano or Pecorino-Romano cheese (optional)
Instructions
Heat the olive oil over medium-low heat in a large pot and add the onions, garlic, carrots and celery. Cook until vegetables have softened and the onions are tender and translucent, about 8 minutes.
Add the tomatoes with the juice and cook for 5 more minutes, until the tomatoes are fragrant.
Add the drained beans, Parmesan rind and water or stock (do NOT add salt here) and bring to a boil. Lower the heat and simmer, partially covered for 1 hour, or until the beans are tender. Softening the beans can take anywhere from 1 to 2 hours, depending on the age of the beans.
Once the beans are softened, add the spinach and stir until wilted.
Add the salt and pepper and taste for seasoning. Top with sliced basil leaves or pesto and grated cheese (if desired).
Notes
This soup is excellent with a little turkey bacon or pancetta. In Step 1 before adding onion, sauté diced meat until browned and then add onion, etc.
To make this truly vegan, omit the parmesan rind.