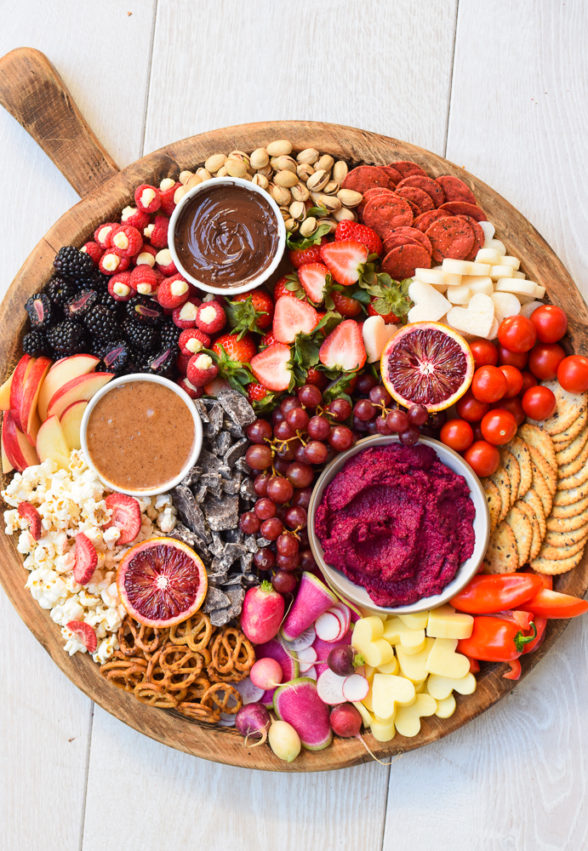 I am so fond of food boards in any shape or form.  Cheese, charcuterie, crudités and dessert boards have been having a moment.  They're a very modern and beautiful way to present small bites.  But I have also been doing less traditional, but equally as fun, lunch and snack boards.  Put a bunch of colorful, easy and pre-made snacks on a wood board, cutting board or baking sheet and you've got yourself an instant party.  Everyone can help themselves and you look like a star!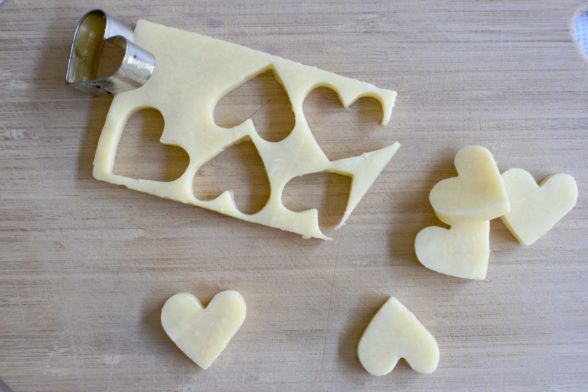 I had so much fun putting together this Valentine's Day snack board.  I thought this would be a great idea if you have people coming over, whether they are kids or adults.  "Galentines" parties are big right now.  That's a Valentine's party where you invite your gal pals.  Cute, right?  I would 100% serve this to my girlfriends with some rosé for a happy hour get-together or before a light dinner.  It would also be perfect for a kids' party instead of all the junk that is marketed on Valentine's Day.  Not trying to make anyone feel bad if s/he buys neon pink-frosted cupcakes and candy dyed with Red 40 for Valentine's Day.  But, everyone that saw this board just about freaked out and there's really not much to it, if you think about it.  It's fairly healthful, although I know there are some items which are not (I'm talking to you, pretzels.)  But the point is that you can just use this as inspiration and make your own with what you have in the pantry (yes, I am STILL on a pantry purge) or at the market.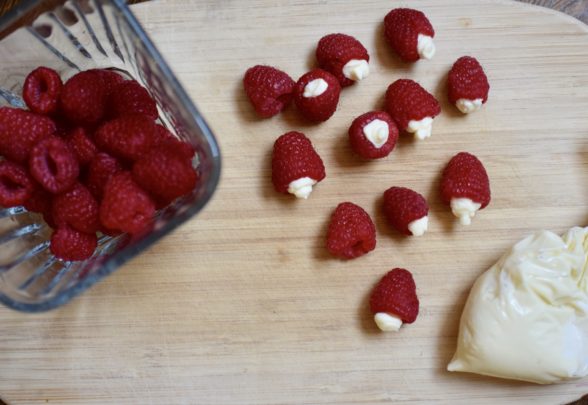 I will admit, the cream cheese-stuffed raspberries were a huge hit.  You can do the same with strawberries and you can use a good vegan cream cheese like Kite Hill if you need to.  You have plenty of time to buy some heart-shaped cookie cutters.  It's amazing all the things you will start cutting into hearts.  You will get carried away.  That's part of the fun.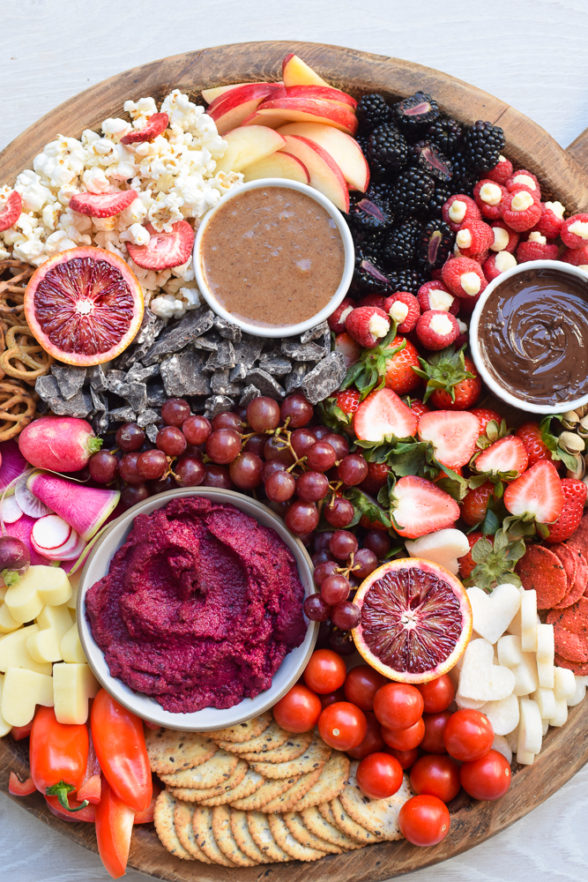 Below I offered some suggestions for Valentine's Day snack board ideas.  You can buy everything if you want, or you can make a few homemade treats.  I have a mix here.  I put in a little effort, but trust me, this was not hard at all.  Anyone can put something like this together and these boards are a great way to entertain, especially for people who are intimidated about cooking for others.  There's no right or wrong way to do this, but you definitely want to create a full board and make it bright and colorful (not hard to do with fruits and veggies, hint, hint.)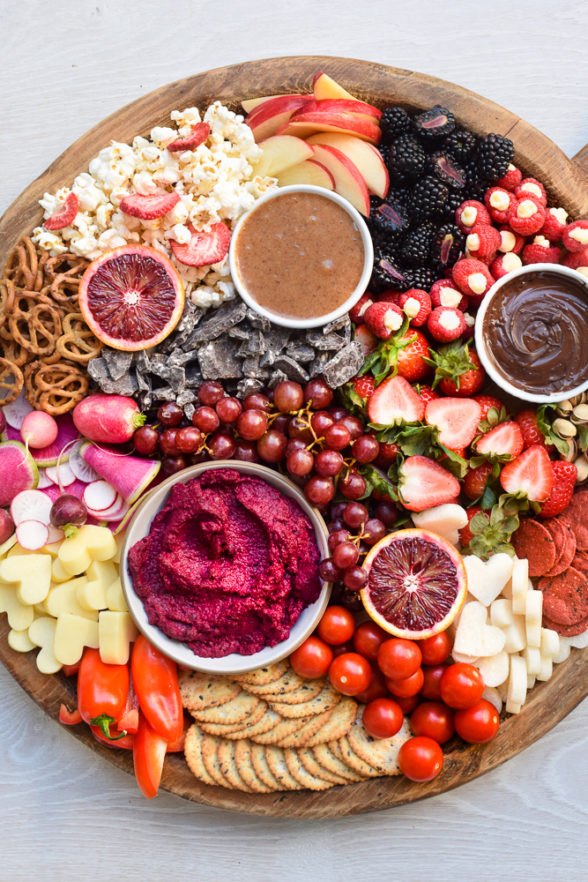 One last thought is that you can make a beautiful snack or dessert board like this and bring it to a party or a school function.  It's so conducive to prepping ahead.  If you are inspired to whip up a Valentine's Day snack board or dessert board, please tag me so I can see your creations!  @pamelasalzman #pamelasalzman  I look forward to seeing all your LOVE-ly boards next week!
Ideas for a Valentine's Day snack board:
Beet hummus – Use this recipe to make from scratch or use store bought hummus and add 1/2 a cooked beet and blend in the food processor.
Chocolate sauce – see this recipe for how to make chocolate sauce
Date-sweetened vegan caramel sauce (to die for!) from my cookbook, Kitchen Matters
Sweetened cream cheese-stuffed raspberries – see recipe below
Chocolate covered strawberries
Fruit: strawberries, raspberries, blackberries, blueberries, pomegranate seeds, blood oranges, apples (toss in water with a tablespoon of orange juice or lemon juice to prevent browning), grapes, cherries
Veggies: Red bell peppers, cherry tomatoes, radish, jicama (which I cut into heart shapes here), white or purple carrots
Store bought or homemade chocolate bark
Sweet tortilla chips with fruit salsa
Strawberry mini muffins – this is a yummy recipe for strawberry muffins, but could also be store-bought
Popcorn – here's my method for the best stove-top popcorn
Pretzels
Beet chips
Beet crackers or regular crackers
Nuts
Cheese – I used Organic Pastures raw cheddar and cut slices with a heart-shaped cookie cutter
Bliss Balls rolled in crushed freeze-dried raspberries – this recipe is also in my cookbook
Small squares of chocolate cake or brownie – this chocolate zucchini cake or these brownies would be great for a snack board
Fruit leather rolled in parchment paper and tied with string

Sweetened Cream Cheese Stuffed Raspberries
Ingredients
6oz raspberries, washed and dried
4 ounces cream cheese, at room temperature
¼ cup powdered sugar
½ teaspoon pure vanilla extract
Instructions
Place the cream cheese, powdered sugar and vanilla in a bowl of an electric stand mixer fitted with the whisk attachment. Whisk until fully mixed and soft.
Place the cream cheese mixture in a piping bag or a quart sized ziplock bag and cut off a very small bit of the end.
Squeeze the cream cheese mixture into each raspberry until full. Eat immediately or refrigerate until ready to use.
Notes
Can also be done with hulled strawberries