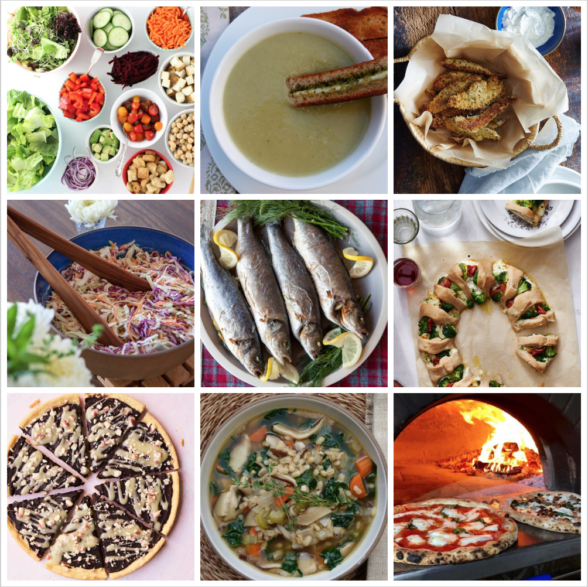 Christmas will look very different for us this year, but we're going to make the best of it.  The five of us will be at my mom's house on Long Island for the winter break, and we're staying put the entire time.  No outings or visits, just hanging out at home.  Next year, I'd like to think will be back to the way things were.
If you subscribe to my website, look out for an announcement in a few days for sign ups for my Plant Based Bootcamp!  I have taught this 4-week course a few times and I will repeat it again in January 2021.  If you didn't get to take it this fall, don't hesitate to sign up.  This course was incredibly well-received, so much so that I am creating content for a Plant Based 2.0 which I will launch in February!  For my subscribers, I offer a $100 discount with the code PB100
Other administrative details:  my monthly online cooking class students, I am going LIVE on our private FB page on Sunday at 9:00 am PST.  I am doing my weekly Instagram live on Monday at 5:00 pm PST and Hubs and I are going to continue our new weekly series called Takeout Tuesdays at 5:30 pm PST on Instagram.  Hope to see you all soon!  Here's your dinner planner for the week:
Meatless Monday: DIY bowl night with black beans, rice, quinoa, lettuce, salsa, vegan queso, roasted brussels sprouts, chipotle cauliflower, and pickled onions (on page 109 of KM)
Tuesday: Broccoli stalk soup served with grilled cheese sandwiches
Wednesday: Ranch Chicken Fingers p. 227 from Quicker than Quick, coleslaw, baked chipotle sweet potato fries
Thursday (Christmas Eve): Normally, this is a potluck dinner at my aunt's house for 100-120 people!  We always have dozens of fish dishes, including linguine with clam sauce, baccala, stuffed clams, eel, octopus and more.  But since that can't happen this year, we'll be doing a small Italian Christmas Eve with my mom.  We will do linguine with clam sauce (I do my own recipe which is similar to this one but with a little tomato cooked into the sauce); probably the Cod Acqua Pazza or the Halibut with Capers and Lentils from my December online class; a simple arugula and radicchio salad; and maybe some garlicky broccoli rabe. Here's a recipe for Whole Roasted Branzino if you're in the mood for an easy and elegant fish dish or you can do the broiled branzino fillets from QTQ.  I will be making the Sticky Toffee Cake from my December online class. And the kids will make loads of cookies and bars that we'll eat on Christmas as well.  I know Anna wants to make Magic Bars, Emma will make Molasses Ginger Cookies, and my niece is making Peppermint Bark Shortbread.  I received a few recommendations for Cucidati, Italian fig cookies.  Wish me luck and Buon Natale!
Friday (Christmas Day): My mom hosts Christmas dinner and we'll start off with a big cheese board with nuts, salami and crudites.  Plus I'll make the Italian 7-layer dip, Baked Feta from QTQ, cheesy pull apart bread or broccoli and roasted tomato stromboli wreath from Quicker than Quick. My mom always makes chicken soup with tortellini and beef tenderloin, and a new tradition is the vegan lentil shepherd's pie. I'll let the kids choose from Cauliflower with Pomegranate Molasses, Puree of Broccoli, or Wild Rice Salad. Or I am considering a roasted carrot dish with a pomegranate-pistachio relish like this recipe. We'll have some of the desserts from the night before + my Aunt Maria's Christmas cookies and tangerines and sugared almonds.  Although this Chocolate Bundt Cake with Peppermint Ganache has been a hit in the past and so has Pear-Cranberry Gingersnap Crisp MERRY CHRISTMAS!
Saturday: Leftovers! I usually make a mushroom-barley soup and add in yesterday's leftovers.  The kids love it!  Here's another great option:  Vegan Cream of Mushroom and Wild Rice Soup from Food52
Sunday: Homemade wood fired pizza night at my mom's house! We serve pizza with Italian white bean and tuna salad with capers from KM (I will use Divina slow roasted jarred tomatoes instead of fresh) + vegetarian antipasto salad.
Here's what you can do ahead if it helps you:
Sunday:
Make vegan queso
Make pickled onions
Cook beans if making from scratch
Make stock
Wash greens
Make seasoning mix for chicken fingers
Make Magic Bars
Wednesday:
Make peppermint bark shortbread
My new cookbook, Quicker Than Quick, is here!  I have LOVED seeing all your creations of my recipes on Instagram. If you make any of my recipes, please tag me @pamelasalzman #pamelasalzman so I can check them out!  If you have 1 minute, would you mind leaving a review on amazon?  I would be so grateful, thank you!
Take a peek at my first cookbook "Kitchen Matters"!