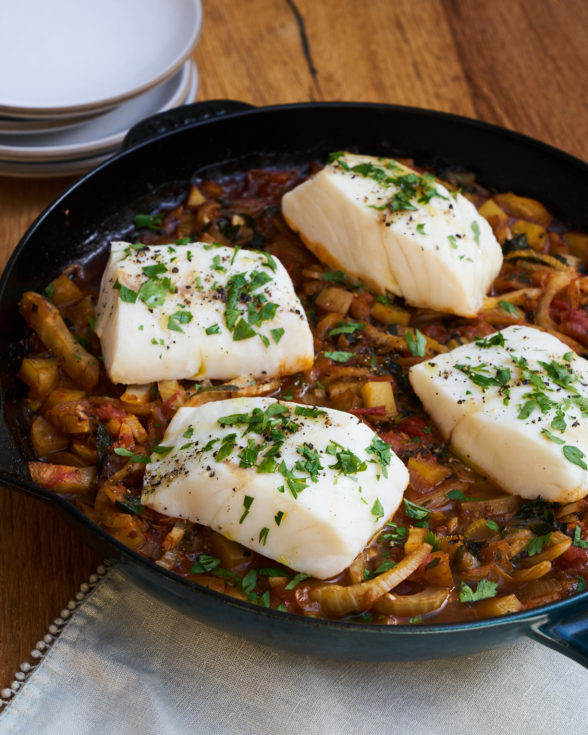 If you've been hanging out here long enough, you know that my favorite night of the year is Christmas Eve at my Aunt Sheila's house with my dad's family – all 100+ of us.  It's a fun night with all the traditions I grew up with: a million fish dishes, carols being sung while waiting for Santa to come down the stairs, dozens of gifts flying everywhere, chocolates and panettone and espresso to round out the evening.  Well, I know what you're thinking.  That's a super spreader event that is NOT happening this year.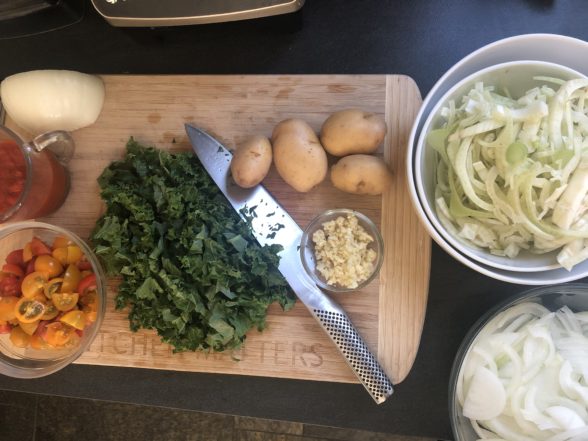 Sigh. BIG SIGH.  I am trying not to be depressed that this will be the first time in my life that this Christmas Eve will not happen as it has in the past.  Trying…..  Be gone, COVID!!!  I will be traveling to Long Island with Hubs and the kids, and I will spend Christmas Eve with my mom and at least one of my sisters and her family.  And now we need to decide what should we make for dinner????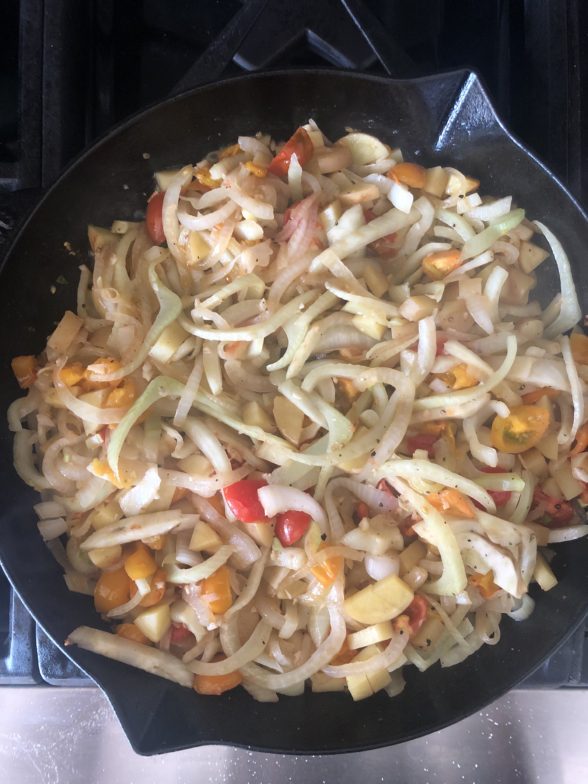 I've never had to make Christmas Eve dinner before.  It has always been a potluck for which my parents always brought eel and I always brought a much-needed vegetable side dish.  This year, I need to come up with a traditional Italian Christmas Eve menu for us.  Obviously seafood.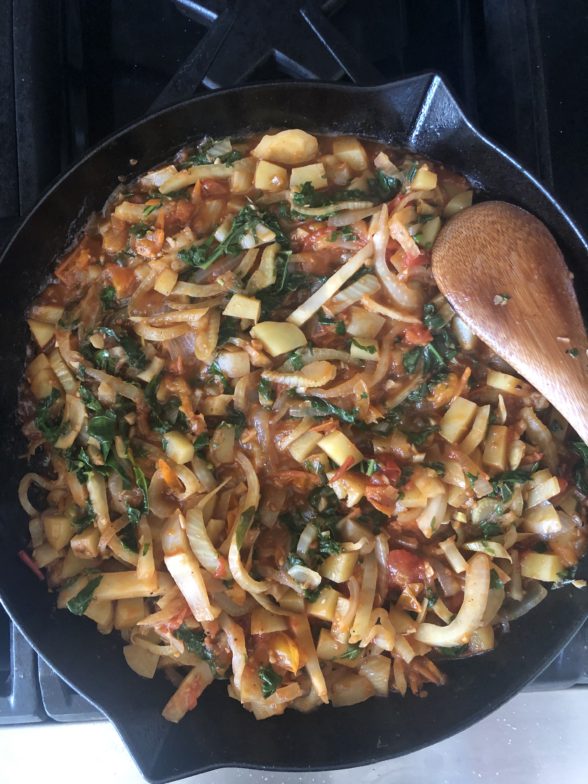 Mom and I were talking about starting with linguine with clam sauce since that's what we normally have and it's easy.  Then I was thinking about making this Cod Acqua Pazza which I taught in my February classes.  Acqua Pazza translates to "crazy water" and refers to a preparation where the fish cooks in a broth with tomatoes, herbs and some other ingredients.  My take here is much less brothy than traditional acqua pazza, but I wanted to add a lot of vegetables to make it a one-dish meal.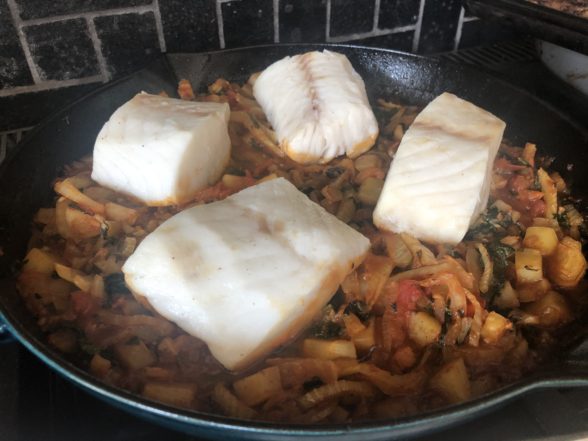 There is so much flavor packed into this dish and because it has so many vegetables, you can serve it on its own or after a pasta course.  Fennel and fish are BFF's, plus the tomatoes and herbs and white wine make this taste restaurant-worthy!  I used wild caught, fresh cod here, but halibut or any firm white fish would be great.  If you use frozen fish, just defrost it first.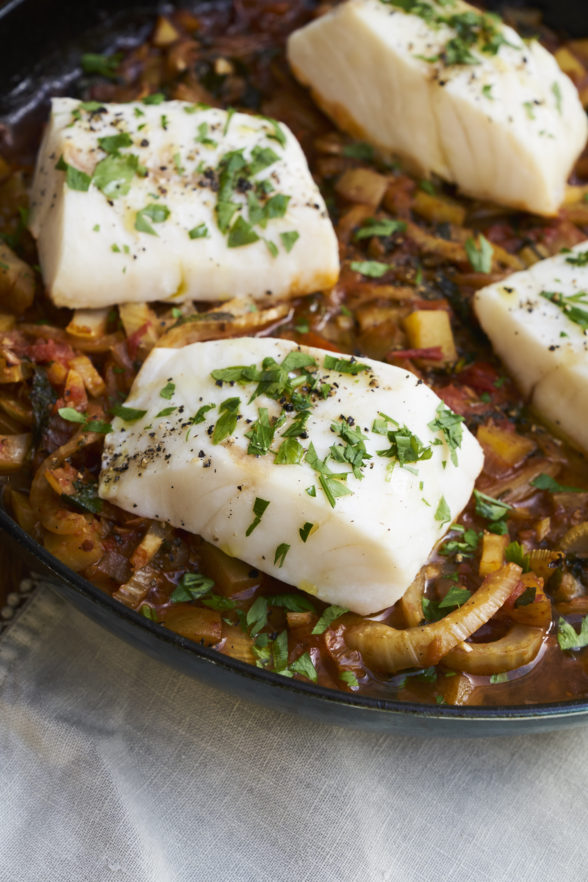 For anyone vegan, I have done this recipe up to the point of adding the fish and added cooked white beans and continued on the stove, simmering until the beans are heated through.  Gigante beans would be perfect.  Another option for cooking with fish is to finish with the fish on the stovetop and cover the skillet so the fish steams. It's a little faster and doesn't require an oven.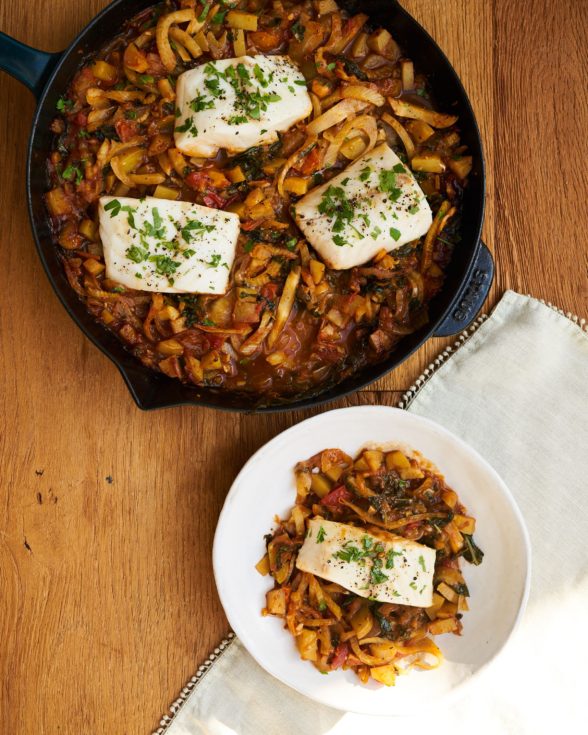 Hard to believe we're already planning Christmas and it's even harder to believe we're still in the predicament we're in.  But I have faith that next year, things will be closer to what they used to be.  In the meantime, we are finding little things that give us joy so we can live in the moment.  If anyone has a great recipe for the Sicilian fig cookies called Cucidati, I need to know about it!  I want to make a soft dough without lard or vegetable shortening. Let me know if you if you have a recipe that you love!
In the meantime, please tag me @pamelasalzman #pamelasalzman so I can see all your beautiful creations!
You can shop the tools I used for this recipe by clicking on the images below:

Cod Acqua Pazza
Ingredients
1 ¼ - 1 ½ pounds wild cod fillets (sometimes referred to as "true cod") or halibut fillets (boneless, skinless)
Sea salt and pepper to taste
3 Tablespoons unrefined cold-pressed extra virgin olive oil
1 onion, thinly sliced
6 garlic cloves, finely chopped
2 large Swiss chard leaves, stems diced and leaves chopped
1 fennel bulb, thinly sliced
8 ounces potatoes, diced (like the size of a cranberry)
6 large cherry tomatoes, diced (about 1 pint or 1 large tomato)
3 Tablespoons chopped fresh basil and/or parsley leaves
½ cup marinara or tomato sauce
½ cup of dry white wine (use more if you like it more brothy) or fish stock
Instructions
Preheat oven to 400 degrees. Pat the fish dry and sprinkle one side with a pinch of salt and pepper.
Heat a large skillet over medium heat. Add 3 Tablespoons of oil and sauté onion, garlic, and chard stems until fragrant, 1-2 minutes. Add in fennel, potatoes, and tomatoes, season with salt and pepper and sauté until tender, about 5-8 minutes. Stir in chard leaves, herbs, tomato sauce and wine and bring to a boil.
Arrange fish on top of the vegetables and bake until the fish flakes evenly when poked with the tip of a paring knife, about 10 minutes for a 1-inch thick piece of fish.
Notes
If you prefer to have a crispy piece of fish: In a large cast-iron or oven-proof skillet, heat 2 Tablespoons of oil over medium-high heat. Add cod fillets skin-side down if there's skin, season with salt and pepper and cook for 3 minutes. Flip cod skin-side up and place skillet in the oven and cook for and additional 4 minutes. Cook vegetables entirely on the stove.
See notes in the post about using white beans for a vegan option.