Merry Almost Christmas and Happy Hanukkah!  I am taking a wee break from cooking, playing games, watching football, and puzzling to bring you a quick new recipe.  This cheesy pull apart bread is 100% fun and super delish, although not exactly consistent with the types of recipes I post here.  But I'd like to mention a few things here: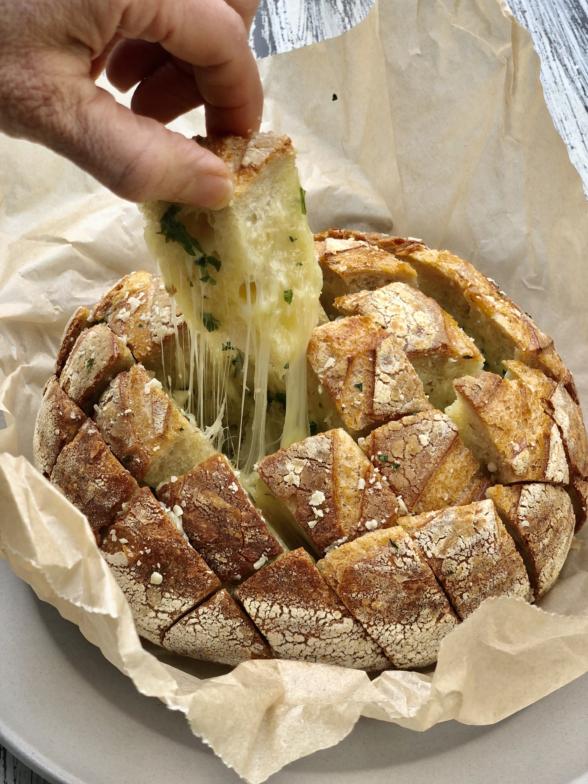 This bread is not 1 serving, but is meant to be shared.  You can indulge in "occasional" foods and still feel good. The key is in your portion size!  This is one of the secrets of  individuals who have an easier time maintaining their health and a healthy weight.

Life is about balance.  If you stress out about eating or not eating certain foods, you create negative pathogens in your body and work against the good health you are trying to create!  Enjoy the foods that are not for every day and don't think badly about it or yourself.  We all need to show ourselves more compassion.  Also, when you eat something nourishing, acknowledge how much it supports your health.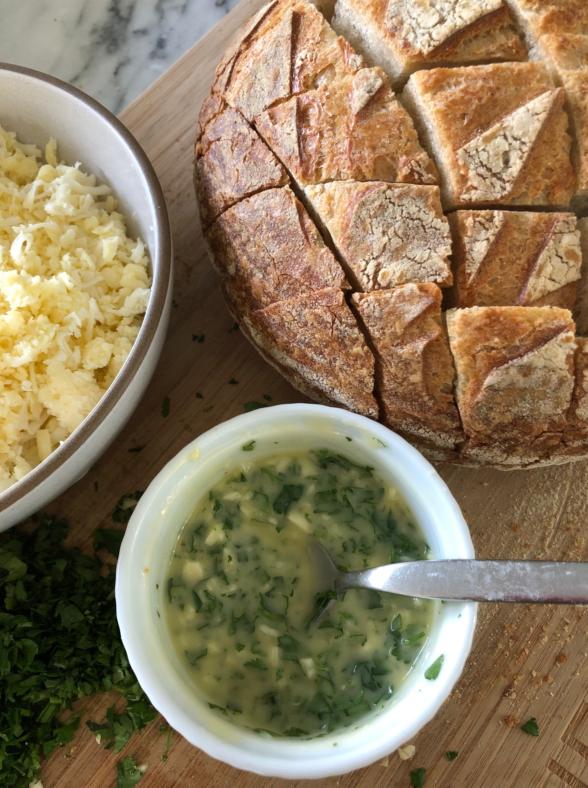 There are almost always ways to make something "higher quality."  In this recipe, I would use a sourdough bread made from organic flours and organic dairy.  Or you can choose a good quality non-dairy cheese.  That's my pep talk for today!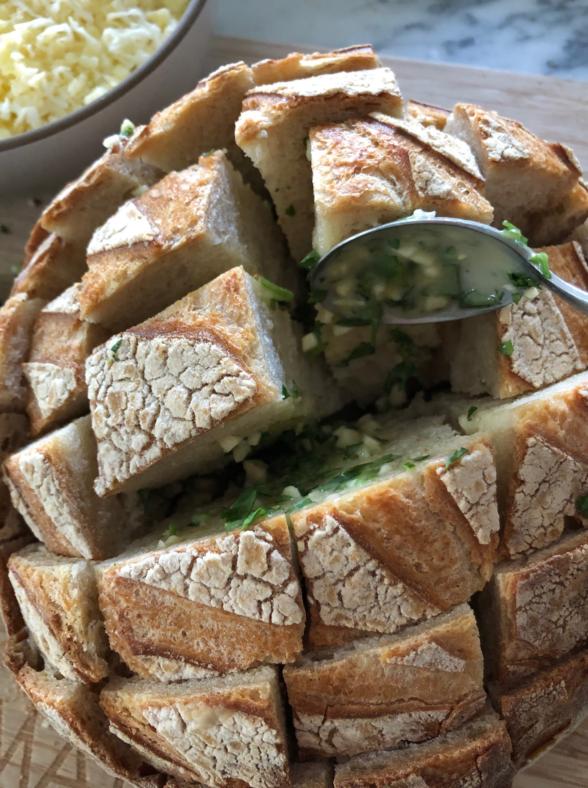 I made this cheesy pull apart bread to tide us over on Thanksgiving and for a few game days this season.  It is ALWAYS met with excitement and rave reviews.  The key is cutting the bread down to the crust but not all the way through.  Then you make a garlic parsley butter and shred some cheese; stuff all of that in the cuts, wrap and bake until everything is hot and melty.
What's not to love???  I have used organic raw cheddar, fontina, gruyere and a combination of all three.  It's always melty, tasty and fun.  What melty cheese do you like?  It would probably be amazing!  My daughter suggested a combination of fontina and mozzarella with a side of spicy marinara sauce for dipping.  Why not?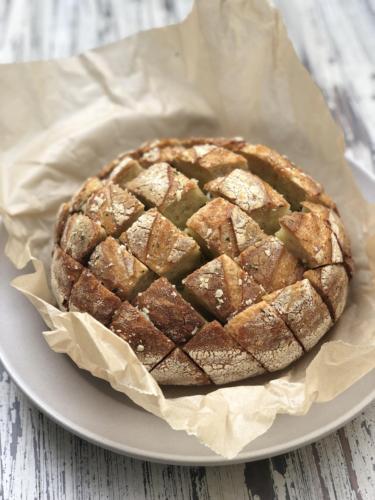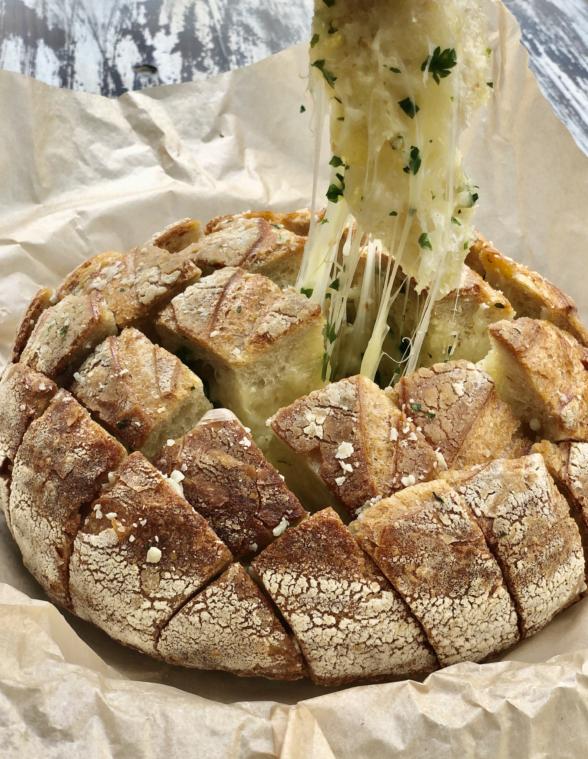 I made this on my local KTLA morning news show a few weeks ago and it was the hit of the segment.  The best part was that I prepped the bread with all the ingredients the day before, wrapped it and refrigerated it.  Right before I went on air, I popped the wrapped bread in the toasted oven and baked it until melty.  Easy, peasy!  I thought this would be fun for New Year's Eve or watching football.  My sisters are trying to convince me to make it for Christmas Day with drinks.  We'll see!  In the meantime, have a great holiday week!!
Shop the tools for this recipe by clicking on the images below:

Cheesy Pull Apart Bread
Ingredients
1 round artisan or sourdough loaf, about 1¼ pounds
4 Tablespoons unsalted butter, melted
3 garlic cloves, minced
¼ cup flat leaf parsley leaves, finely chopped
8 ounces grated Fontina cheese or similar stringy cheese
Instructions
Preheat the oven to 375 degrees.
Cut the bread in 1-inch parallel strips, being careful not to cut all the way through the loaf. Rotate the bread 90 degrees and cut in 1-inch strips perpendicularly to create a cross-hatch pattern.
In a small bowl, mix the butter, garlic and parsley. Spread the butter mixture evenly into the bread using a spoon or pastry brush. Stuff the rows evenly with cheese.
Wrap the loaf in parchment and then foil and bake for 25-30 minutes or until the cheese is melted. Serve immediately.