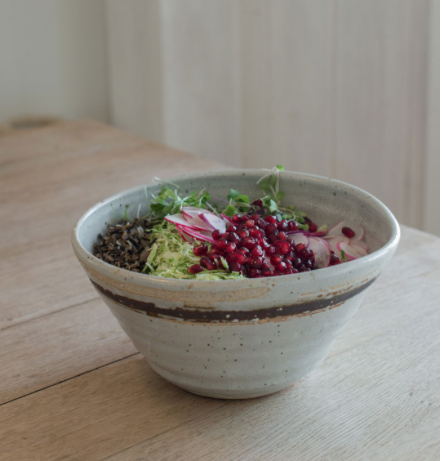 It's bananas that I am already planning our Christmas menu!  I feel like I have barely recovered from Thanksgiving.  The good news is that Christmas dinner is very low key.  We start with a small cheese board while we're opening gifts.  Dinner commences with chicken soup with tortellini, followed by roast tenderloin and 2-3 side dishes.  My mom makes the soup and meat and I change up the sides every so often.  But I always keep them very veggie-centric so we don't feel bad about indulging in too many Christmas cookies later.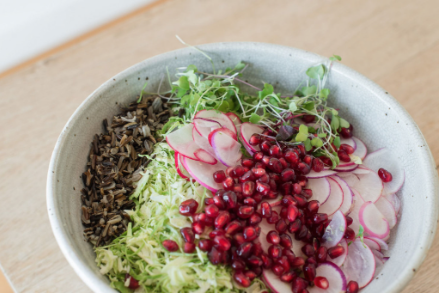 I made this wild rice salad last year and I also taught it in last December's holiday classes.  I ate it every day for 2 weeks and I was obsessed.  Not only is it delicious, but light and fresh and it looks like Christmas in a bowl. Nutty wild rice salad paired with fresh, crunchy pomegranates, apples and radishes.  Sweet balances with tart – this dressing is AMAZING! – and spicy (radish) is a happy combo.  I almost made this for Thanksgiving this year because this combo goes great with turkey.  It would also be perfect with ham or lamb. Since my husband is still vegan and plans to continue through the holidays, I will also make this as a vegan entree.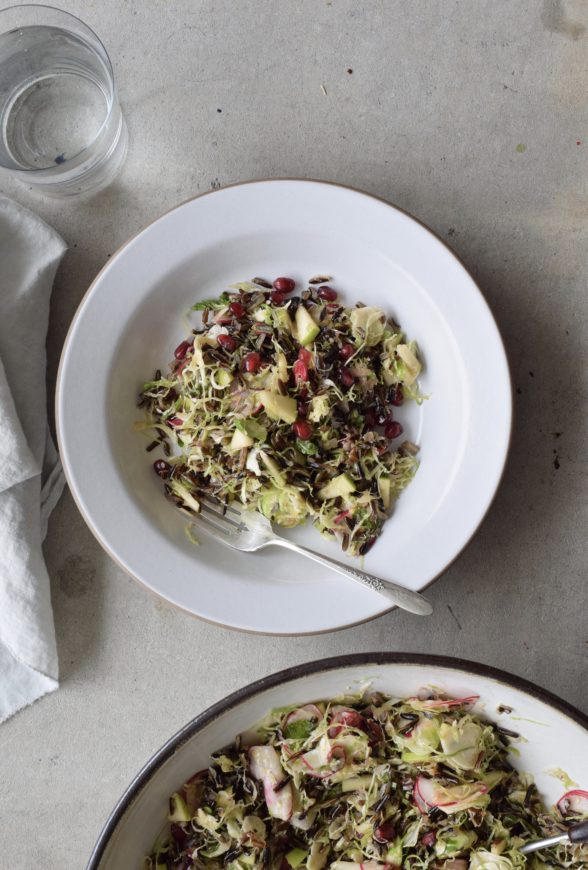 My food processor did almost all the work here.  I used the slicing disc to thinly slice the Brussels sprouts and radishes in about 3 seconds.  You can buy pomegranate seeds already seeded if necessary.  Cook some wild rice (or you can use farro or einkorn berries or even cauliflower rice) and this comes together very easily.  In fact you can prepare all the components of the salad (even the apples – just cover them with ice water in the fridge) the night before and then assemble right before serving.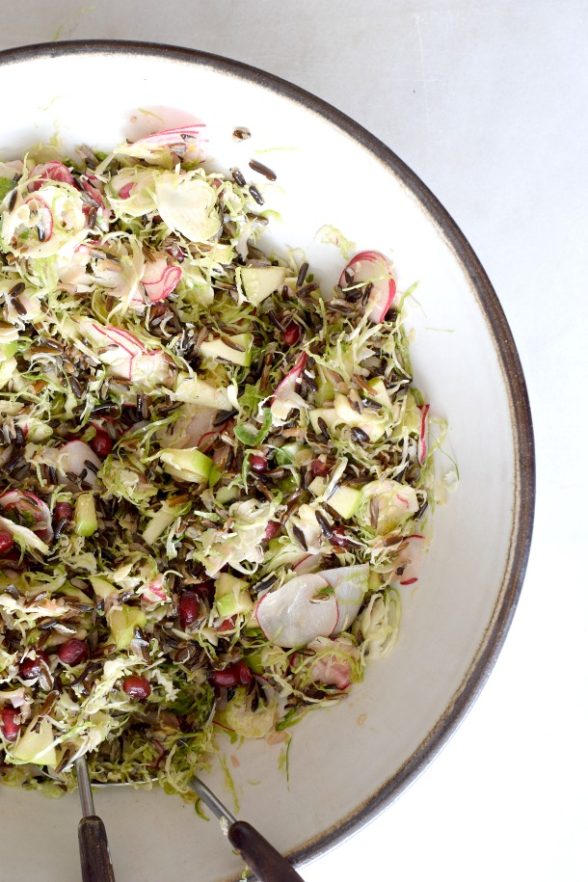 I love doing one red and green dish for Christmas, and I always favor seasonal produce like broccoli, dark green leafy vegetables, cabbage, Brussels sprouts.  Pomegranates almost always make an appearance in my holiday salads, but don't forget about fresh or dried cranberries, radishes, apples.  Whether it is Christmas or Hanukkah or another holiday, you don't have to gravitate towards all rich recipes.  In fact, I generally receive a more favorable response from colorful, seasonal dishes like this one than a casserole pan of potatoes covered in cheese.  And that's fine, too.  But you didn't come here for that.  I have a few more holiday recipes up my sleeve, so check in regularly!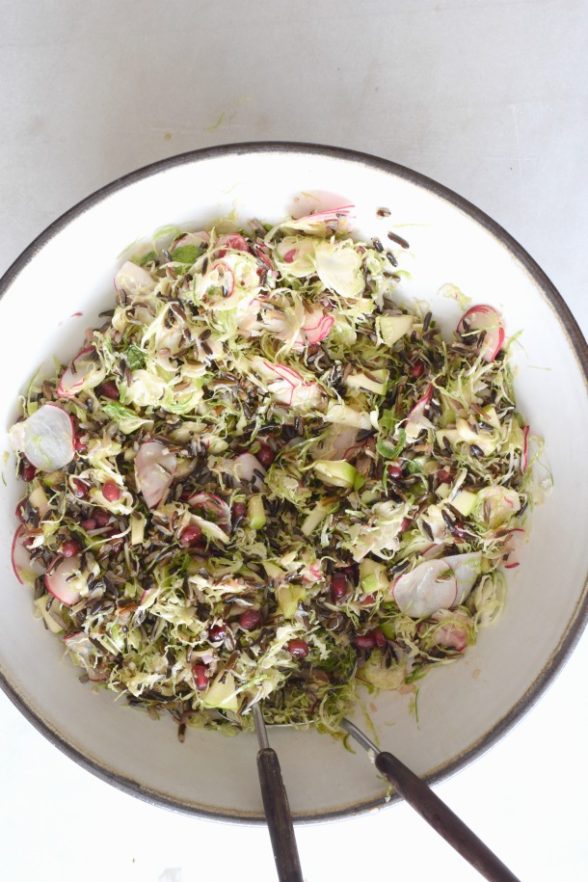 Christmas Wild Rice Salad Recipe
Ingredients
1 cup wild rice*
1 pound Brussels sprouts
1 bunch radishes, about 8, trimmed
seeds from 1 large pomegranate or a 6-ounce package of seeds
¼ cup lightly packed fresh mint leaves, torn by hand (fresh dill is also a nice option)
1 tart apple julienned or 1 cup blanched edamame or 1 avocado
Dressing:
1 medium or large shallot, minced
2 Tablespoons pomegranate molasses**
2 Tablespoons freshly squeezed lemon juice, about 1 lemon
¾ teaspoon sea salt
freshly round black pepper to taste
⅓ cup unrefined, cold-pressed extra-virgin olive oil
Instructions
Cook the wild rice according to the package directions. (Generally speaking, add rice to a pot with 2⅓ cups of water, bring to a boil and simmer covered for 40 minutes.) Drain and transfer to a large serving bowl and allow to cool.***
Trim the base of the sprouts and slice thinly either by hand or with the slicing disc of a food processor. Do NOT use the shredding/grating disc. Add to cooled rice.
Thinly slice the radishes in the same manner. Add to the rice and sprouts along with pomegranate seeds, mint and apple (or edamame or avocado.)
In a medium bowl or in a screw-top jar, combine dressing ingredients until emulsified. Pour over salad and toss to combine. Top with microgreens, if using.
Notes
*You can also use farro, but the cooking time and directions are different.
**Pomegranate molasses is available at Whole Foods and many other grocery stores. If you can't find it, boil pomegranate juice until it thickens into a molasses-like liquid.
***If you need this to cool down quickly, spread out over a large baking sheet.

Notes: a handful of microgreens on top can look very festive.