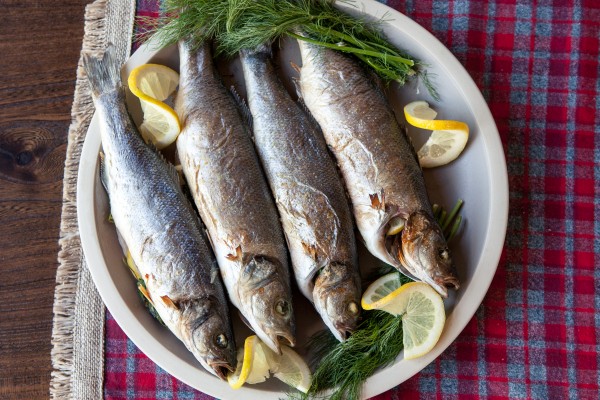 You can totally do this.  The idea of roasting and deboning a whole fish sounded incredibly intimidating to me when one of my students asked me to prepare it in a class for her husband's birthday.  She said, "the only dish I must request is whole roasted branzino — it's my husband's absolute favorite and I would love to know how to make it."   "So would I!" I thought to myself.  But instead I offered with confidence, "Absolutely!  I will show you how to make the best branzino."  My family ate branzino once a week for a month until I had it just right.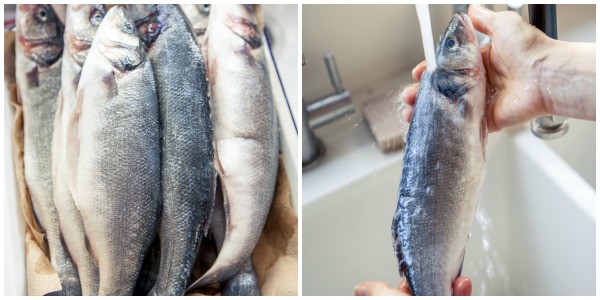 I have taught whole roasted branzino in a few classes now, and most recently at Jenni Kayne's house for her Holiday Class with The Chalkboard.  I wanted to post this recipe now, because Christmas Eve is around the corner and whenever I think of Christmas Eve, I think of fish. It is traditional in Italian homes to eat seven or more different types of fish on that night.  I don't know what we'll have this year,  but typically we start off the evening with spaghetti with clam sauce.  Then a few people in my family will make the most classic Italian Christmas Eve fish, baccalà, a dried and salted cod.  There are also usually eel, mussels, salmon, stuffed clams, shrimp and crab.  However, I will most likely never see branzino at our Christmas Eve table because it's not something you make for a crowd, and we are a CROWD, anywhere from 60-80 people.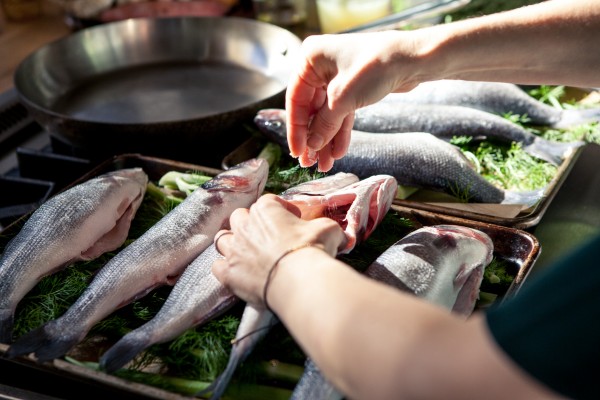 Believe me, it's not that roasting a whole fish is difficult.  In fact, it is just as easy, if not easier, than roasting a whole chicken.  If you can find really fresh branzino, aka Mediterranean snapper, there is very little you need to do to it for it to taste good.  Isn't that always the way when you start with good ingredients?  But I usually make one whole fish per person and that would need to be a ginormous oven to cook 60 of these.  Besides that, most people don't know how to debone a fish and I wouldn't want to sit there fileting dozens of these beauties.  And therein lies the tricky part about roasting a whole fish — getting to the actual meat when there's still a head and a tail and loads of bones in the way.  Of course, I am going to show you right here how to do this so you'll be able to have your way with a whole fish when you go out to eat or if you have a dinner party, you can do this for your guests.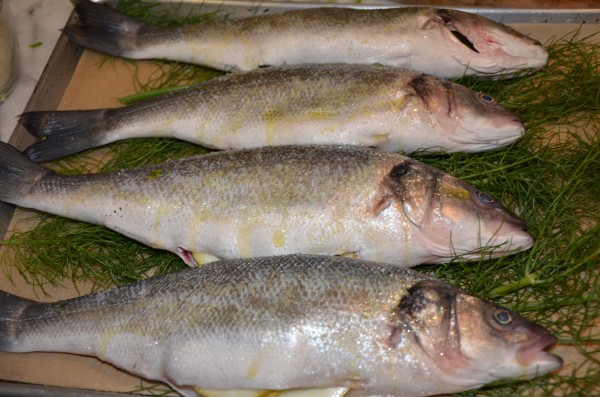 I found these beauties at my local Whole Foods for $12.49 per pound.  Look for clear, shiny eyes and glossy, not slimy skin.  It should also smell fresh like the ocean and not "fishy."  You have every right to ask the fishmonger if you can take a sniff of the fish.  People do it all the time, and the fishmongers are used to it.  I do, however, consider this a special occasion fish, not because of the price, but because it flew first class from Greece to get to my market.  Normally I try to limit (not necessarily eliminate) imported fish given the heavier environmental impact versus those locally caught.  If you can't find branzino in your area, walleye or another small whole fish in the 1 to 1 1/2 pound range will do.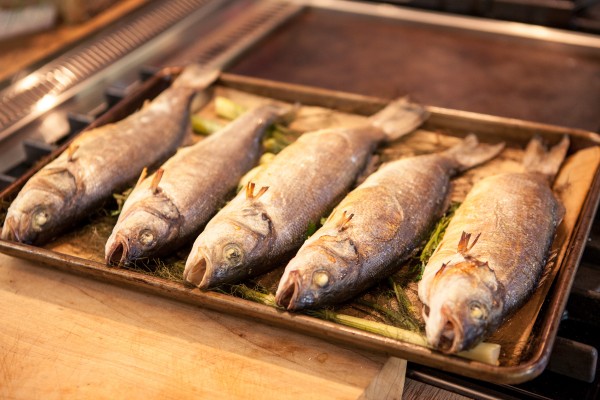 A whole roasted fish stays nice and moist because of the bones and the skin, which I think also give it great flavor.  All you need is a healthy sprinkling of salt inside the cavity along with lemon slices and some fresh parsley or fennel fronds.  After you take the bones out, you can choose to leave the skin or or remove it.  A final drizzle of olive oil, a sprinkle of salt and a quick squeeze of lemon is all you need to have an amazing piece of fish.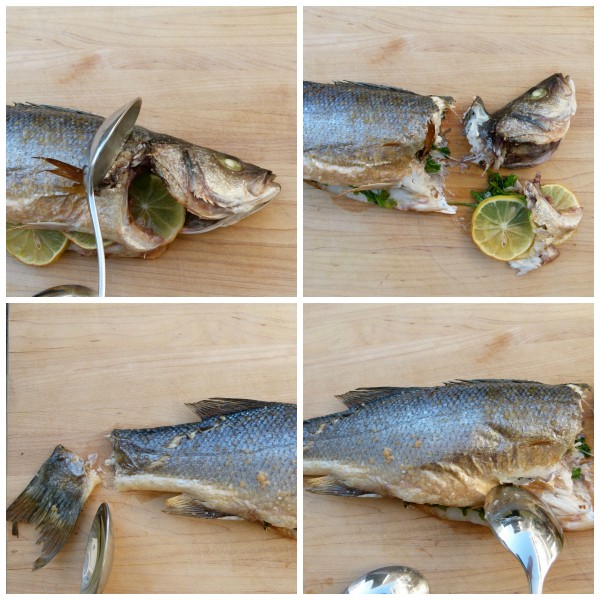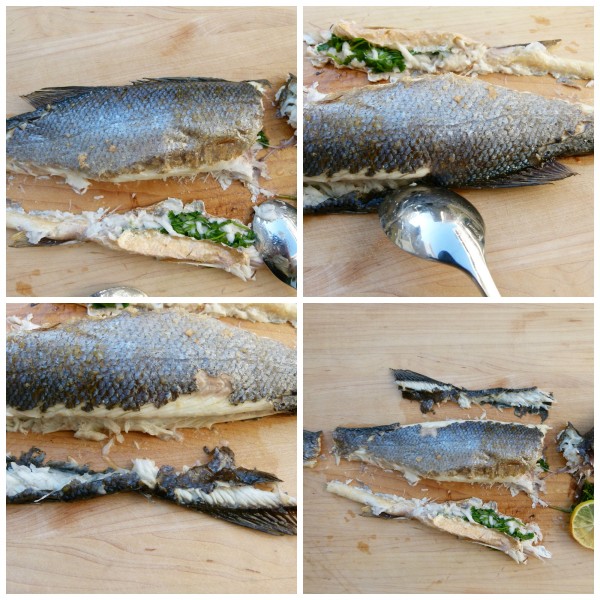 Whole Roasted Branzino
Ingredients
6 1 to 1 ¼ pound whole sea bass or striped bass, scaled and gutted (you ask the fishmonger to do this for you)
Sea salt
2 lemons, sliced into thin rounds
6 sprigs of parsley or some fennel fronds + extra fennel fronds for the pan
Unrefined, cold pressed extra-virgin olive oil
Instructions
Preheat the oven to 450 degrees. Rinse each piece of fish and pat dry with paper towels.  Arrange some fennel fronds on a parchment-lined baking sheet and place the fish on top of the fronds.   You don't have to use fennel fronds, but I like the flavor they infuse.
Season the cavity of the fish with a healthy pinch of sea salt.  Fill each cavity with some parsley or fennel fronds and 2 slices of lemon.
Drizzle the fish with olive oil and sprinkle with sea salt.
Roast the fish for 20 minutes.  Take a peek under the skin along the backbone.  The flesh should be opaque and not translucent.
To filet the fish, use two large spoons or a large spoon and a fork and start by removing the head and the tail.  They should break off easily from the rest of the body.   Remove lemon and parsley from the cavity.  Scrape all the flabby pieces off the bottom of the fish.  Turn the fish around and run the spoon along the backbone of the fish to remove the small bones at the top.  Wedge your spoon into the middle of the fish to open up the fish so you can remove the spine.  Lift the spine from the flesh. Take the meat off the skin, if desired, and transfer to a warmed plate.  Sometimes I run my finger across the flesh to make sure I got all the bones.  Don't worry if you missed a few, just warn your dinner companions ahead of time that you're not an expert and that there may be a pin bone or two.
Sprinkle with sea salt and drizzle with olive oil and a little more lemon if you wish.