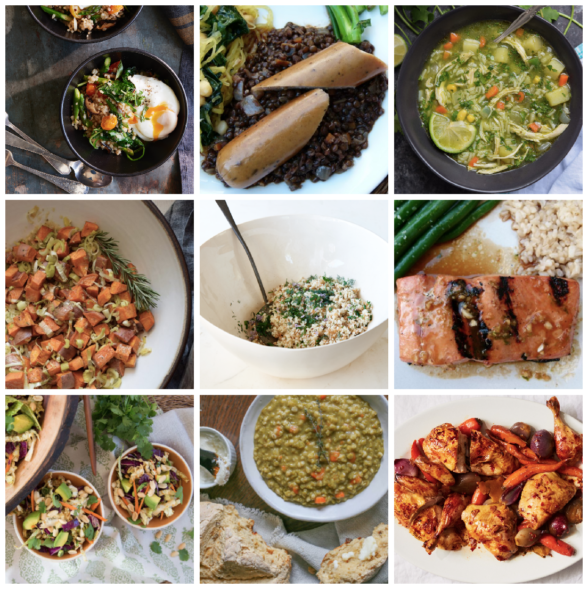 I walked the halls of Expo, West, the natural foods show, all day and I am TOAST.  Check out my stories on Instagram to see some of the highlights.  In the meantime, my daughters are home for spring break and coudln't be more excited to spend time with them!  Here is your dinner planner for the week:
Meatless Monday: Italian fried rice (AKA not fried rice from my cookbook), you can add beans, fried/poach egg, pecorino cheese or nuts to bulk up the protein – I will probably add some broccoli/cauliflower rice, very small broccoli/cauliflower florets or frozen peas depending on what I have leftover in my fridge.
Tuesday: Smoky braised lentils with turkey sausage, roasted brussels sprouts
Wednesday: Yerba Mate chicken and cilantro soup
Thursday: Roasted sweet potatoes and leeks with garlic dressing, herbed mixed-grain pilaf from my cookbook
Friday: Lime-Soy fish, Thai crunch salad
Saturday (St.Patrick's Day): You can make an array of yummy "green" things for St. Patrick's day without using food coloring. We will most likely make split pea soup and irish soda bread.  Other green food you could try: green pancakes, green muffins, green matcha chia pudding, "leprechaun juice" smoothie, vegan mint chip smoothie, green spinach risotto, asparagus or broccoli soup, one pot barley with melted cabbage from my cookbook or any recipe using a green vegetable such as minted sugar snap peas, brussels sprouts, broccoli, cabbage or spinach
Sunday: Chicken with honey-glazed carrots and ginger from bon appétit, green salad with creamy miso-ginger dressing
Here's what you can do ahead if you need to:
Sunday
Cook rice and refrigerate (or use a leftover combination of whatever cooked grains you have)
Wash/dry greens and herbs
Make chicken or vegetable stock
Cook beans, if not using canned
Tuesday
Cook and shred chicken for soup
Wednesday
Wash leeks
Roast garlic
Friday
Prep the chicken with salt and garlic
Here's a link to my previous dinner planners.
I have LOVED seeing all your creations of my recipes on Instagram.  If you make any of my recipes, please tag me @pamelasalzman #pamelasalzman so I can check them out!
Click here to learn more about my online cooking classes!
If you like my recipes, you'll LOVE my cookbook!