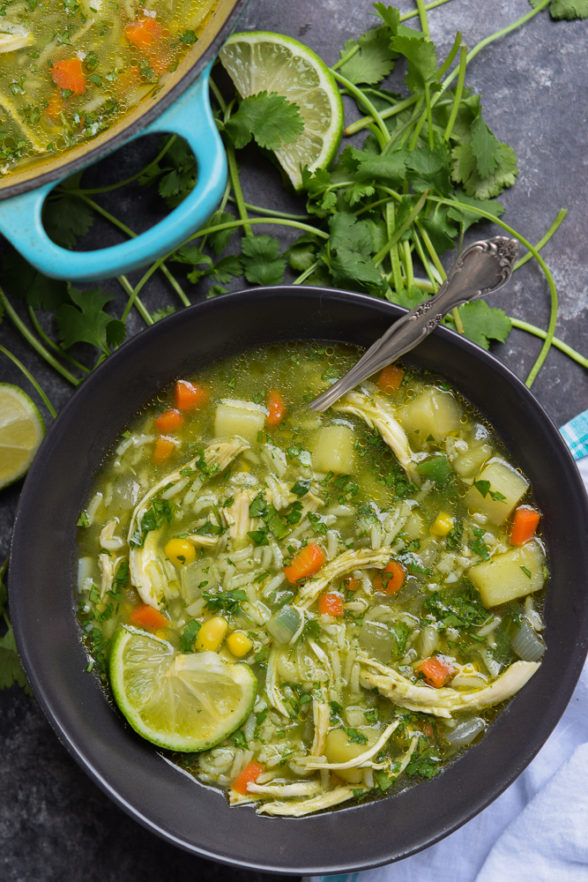 This blogpost is sponsored by the Argentinian Yerba Mate Board.  All opinions are my own.
Let me introduce you to my new favorite morning companion, Argentinian Yerba Mate. I have touted my love of tea many times on this blog and on my instagram, and I believe it's a wonderful addition to a well-balanced, whole food diet. Yerba mate, however, is a step up from your typical bag of green tea. Originated and grown in Argentina from the yerba mate tree, this tea is chock-full of powerful antioxidants (shown to be even higher than green tea) and nutrients such as vitamins B and C, zinc, potassium and manganese. Yerba mate has been found to be 'hepatoprotective' which translates to: 'protecting your liver cells' and can help in weight loss. I also love that it provides as much energy as a cup of coffee but isn't as harsh on your stomach. The traditional way to consume it is to prepare it in a traditional Argentinian gourd and drink through a straw.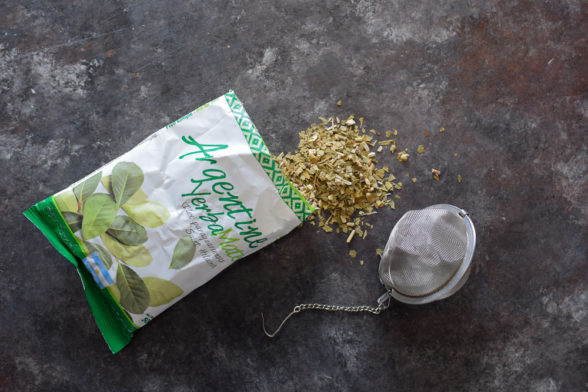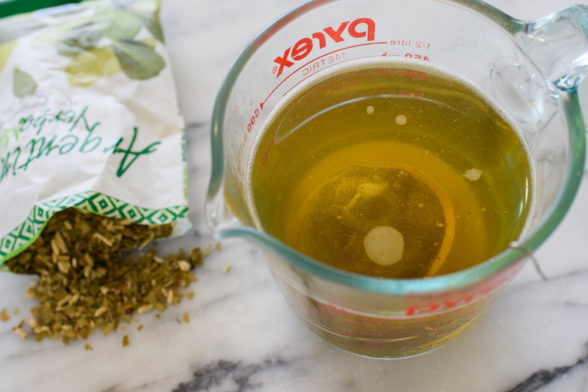 But one of my favorite things to do with food is to play with it and use it in unexpected ways.  I have seen green tea used in desserts and soups, and I thought why not incorporate the herby, grassy yerba mate in an herby soup.  Why not?  I've cooked with herbs before and this wasn't so different.  The result was still surprising — totally delicious.  I didn't exactly create a soup out of brewed yerba mate, but instead split the broth between homemade chicken stock and the tea.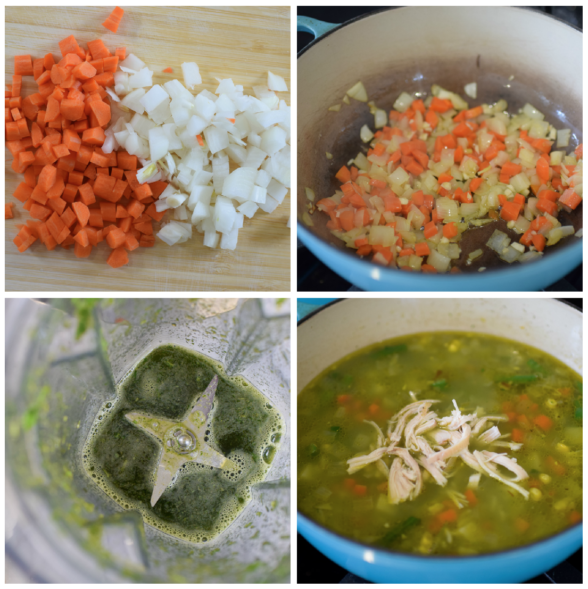 With a nod to South America, I added lots of cilantro and rice – so fresh and flavorful!  This is a twist on the chicken and quinoa soup in my cookbook, but this one has a little more depth from the yerba mate and loads more antioxidants.  Just as importantly for the busy folk, this soup is so easy and cooks up very quickly.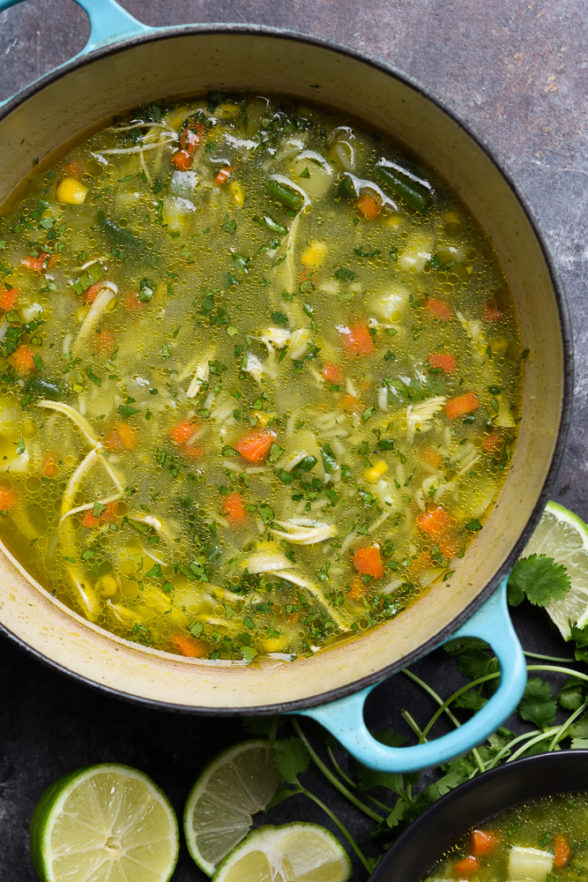 We're approaching spring, and we know that the weather will still be a bit raw.  I always felt duped by spring when I was a child because the images of spring were all flowers and sunshine and Easter bonnets, but I remember freezing on Easter Sunday and covering up my new pastel cotton dress with my heavy wool coat.  Even in Southern California, I will continue to make soups and comfort foods until the end of the school year.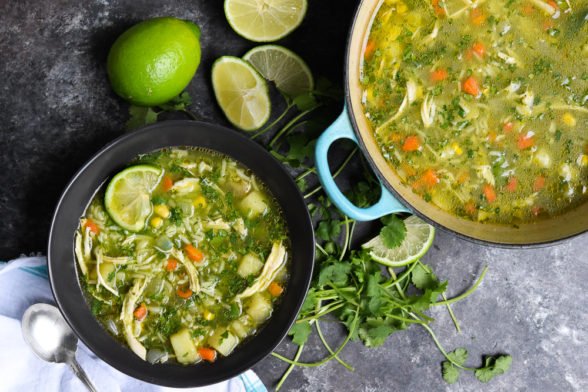 Obviously, if you've never tried yerba mate on its own as a hot drink, you should!  I am not a coffee drinker and yerba mate gives me the perfect natural energy without the coffee jitters. Sometimes I'll drink it straight, but more often I add a little stevia.  My husband makes an iced tea from it.  I have settled on Argentinian yerba mate as the best quality and flavor.   Some brands to look for are Rosamonte and CBSe.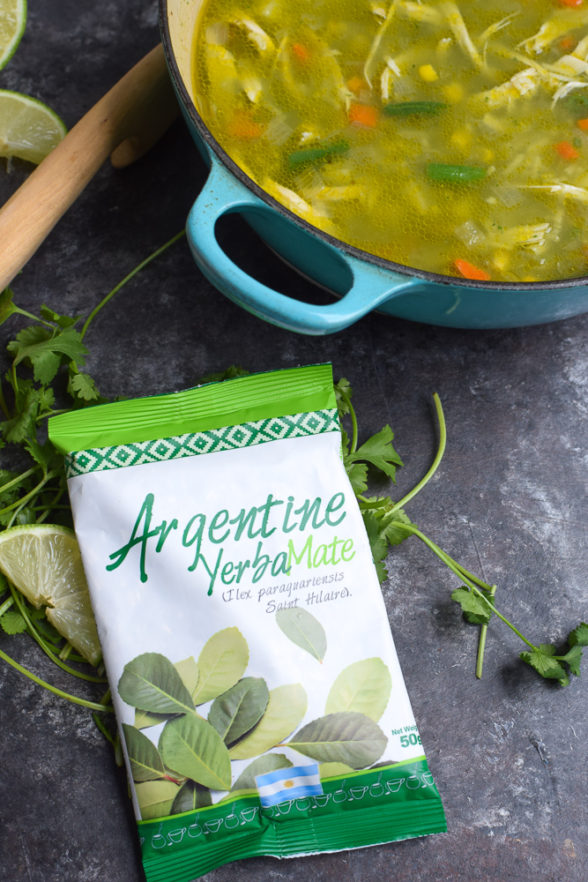 As I always say, recipes are flexible and adaptable.  Make this vegan if you want with vegetable stock and no chicken.  Swap sweet potatoes for the white potatoes and cauliflower rice for the white rice, this is Paleo-friendly and Whole30 compliant.  However you make this soup, I know you'll find it to be unique, but comforting and nourishing at the same time!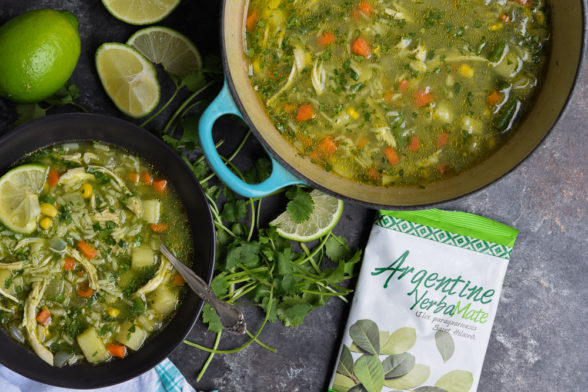 You can shop the tools I used for this recipe by clicking on the images below!

Yerba Mate Chicken and Cilantro Soup Recipe
Ingredients
4 cups boiling water
3 Tablespoons loose leaf yerba mate tea
2 Tablespoons unrefined, cold-pressed olive oil or avocado oil
1 onion, diced
2 carrots, diced
2 garlic cloves, finely chopped
4 cups chicken stock, preferably homemade
2 teaspoons sea salt, plus more to taste
8 Tablespoons white rice or quinoa, rinsed and drained (if using brown rice, cooking time will increase to 45 minutes*)
1-2 Yukon Gold potatoes or boiling potatoes (about 12 oz), peeled and cut into bite-size pieces
1 cup cilantro
½ cup water
½ cup cooked shredded chicken
1 cup organic frozen mixed vegetables (cut green beans, whole corn kernels, peas)
freshly ground black pepper to taste
Lime wedges, for serving
Instructions
Measure the boiling water in a large glass measuring cup or large mug. Place the yerba mate tea leaves in a tea ball or a tea bag and place in the boiling water, allow to steep for 5 minutes, remove the tea ball and set the brewed tea aside.
In a large stock pot, warm the oil. Saute the onion and carrot until tender and translucent. Add the garlic and sauté until fragrant, about 1 minute.
Add brewed Yerba Mate, chicken stock, salt, rice, and potato and bring to a boil. Lower heat to a simmer and cook, covered until potatoes and rice are tender, about 15 minutes.
Meanwhile, process cilantro and water in a blender. Stir into the soup mixture along with the cooked chicken and frozen vegetables and cook until heated through, about 5 minutes.
Taste for salt and pepper and serve with wedges of lime.