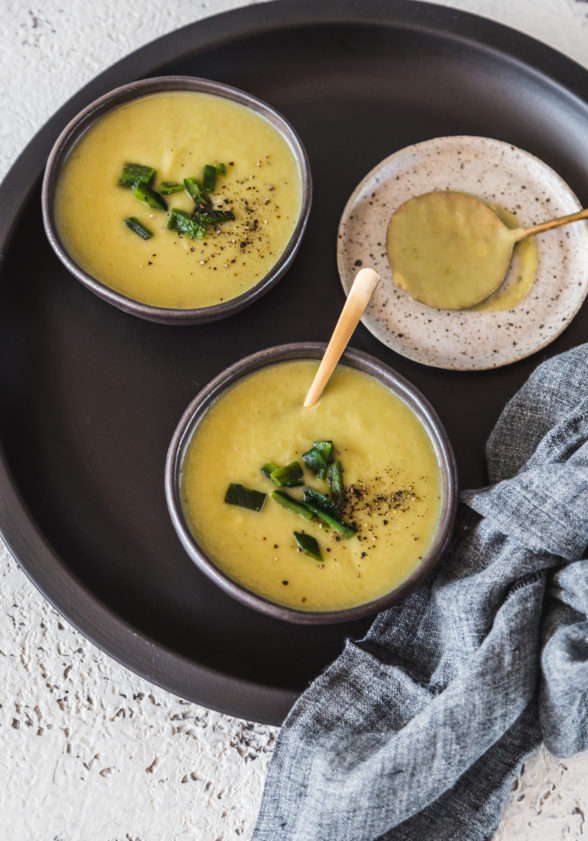 I have been on a major soup kick this season.  I have always made soup once during the week and once on the weekend during the school year.  I am now making soup at least three times a week and we are all loving it.  I also order soup when I go out to eat, sometimes as my meal.  In the last year or so, I have always found it very beneficial to eat more of my calories before 2 pm, with my lightest meal being dinner.  That doesn't always happen, but I feel best when I eat that way.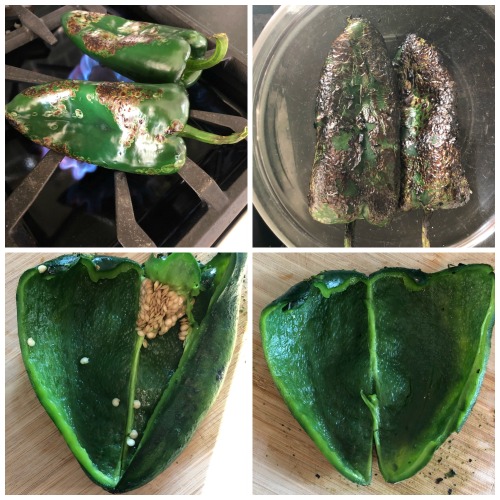 My family and I visit Park City, Utah regularly and one of our favorite special dinners is Fireside Dining at Empire Lodge at Deer Valley Resort.  Once, many years ago, we ate a delicious and unusual, but simple, poblano potato soup.  Poblanos are the mildest of chili peppers, with only a tiny bit of heat.  We all loved the Southwestern flavor the peppers gave to a classic potato-leek soup.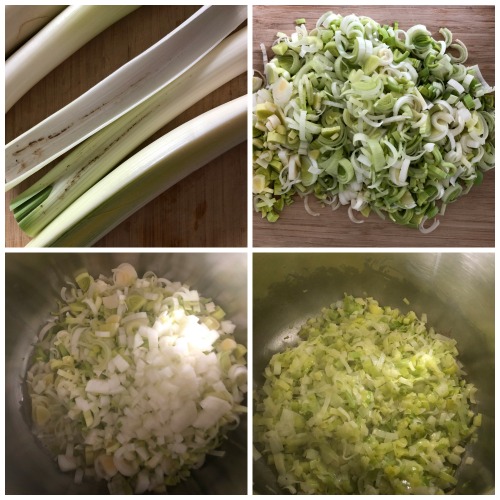 This soup was a huge favorite in my classes not just because it was creamy and delicious, but also because it is very easy to make.  Potato-leek soup is one of the most classic soups in the last several decades.  It contains very few ingredients and it is a very simple, and delicately flavored soup.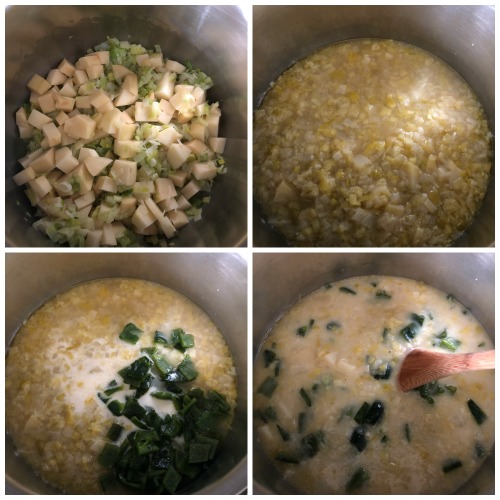 Leeks in the onion family, but are not the same as onions.  Leeks are much more rich-tasting than onions.  They have a light, grassy buttery flavor that is just amazing.  And they soften more quickly than onions.  I know they are a little more work because you have to clean them, but I think it's worth it!  I actually save the green leek tops, wash them and freeze them for the next time I make vegetable stock.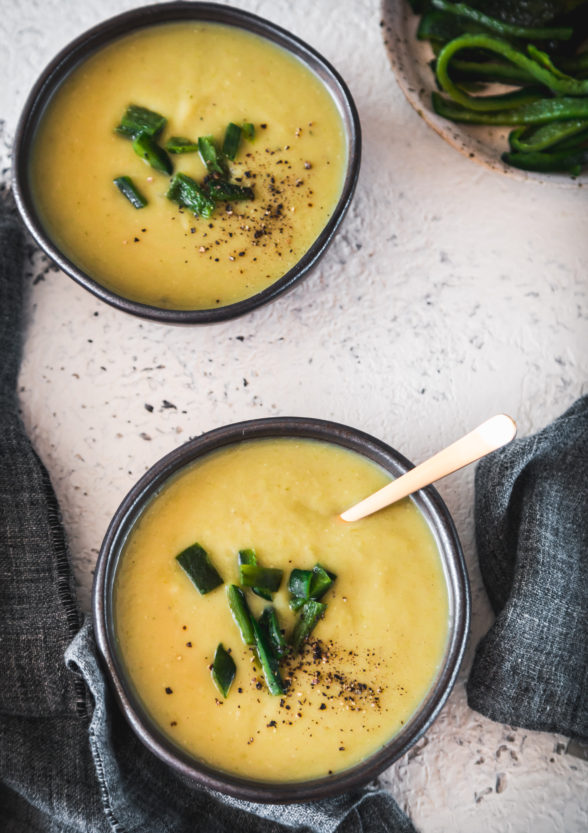 Most kids like simple food and my son, Mr. Picky, is one of those kids.  He absolutely flipped for this soup.  I didn't garnish it with extra roasted poblanos or cracked black pepper.  Instead I asked him if he wanted to crush a few tortilla chips on top, which he did!  My strategy with my son has always been to meet him halfway and be flexible without going against what I believe is the way to create a lifelong healthy eater.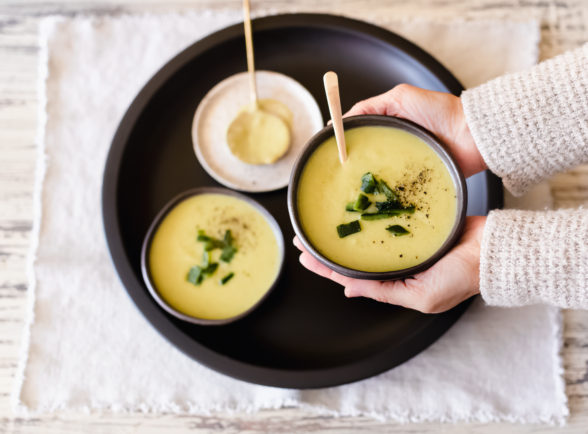 This soup will last as long as your stock will be fresh.  If your chicken stock is already on Day 5, this soup will need to be finished pronto!  If your stock is freshly made,  this soup is good for 5 days.  I do not think it freezes well, though.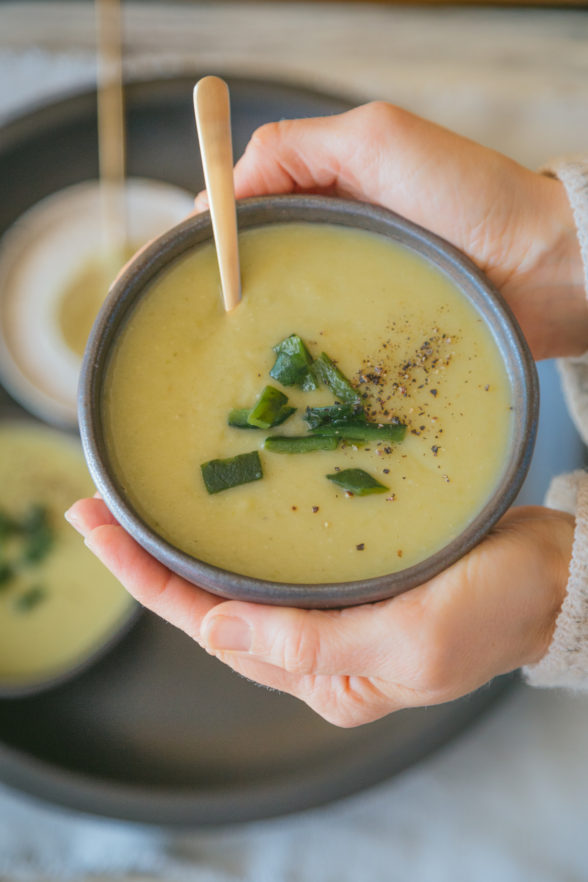 We love this soup with a quesadilla or corn bread or a fresh side salad.  But it can be the starter for an elegant dinner as well.  I hope you love it and that you make it this week.  Please tag me so I can see everything you make!  @pamelasalzman #pamelasalzman I would love to share your creations so we can all spread the message of healthy cooking!
 

 

 

View this post on Instagram

 

 
You can shop the tools I used for this recipe by clicking on the images below:

Poblano Potato-Leek Soup
Ingredients
2 Poblano* peppers + more if desired for garnish
4 medium leeks, white and light green parts only (dark green tops can be washed and saved for making stock)
2 Tablespoons unsalted butter or ghee (or use vegan butter or olive oil)
½ large onion, chopped
2 medium Russet potatoes, peeled and cubed
4 cups chicken stock or vegetable broth
2 teaspoons sea salt or more to taste
½ cup unsweetened milk of choice or vegan cream cheese
optional: white pepper to taste or cracked black pepper
Instructions
Roast the peppers: over a gas flame using tongs to hold the peppers one at a time, blacken the skins lightly (don't char the living daylights out of the flesh.) Place the blackened peppers in a bowl and cover the bowl while you make the soup.
Wash the leeks: split the leeks in half lengthwise and run water in between each layer to remove any sand or grit. Pat dry and slice crosswise.
Warm a medium pot over medium heat. Melt the butter and stir in leeks and onion. Saute until the leeks are tender, about 4 minutes.
Add the potatoes, salt, and stock and bring to a boil. Lower heat to a simmer and cover. Cook until potatoes are tender, about 20-25 minutes.
In the meantime, peel the poblanos and discard the seeds. Chop the poblanos coarsely and add to the soup with the milk. Using an immersion blender, puree the soup until smooth. Or process in batches in a standard blender, taking care not to overprocess or else you will have a gummy soup. Taste for salt and season accordingly.
Notes
This can be garnished with additional roasted poblano peppers, diced or additional leeks, fried.
*Poblano Peppers may also be labeled Pasilla Peppers at the store.