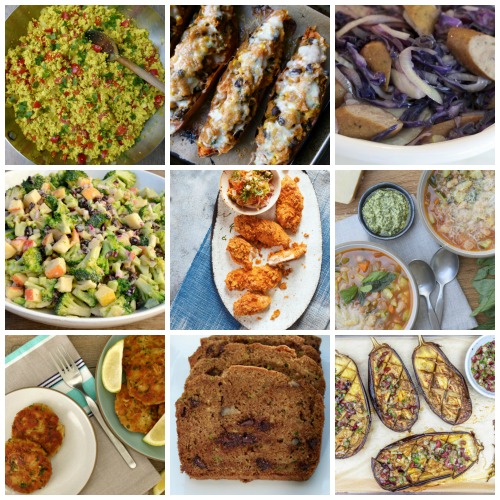 Can feel the transition to a new season?  It's not just the weather.  It's also evident in the offerings at the market.  I'm seeing local apples and pears, and winter squash like spaghetti squash.  We still have the last of the tomatoes, eggplant, figs and plums, so it's a really nice time of year.  Unfortunately, my husband and son have both come down with a little cold, so just to remind, it's also a germy time of year.  I just made my first batch of bone broth so I can make a beautiful pot of soup this weekend, like this immunity-boosting soup.
Lastly, I offered some options for Rosh Hashana dinner if you are cooking this year.  Wishing you a sweet new year.  🙂  Here is your dinner planner for the week:
Meatless Monday: Tofu scramble, tex-mex stuffed sweet potato skins
Tuesday: Turkey sausages with cabbage and fennel, broccoli crunch salad
Wednesday: Cornflake "fried" chicken with sauerkraut citrus coleslaw, served on lettuce leaves or with roasted potato wedges
Thursday: Late summer minestrone, pesto and kale chips, if you need more – try the pizza muffins from my book
Friday: Tuna patties, lemon and cumin-scented quinoa, and your favorite grilled vegetable
Saturday brunch: zucchini-blueberry bread or spinach and feta strata
Sunday (Rosh Hashana eve): Pan-seared wild salmon from my book, Baked Orange-Rosemary Glazed Chicken, oven baked eggplant with olives, capers, and basil (but I'll serve with pomegranate seeds and tahini sauce), roasted carrots with garlic yogurt, apple and delicata squash salad .  Other options are brisket, Moroccan carrots and orange, sweet potato casserole, roasted sweet potatoes with leeks, Moroccan chicken and dates, kale salad with citrus dressing, grain-free apple cake.  There are so many lovely recipes on my site that would be perfect for the holiday dinner. Please reach out if you need suggestions for creating the perfect seasonal menu.  🙂
Here's what you can do ahead if you need to:
Sunday:
Bake sweet potatoes, assemble and refrigerate
Wash leafy greens
Make pesto
Make broccoli salad dressing
Tuesday:
Make sauerkraut
Cook Quinoa
Thursday:
Assemble tuna patties
I have LOVED seeing all your creations of my recipes on Instagram. If you make any of my recipes, please tag me @pamelasalzman #pamelasalzman so I can check them out!
Click here to learn more about my online cooking classes! If you like my recipes, you'll LOVE my cookbook!  If you have 1 minute, would you mind leaving a review on amazon?  I would be so grateful, thank you!