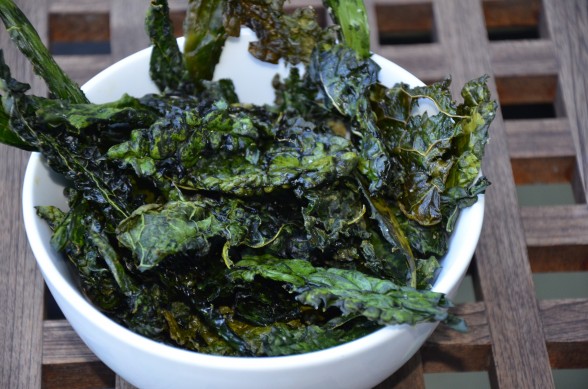 My favorite line from "Modern Family" this season was when Mitchell returns from the farmer's market and declares, "Did you hear?  Kale is the new spinach?!"  Damn right, it is.  Even though kale seems to be the new "it" vegetable, I meet lots of people in my classes who are still intimidated by this highly nutrient-dense leafy green.  I don't know where to begin.  I can say, "don't judge a book by its cover" or "don't knock it 'til you try it."  Or maybe you have tried it and it just didn't float your boat.  If that's the case, then you haven't tried my kale salad with citrus dressing, because that will knock your socks off.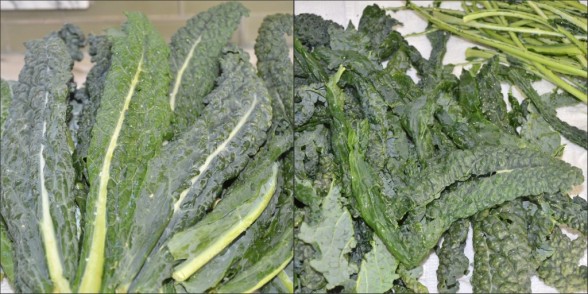 But if you been unsuccessful even getting your kids or picky spouse to try kale, you've got to take baby steps and that's where kale chips come in.  Kale chips is something I mentioned in passing in the first cooking class I ever taught.   Years later, students still email me and ask me how to make them and I cannot believe I have never posted a kale chips recipe.   These light and crispy chips are akin in texture to those seaweed snacks that your kids devour at $1.59 per package (I will post how to make those another time because all that packaging getting thrown into landfills is keeping me up at night.)  If I had to describe what they taste like, I would say they're like the lone brussels sprout leaves that got away from the head and roasted a little extra.  You know, the pieces that everyone fights over!  And they have the same slightly greasy, salty satisfaction as a potato chip, but it's KALE.  My kids eat them right off the baking sheet, but if I manage to sneak a few away, I like to crumble them over popcorn or cooked grains, like quinoa or brown rice.  They even make a fun and delicious garnish on a soup, as shown in the final photo, topping a bowl of potato, white bean and escarole soup.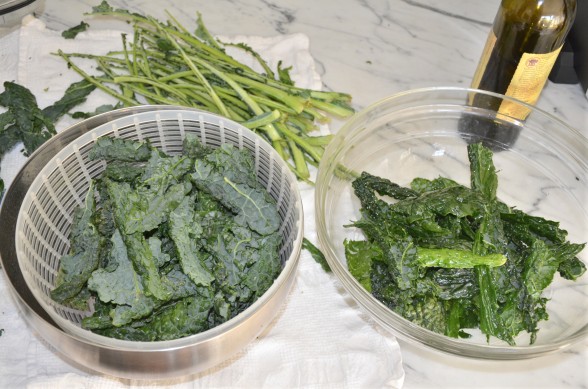 The three kinds of kale you are likely to find in your market are Red Russian, Curly Green, and Dinosaur, which also goes by Lacinato, black kale and Tuscan kale.  I use the Dinosaur kale most often since I like the leaves' smoother edges better than the rough leaves on the others.  But the Curly Green works well for chips since it is a little thicker.  My Whole Foods has been touting the ANDI system for rating a food's nutrient density relative to its calorie content and kale receives a perfect 1000 out of 1000.  Why?  Kale is incredibly high in calcium, Vitamin K, Vitamin C, magnesium, iron and antioxidants including including beta-carotene and lutein.  It is also high in fiber and low in calories.  All we are saying, is give kale a chance.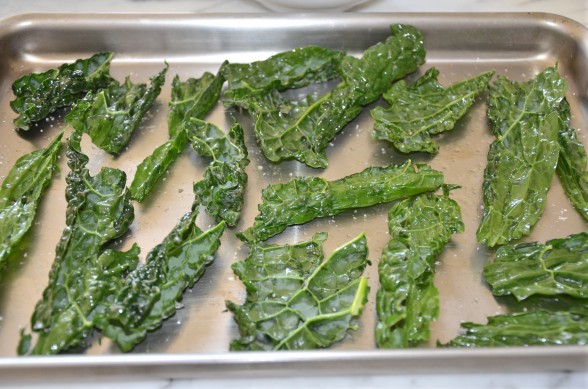 After making hundreds of pans of kale chips over the years, I have a few simple tips for you.  You can actually use whatever type of kale you want, but again I prefer the smoother edges of the Dino kale leaves.  It is very important that you dry your kale leaves very well before drizzling them with oil otherwise the oil won't adhere well.  Arrange the leaves in one layer on the baking sheet so that they don't overlap and they develop an even crispness.  Also, keep watch over the the chips while they're in the oven and make sure they don't burn.  If they do, they will look even scarier than when you first started and taste bitter.  And then, my friends, you'll be back to square one with kids and kale.  But I have a hunch that the only sad part of kale chip-making will be that they disappear way too quickly!
Please feel free to post any questions you have about kale, whether it's destined to be a chip or not.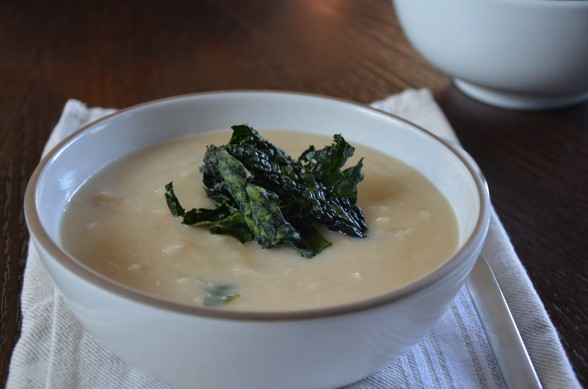 Kale Chips
Ingredients
1 bunch kale of your choice ( I used Dinosaur kale here because that's what I had.)
unrefined olive oil
fine grain sea salt
Instructions
Preheat oven to 350 degrees.
Wash kale and strip leaves off of stems. Discard stems. Dry kale really well and tear into large pieces.
Place kale leaves in a large bowl and drizzle with just enough oil to coat the leaves lightly.
Arrange kale leaves in one layer on a baking sheet. Feel free to line the baking sheet with unbleached parchment paper if it's aluminum. Sprinkle leaves with sea salt.
Bake for 12 minutes, turning halfway. They should be dry and crispy. The leaves change to an olive-y green color, sometimes even a little yellow, but they should not be brown or burned.