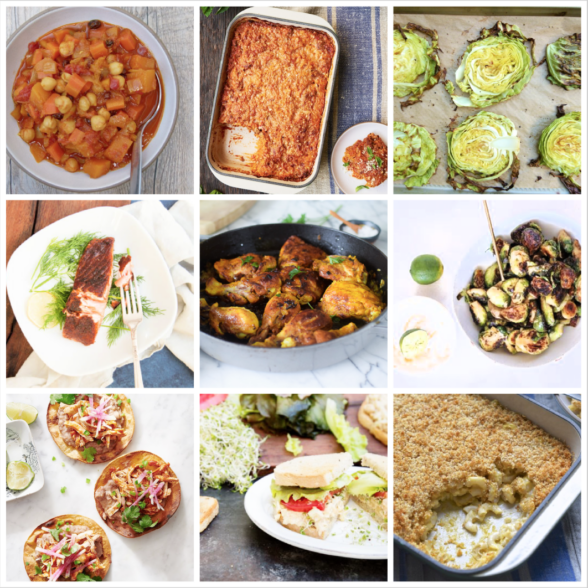 I hope you had a nice holiday if you celebrated this week!  I really liked the menu I put together for our break fast on Yom Kippur.  I also made my challah recipe into rolls (1 recipe made 9 rolls) and I made Jake Cohen's "Perfect Challah" which was a beautiful color because it called for honey + sugar, but it was way too sweet and not salty enough.  In case you're always looking for the perfect challah recipe.  I think mine is pretty pretty good!  For dinner, in addition to some traditional deli stuff, I made spanakopita, sweet noodle kugel, vegan lasagna, mejadra, roasted vegetable salad, farro with roasted tomato vinaigrette, and olive bar chickpea salad from QTQ.  Here's your dinner planner for the week:
Meatless Monday: Butternut squash and chickpea stew
Tuesday: Turkey bolognese spaghetti squash casserole, fresh green salad with everyday salad dressing #1
Wednesday: Roasted cabbage wedges, 7-minute salmon, grilled zucchini or eggplant with romesco sauce
Thursday: Everyday turmeric chicken with a side of cauliflower rice, method here, and your favorite roasted veggies.
Friday: chipotle brussels sprouts, baked pinto bean tostadas p. 277 from QTQ
Saturday brunch: Chickpea "Tuna" Salad in lettuce cups
Sunday: vegan mac n cheese to which I am going to add steamed cauliflower and bake it all together.
Here's what you can do in advance if it helps you:
Sunday:
Cut butternut squash – you can make the stew now and reheat the next day
Cook chickpeas if making from scratch
Roast spaghetti squash
Wash greens
Make salad dressing
Make spice spice mix for stew and salmon
Tuesday:
Make romesco sauce
Thursday:
Make tostadas and store in an airtight container after they have cooled
Friday:
Make chickpea "tuna" salad
I have LOVED seeing all your creations of my recipes on Instagram. If you make any of my recipes, please tag me @pamelasalzman #pamelasalzman so I can check them out!
My cookbook, Quicker Than Quick, is discounted for the first time on Amazon!  If you have 1 minute, would you mind leaving a review on amazon?  I would be so grateful, thank you!
Take a peek at my first cookbook "Kitchen Matters"!