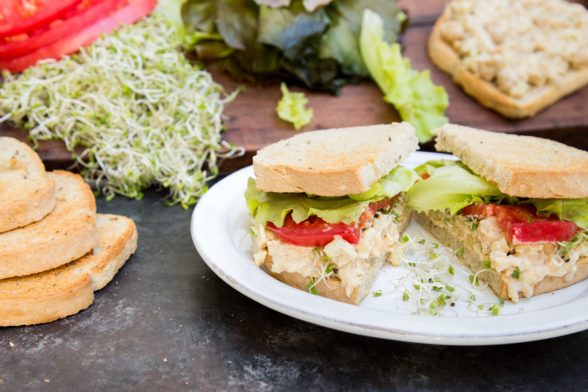 If you follow me on Instagram, you know that my meat-loving husband went vegan about 3 1/2 months ago.  He did so for health reasons and has never felt better.  I am still eating the exact same way I always have, mostly plant-based with occasional bits of wild fish or lean poultry, an egg here or there and a smidge of dairy every now and then.  But his new diet has forced me to make more satisfying, hearty vegan recipes that he enjoys.  I find lots of plant-based food very appealing, but my husband needs a little help.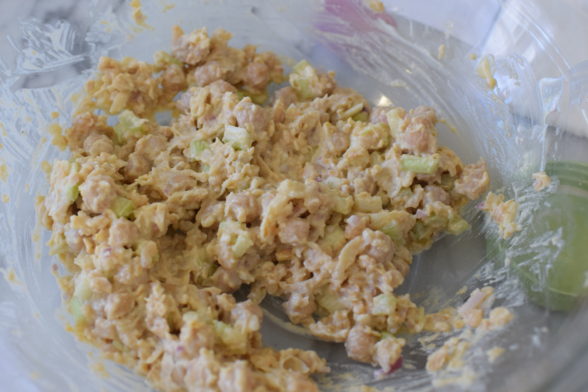 I came up with this chickpea "tuna" after I served him the curried chickpea salad from my cookbook and he went crazy for it.  I knew I could do the same thing with chickpeas and treat it like a tuna salad.  He absolutely loved it.  My whole family did!  I am a huge fan of legumes (beans and lentils) which contain loads of protein and loads of fiber, providing a slow release of energy for the body, as well as vitamins, minerals and antioxidants.  Legumes are cheap (even cheaper if you cook them yourself) and you probably have them in your pantry.  In fact, you probably have all of these ingredients laying around which makes it the perfect default meal if you have no idea what to make but you need something fast (like on a Saturday at lunch before my son's game or if you are stuck at home in the middle of a blizzard!)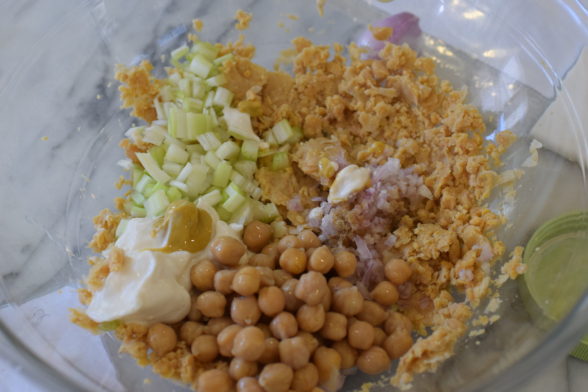 I photographed this as a sandwich on sourdough bread with typical sandwich fixings, but you could easily serve this in an avocado half or in a bowl on top of salad greens or in lettuce cups.  This also is perfect for kids who love tuna but don't want the fish smell in their lunch boxes.  🙂  I am not following any cleanse, diet, elimination, Whole30, etc. right now (or ever.)  I ate a little more than usual over the holidays, but now I'm back to my routine of working out 6 days a week and eating the way I normally like to eat.  However, if you have eliminated any ingredients mentioned here, feel free to leave a comment below and I would be happy to offer you suggestions.  Also, if you need to serve more people than indicated, this recipe doubles and triples very easily.  Happy weekend!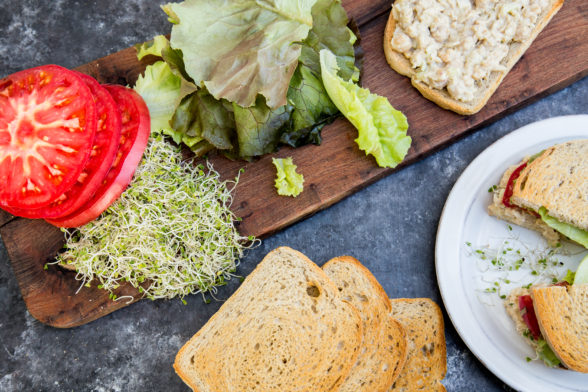 If you make this salad, please tag me on Instagram with an image of your creation.  I'd love to see it! @pamelasalzman #pamelasalzman

Vegan Chickpea "Tuna" Salad
Ingredients
1 ½ cups cooked chickpeas or 1 15-ounce can, drained and rinsed
¼ of a lemon
1 stalk celery, diced, about ½ cup
1 small shallot, diced, about 2 Tablespoons
2-3 Tablespoons mayonnaise (I like soy-free Vegenaise) or half Greek yogurt* and half mayo
1 teaspoon Dijon mustard (optional, but I like it)
⅜ teaspoon Herbamare (my secret ingredient in tuna salad) or sea salt
Freshly ground black pepper to taste
Instructions
Place 1 cup of the chickpeas in a large bowl and mash with a potato masher or fork until chunky puree. Squeeze the lemon on top.
Add the un-mashed (about ½ cup) chickpeas, celery and shallots to the mashed chickpeas. You can also mash all the chickpeas if you like.
In a small bowl, combine yogurt/mayonnaise, mustard, herbamare and pepper.
Pour on top of the chickpeas and salad ingredients and combine to coat well with dressing. Adjust seasonings to taste.
Store leftover in the refrigerator for up to 3 days.
Notes
other additions can include diced apple, diced sweet bell pepper, sliced manzanilla olives (the ones stuffed with pimentos), chopped nuts, chopped water chestnuts, fresh dill

*Kite Hill makes a vegan almond milk Greek yogurt