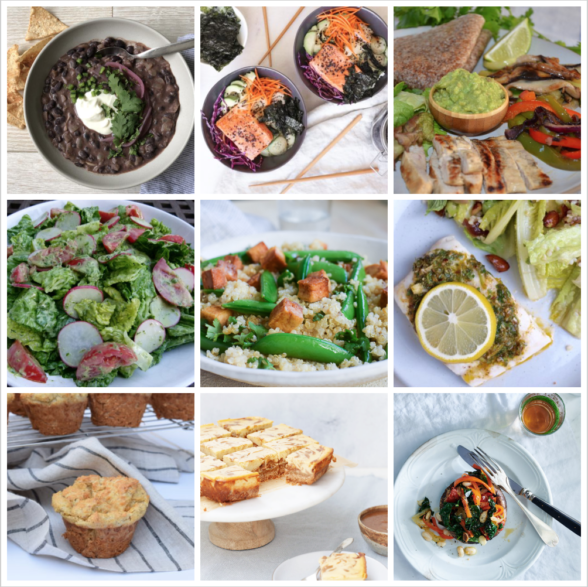 Passover is coming soon and Easter comes about 8 days after that! I just started my dessert-making today with the Lemon Ice Torte since it's a frozen dessert. I'm headed to visit my mom and my sisters in New York next weekend, but I wanted to make a few Passover desserts for my husband to bring to his family's celebration.  I'll probably make the same ones for Easter, too!  Here's your dinner planner for the week:
Meatless Monday: Creamy black bean soup, avocado toast or  sweet potato toast
Tuesday: Deconstructed Salmon Sushi Bowl (this is my family's favorite dinner!)
Wednesday: chicken and veggie fajitas (mushrooms, zucchini, bell peppers, and/or onions), Green goddess salad
Thursday: Sugar snap pea and quinoa salad with tofu (we'll see how hungry everyone is – I can always supplement with a quick chopped salad or roasted cauliflower with tahini sauce.)
Friday: Broccoli, celery root and spinach soup from Kitchen Matters you can add cooked quinoa and white beans or chickpeas to make this a hearty meal or a grilled cheese or quesadilla.
Saturday (Passover): See this post and this post for some menu ideas. A few years ago I made brisket, a roasted vegetable platter, perfect spring salad, sweet potato casserole(using coconut instead of corn flakes), matzoh lasagne with vegetables, baked chicken with artichokes and capers, halibut with chermoula, maztoh ball soup, Passover popovers, fruit platter, coconut macaroons, fallen chocolate cake, lemon ice torte, cashew cheesecake, strawberry-rhubarb sauce, salted caramel cheesecake bars, and carrot banana cake (using this recipe).  Basically, any recipe that is gluten-free (other than containing oats) can be passover-compliant unless your family follows the old rules of no grains and no legumes.
Sunday: Veggie Stuffed Grilled Portobello Mushrooms p. 284 from Quicker than Quick, green salad with everyday salad dressing #1
Here's what you can do in advance if it helps you:
Sunday:
Make stock
Wash greens
Cook beans, if making from scratch
Make salad dressings
Make marinade for fajitas
Tuesday:
Cook quinoa
Cut veggies for fajitas
Start marinating chicken for fajitas
Friday:
Make dessert for Passover
My new-ish cookbook, Quicker Than Quick, is here!  I have LOVED seeing all your creations of my recipes on Instagram. If you make any of my recipes, please tag me @pamelasalzman #pamelasalzman so I can check them out!  If you have 1 minute, would you mind leaving a review on amazon?  I would be so grateful, thank you!
Take a peek at my first cookbook "Kitchen Matters"!