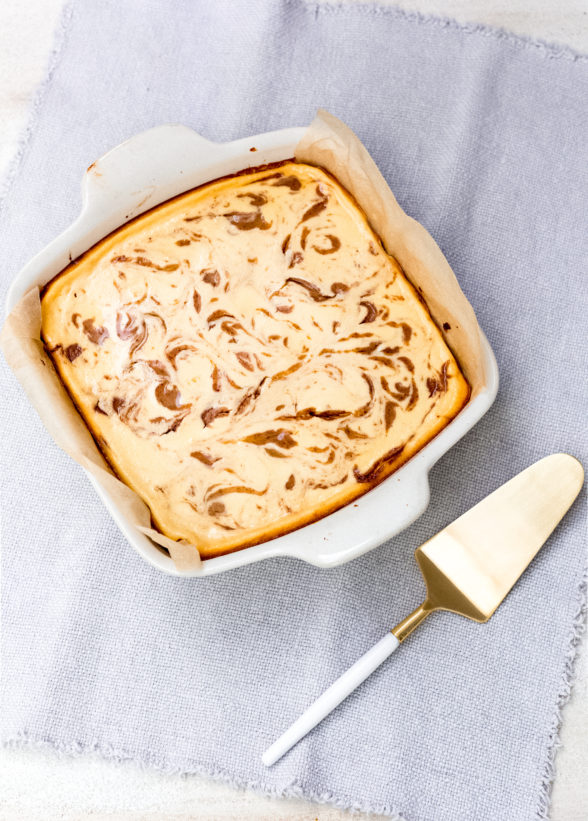 Both Easter and Passover are quickly approaching and although I don't normally host either holiday, I always make at least the desserts for the Passover seder and a nice Easter brunch for my family.  This year I am thrilled to be spending Easter with my family on the East coast, so I am already in planning mode with my mom for our Easter lunch!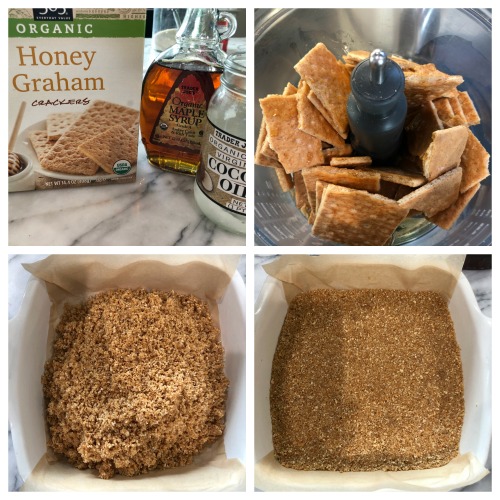 A few years ago I realized all my Passover desserts contained nuts, which isn't a terrible thing until you have a guest who is allergic to nuts.  Yikes! So I started to think about introducing some desserts to our holiday that are nut-free.  This year, I taught a beautiful Pavlova with berries in my March online class.  If you used to take my in-person classes or have taken my bootcamps and you want more, you should sign up for my monthly online classes!!  They're fun, educational, and I teach all-new, never before published recipes that I keep totally exclusive for at least a year.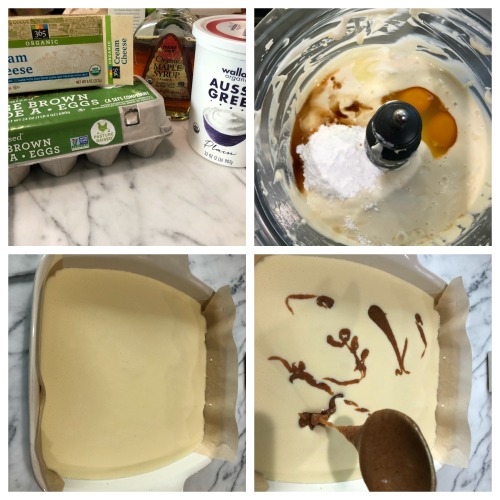 Back to the nut-free desserts and hence this salted caramel cheesecake which is a twist on my mini lemon cheesecakes in Kitchen Matters.  Sooooooo delicious, EASY, make-ahead, and loads of options for making dairy-free, nut-free, and Passover-compliant.  I need to please be upfront though that this is not a kosher website.  I am not an expert in what is kosher for Passover.  But I do know that the "official rules" for what foods are off-limits relaxed a number of years ago.  My husband's family has conformed to those new rules and so have I.  If you are still not eating legumes, rice and other gluten-free grains, this recipe may not be appropriate for your Passover table.  Likewise, not everyone who celebrates Passover keeps kosher and therefore is not strict about serving meat for dinner and keeping dessert dairy-free.  I have provided suggestions to make this recipe dairy-free if you need.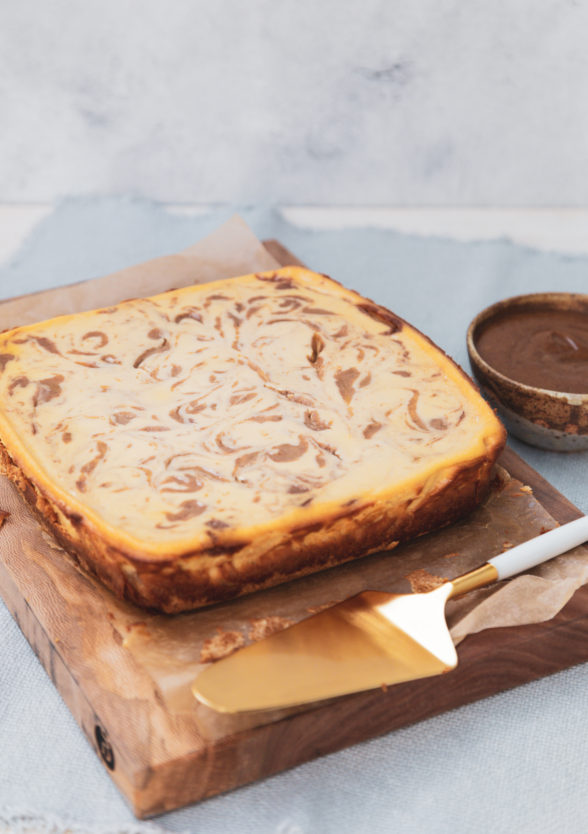 Back to cheesecake!  I never loved traditional cheesecake which I find to be too sweet, too thick, and kind of annoying to make with a water bath and wrapping the springform pan in foil, etc.  This recipe is lighter, sweet enough and super simple!  If you have Kitchen Matters, you can follow the method for making mini cheesecakes with this recipe.  So cute!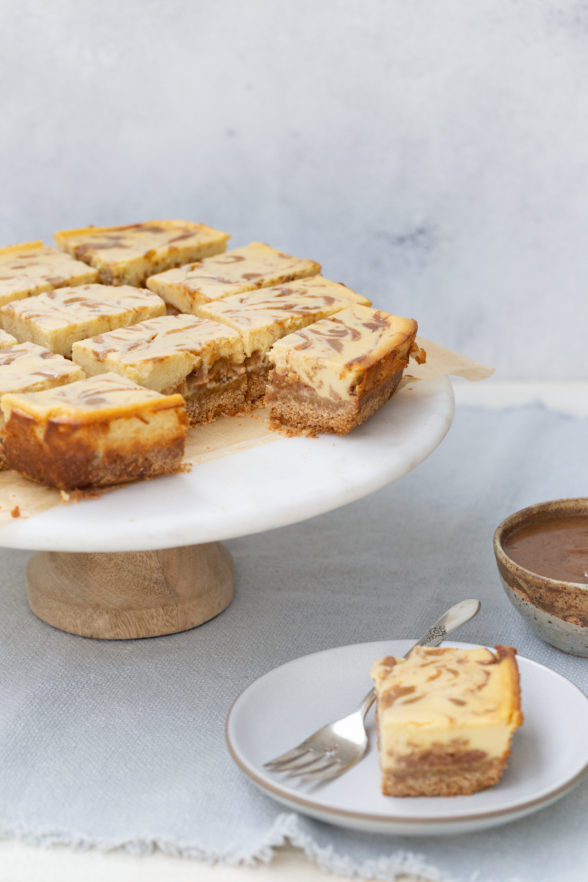 The date caramel sauce is a dream and something I make often for a sundae bar or to drizzle on roasted or grilled fruit.  My original recipe called for lucuma powder which has a caramel undertone, but I have left it out here.  Not necessary!  What I love about this cheesecake is that you can make the caramel sauce a week ahead and make the entire cheesecake in advance and keep it refrigerated. After a couple of days in the fridge the date caramel starts to pull away from the cheesecake a bit, but it really doesn't affect the look or taste of the dessert.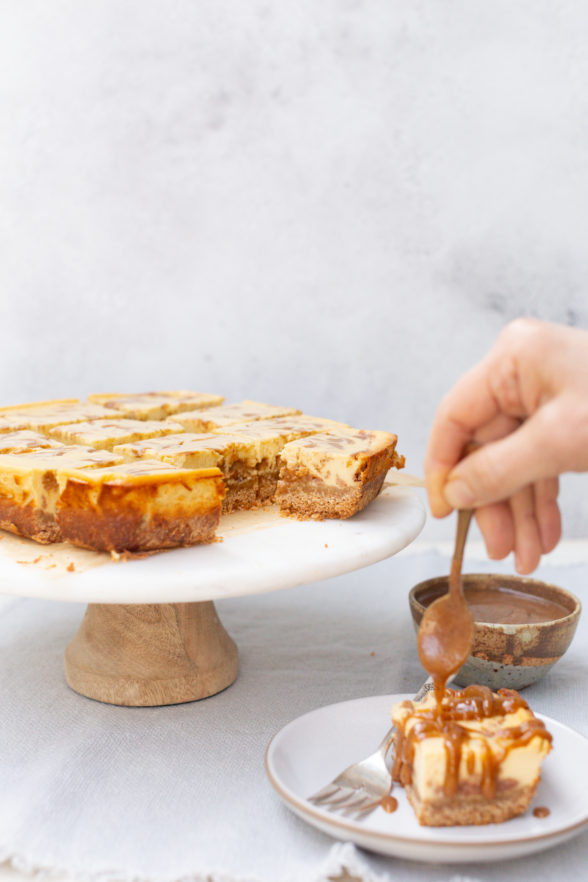 I love offering fresh fruit with dessert, either on its own or to top the dessert I am serving.  In my opinion, berries go with everything.  In general, berries have less fructose (fruit sugar) than other fruits so they are a nice balance to desserts.  Strawberries are in season at this time of year and would pair beautifully with this cheesecake.  Other berries such as blueberries, blackberries and raspberries (or a mix) would be equally nice.  Or you can do a quick berry sauce!  Check out this blueberry sauce recipe or this recipe for a strawberry-rhubarb sauce.
 

 

 

View this post on Instagram

 

 
Check my upcoming dinner planner (always published on Friday night) for lots of Passover ideas.  The following week's dinner planner will have Easter ideas!  Let me know if you make any of my recipes by tagging me @pamelasalzman #pamelasalzman on Instagram!
You can shop the tools I used for this recipe by clicking on the images below:

Salted Caramel Cheesecake Bars
Ingredients
Date caramel sauce (Makes about 1¼ cups)
6 large dates, pitted and soaked in 1 cup warm water for 30 minutes, soaking liquid reserved (about ¾ cup packed dates)
3 Tablespoons melted unrefined virgin coconut oil
3 Tablespoons pure maple syrup
3 Tablespoons brown rice syrup or raw honey
¼ cup creamy raw or roasted almond butter or raw cashew butter (for nut-free, try omitting and if something is needed, try a mild tahini)
½ teaspoon pure vanilla extract
¼ teaspoon sea salt
unsalted butter or unrefined virgin coconut oil for greasing baking dish
For the crust:
2 cups graham cracker crumbs* (about 14 standard crackers pulverized in a food processor)
6 Tablespoons unrefined coconut oil, melted
3 Tablespoons pure maple syrup
pinch sea salt
For the Filling:
1⅓ cup unsweetened whole milk Greek yogurt**, at room temperature
6 ounces cream cheese or almond milk cream cheese, at room temperature
⅔ cup pure Grade A maple syrup
2 large eggs, at room temperature
2½ Tablespoons arrowroot powder
¾ teaspoon pure vanilla extract
pinch of sea salt
Instructions
Preheat the oven to 325 degrees. Grease an 8 x8–inch pan with coconut oil or butter and line with unbleached parchment paper, leaving a tab on either end for easy removal.
Prepare date caramel sauce: process all sauce ingredients + 2 Tablespoons date soaking liquid in a blender until completely smooth.
Prepare the crust: in a large bowl, combine graham cracker crumbs, coconut oil, maple syrup and salt. Transfer mixture to the prepared pan and press down firmly, making an even layer. You can use the bottom of a cup to do this. The better you press the crust, the better it will hold together.
To make the filling, combine yogurt, cream cheese and maple syrup in the bowl of the food processor and process until smooth, 1 to 2 minutes. Add the eggs, arrowroot, vanilla and salt and continue to process until batter is smooth and combined, about a minute more.
Pour the cheesecake filling on top of the crust. Drizzle spoonfuls of caramel sauce (you'll use about half the amount of sauce) across the top of the batter. Swirl it in with the tip of a paring knife.
Bake until set, but still jiggly like Jell-o, about 47 to 55 minutes (51 minutes in my oven). Let cool to room temperature, about 2 hours, and refrigerate until chill to serve. Cheesecake can stay refrigerated for a week.
Notes
*Use GF graham crackers for a GF/Passover-compliant version. Kinnikinnick has GF graham crackers and a GF graham cracker crumbs product. Check Vitacost or your local grocery store. ThriveMarket.com sells Schar GF graham crackers, Pamela's GF graham crackers, as well as Mi-Del GF graham cracker crust (you can bake the cheesecake in the pie plate or remove from the aluminum tin and transfer to your own baking dish.). Or don't use graham crackers and use a vanilla wafer or similar.
**Or use an equal amount of firm tofu. I haven't tested it with a different yogurt, but I imagine some of the thicker DF yogurts like the Kite Hill coconut yogurt would work well.