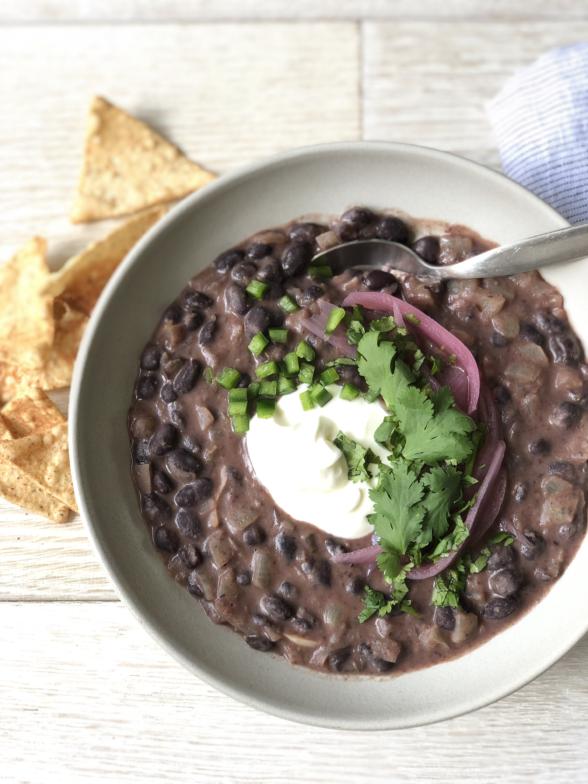 While I am finishing up my manuscript for my second cookbook, I am taking advantage of the plethora of new cookbooks in my kitchen.  One that I was excited to receive was my friend Katie Morford's book, "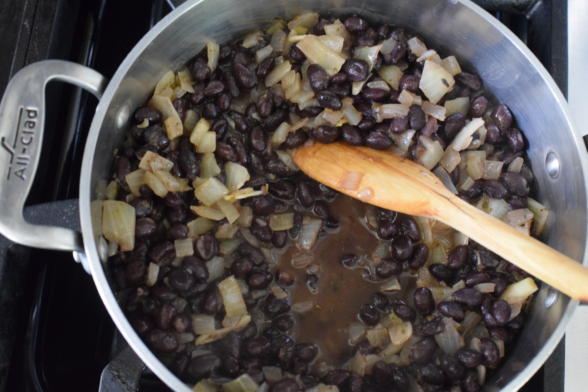 Some of the recipes in Katie's book are a tad elementary for most of the readers of my blog, so I chose something that required some effort and contained lots of plant-based nutrients.  I made this creamy black bean soup for a Meatless Monday dinner this week and my husband and son absolutely loved it.  The flavor was well-balanced, especially with a little lemon juice added at the end.  Although there's a little chipotle in the soup, I added some extra hot sauce to mine because I like spicy food.  Like most soups that I serve, I offer a few topping options for fun and to increase the chances that my son will be more positive about the dish.  😉  Always works, especially when tortilla chips are involved.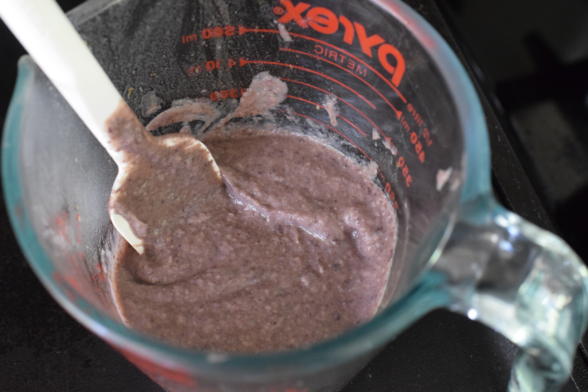 We ate this soup as a meal.  I know many of your family members do not understand the concept of "only soup," but see if you can get them accustomed to one meal a week being a hearty soup.  My mom did it on Mondays when I was growing up because we often ate more heavily over the weekend.  We thought everyone ate vegetarian soups on Mondays! If the kids or your significant other need more, you can offer a salad, a quesadilla, a piece of avocado or sweet potato toast.  Try it and see what happens.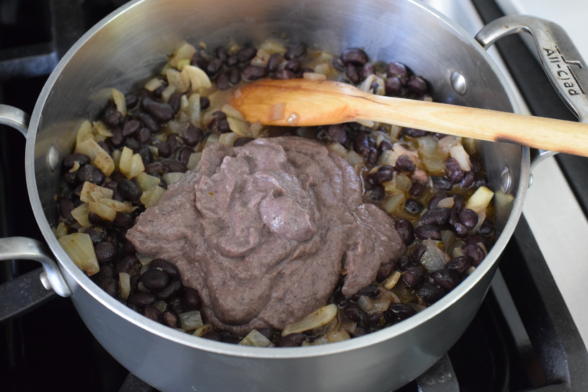 If you have canned or jarred black beans in the pantry, which I hope you do, then this soup is a snap to prepare and will last for a few days in the fridge.  College students and beginner cooks should all have a few basic pantry staples that will help pull together a meal quickly.  Canned or jarred beans are my fave (Eden is my favorite brand of canned beans and Jovial Foods is my favorite brand of beans in glass jars.)  I am such a big fan of legumes in general and I use them very often in my classes and at home.  They contain loads of fiber, protein, and in the case of dark colored beans, antioxidants.  Plus they are quite cheap.  And tasty!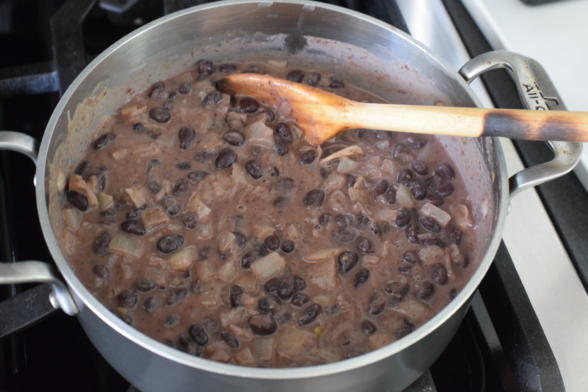 Because I already had homemade black beans on hand for my classes this month, I used those here. I often cook a big batch of beans in the slow cooker (1 pound of dried, soaked beans takes about 6 hours) and freeze what I don't need right away.  I always freeze in quantities that I will use, i.e. the amount found in a standard can.  Beans freeze amazingly well.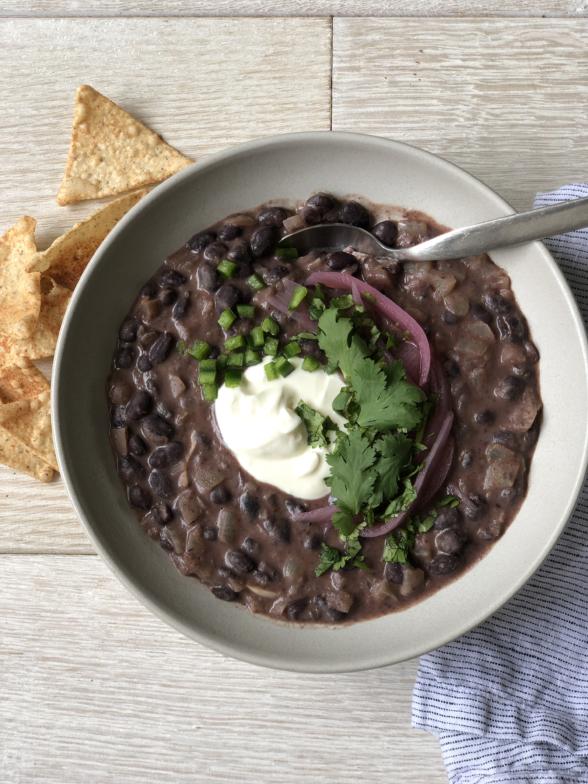 This is an evergreen soup, in my opinion; good all year long.  I might vary the toppings according to the season with radishes and cilantro in the spring and summer and sour cream or Greek yogurt and chips in the winter.  Freeze-dried roasted corn would be a fun topping, as would popcorn (yes, popcorn!) and anything pickled (jalapeños, onions, cabbage.)  Check out Katie's book here.  I think it would make a perfect graduation gift paired with a set of potholders or a assortment of wooden cooking utensils.
As always, please make my day and tag me on Instagram @pamelasalzman #pamelasalzman so I can see what you're cooking up in the kitchen.  Have you been using my cookbook?  If so, would you do me the biggest favor and leave a review on amazon?  Apparently, more reviews mean the book will be recommended more by the not-human amazon algorithm!  Thank you.  I am always grateful for your encouragement and enthusiasm.
Shop the tools for this recipe by clicking on the images below:

Creamy Black Bean Soup
Author:
Pamela, adapted from "Prep: the Essential College Cookbook" by Katie Morford
Ingredients
1 Tablespoon unrefined cold-pressed extra-virgin olive oil
1 medium onion, finely chopped
2 cloves garlic, thinly sliced
¼ teaspoon chipotle powder
¼ teaspoon ground cumin
1 teaspoon dried oregano
1 teaspoon sea salt
3 cups cooked black beans or 2 15-ounce cans, drained and rinsed
1¼ cup vegetable or chicken stock or water
1 Tablespoon freshly squeezed lemon juice
Optional toppings: Sour cream, pickled onions, radishes, cilantro, avocado, tortilla chips.
Instructions
Heat olive oil in a medium saucepan over medium heat. Add the onion and sauté, stirring regularly until tender and translucent, about 5 minutes. Add the garlic and continue to sauté for 1 minute.
Add all of the spices, salt, beans and stock. Turn the heat to high and bring to a boil. Reduce heat to medium-low and simmer for 5 minutes.
Scoop 1 cup of the soup from the pot and place in the blender or food processor. Blend until smooth, then add back to the soup pot and combine well. Stir in lemon juice. Add a little more stock or water if soup is too thick.
Serve in bowls topped with a dollop of sour cream, if desired.