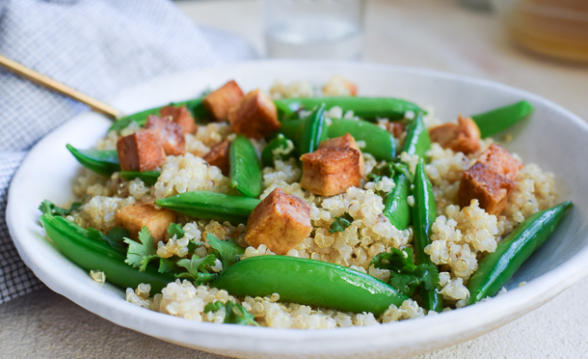 I saw sugar snap peas at the farmers market for the first time a couple of weeks ago and I immediately bought them without thinking twice.  I am crazy for these crunchy, sweet pods and I often snack on them plain or dip them into hummus or a basic vinaigrette.  The season for local sugar snap peas is short, so I'll be buying them weekly until I don't see them anymore.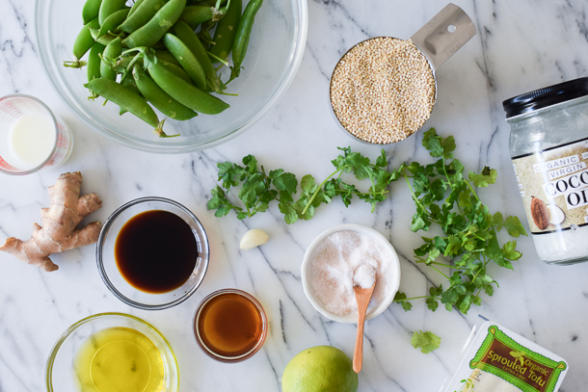 I remembered this quinoa recipe with snap peas and tofu that I had taught in a class many years ago and thought that my husband would finally enjoy it now that he is vegan and quinoa and tofu are his new BFF's.  I went to look it up on my site and, what???  I never posted it!  I couldn't believe it.  Sometimes old recipes aren't that exciting anymore, but this is one I still make and has stood the test of time.  Although you know me – I love changing things up depending on what I have on hand.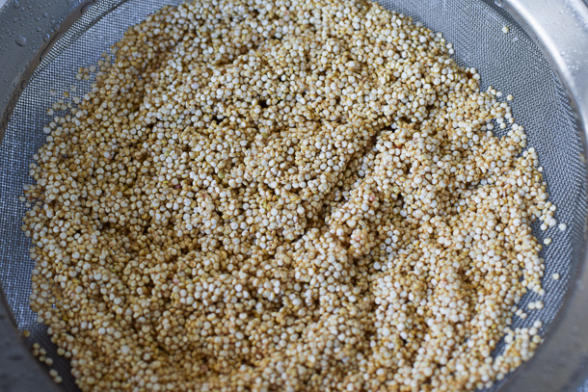 When I taught this recipe so many years ago, Paleo and Whole30 weren't a thing.  People had barely heard of quinoa.  I am still eating the exact same way – mostly plant-based with the occasional small piece of animal protein added, usually wild fish.  I do a smidge of dairy here and there, possible an egg every now and then.  Same diet because it works well for me.  But I know not everyone wants to eat my way, so if you want to sub rotisserie chicken for the tofu, go for it.  If you wan to use cauliflower rice instead of quinoa, great. Make it your own.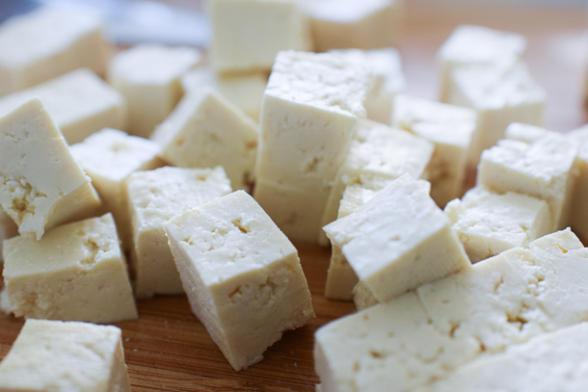 It's really all about the dressing and the sugar snap peas, in my opinion.  Or whatever delicious crunchy vegetable you have.  The dressing has an Asian flavor profile that is simple and clean and very flavorful.  This dish is a complete protein, thereby creating a perfect meatless entree.  I also love this as an airplane meal since it's filling, but light and can hold up really well at room temp for many hours.  It's also great for a potluck or a buffet for the same reasons.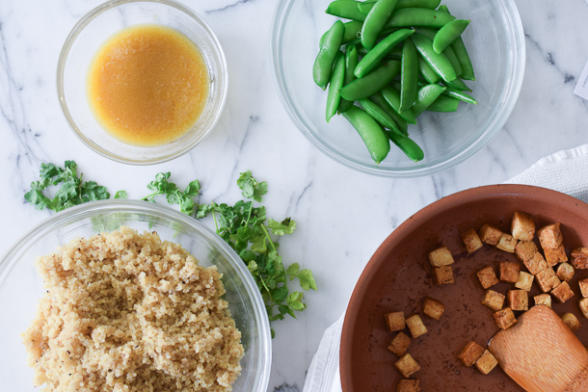 I am starting to think of good meatless dishes for Lent, which is coming up soon, as well as Passover-friendly recipes.  I can't keep up with all the updates in the Passover rules, but I think this recipe is compliant if you use the tamari option (quinoa and legumes are ok, right?)  Please correct me if I'm wrong.  So if you've been struggling with winter and the cold weather, may these sugar snap peas be a reminder that spring is coming to you soon.  Maybe not as soon as you'd like, but it's coming!  As always, please tag me on Instagram so I can see your beautiful creations @pamelasalzman #pamelasalzman.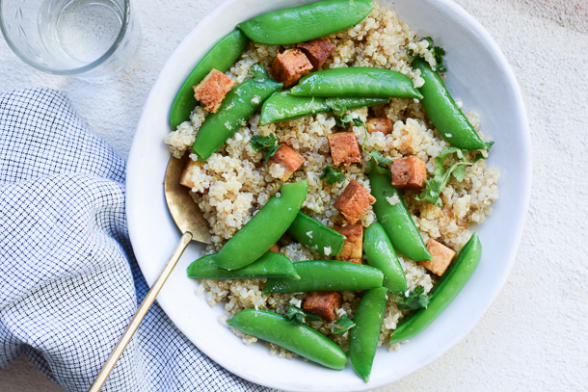 Shop the tools I used for this recipe by clicking on the images below!

Sugar Snap Pea and Quinoa Salad with Tofu
Author:
adapted from Martha Rose Shulman from the NY Times
Ingredients
1 cup quinoa, rinsed
1 ¾ cups water
Fine grain sea salt
1 Tablespoon unrefined coconut oil or olive oil
8 ounces extra firm tofu, sliced ½-inch thick
shoyu or gluten-free tamari to taste (or coconut aminos)
6 ounces sugar snap peas, trimmed and blanched for 2 min., left whole or cut on the diagonal in thirds OR leave raw*
¼ cup chopped cilantro
¼ cup thinly sliced scallions (3-4)
Dressing:
2 Tablespoons fresh lime juice or unseasoned rice vinegar
1 teaspoon minced fresh ginger (you can sub a pinch of ground ginger or to taste)
1 small clove garlic, minced
1 teaspoon shoyu or gluten-free tamari (or coconut aminos if you can't do soy)
2 Tablespoons toasted sesame oil or walnut oil
2 Tablespoons unrefined, cold-pressed extra-virgin olive oil
2 Tablespoons tahini, raw cashew butter, unsweetened kefir, buttermilk or yogurt
Instructions
In a medium saucepan add the rinsed quinoa, water and a pinch of salt. Bring to a boil, lower the heat and cover. Simmer for 15 minutes or until all the water has been absorbed, then turn off the heat and keep covered for 10 minutes. Transfer to a large serving bowl and allow to cool.
Pat the tofu dry with paper towels, pressing on it to absorb any excess water. Cut into ½-inch dice. Heat a medium skillet over medium heat and add coconut oil. When oil is warmed, add tofu and stir-fry until golden and slightly crisp, about 5 minutes. Sprinkle with salt to taste. (1/2 teaspoon is a good start.)
Add cooked tofu to the quinoa with snap peas, cilantro and scallions.
In a small bowl whisk together the dressing ingredients and pour over quinoa mixture. Sprinkle with two pinches of sea salt (or to taste) and toss gently to combine.
Notes
*You can sub another vegetable here like roasted or blanched carrots, blanched broccoli, or roasted or blanched asparagus.