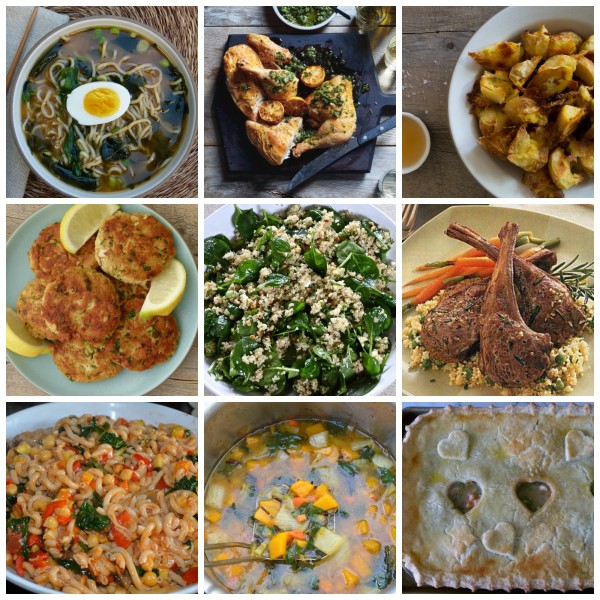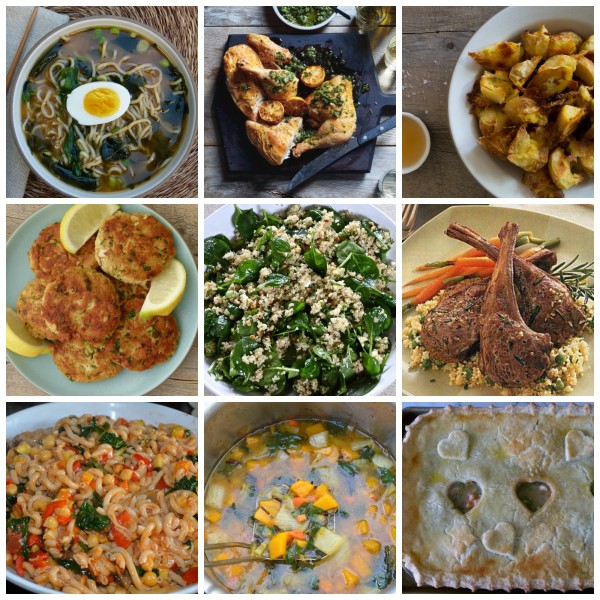 I decided to post this week's dinner planner a day earlier in case you are shopping today for the Super Bowl like I am.  I figure I can get what I need for the first half of the week and then do another shop at the farmers market mid-week to fill in the blanks for the rest.
Some of my cooking class students have said the weekly dinner planner has forced them to sit down on Sundays and get organized for the week, even if they don't follow my menus exactly.  So great!  Which brings me to this week's tip about how you may want to customize this week's menus.
If you are hosting a party, you might be faced with some leftovers on Monday.  We have a small crowd at our house, so usually leftovers get taken care of at breakfast and lunch on Monday.  It's going to be 80 degrees on Sunday, so I am opting not to do the typical chili menu.  This year I am doing an Italian theme, with a vegetarian antipasto board to start which will include crudités, creamy white bean dip, roasted peppers and roasted artichoke hearts, olives, cheeses and breads and my vegan queso dip without the beans and corn.  I might also make this warm spinach-artichoke dip.  Then we're doing homemade pizzas, this chopped salad, meatballs and rolls for sandwiches.  Millet and almond butter blondies plus mini lemon yogurt cheesecakes (from this month's cooking class) are for dessert plus whatever my friends bring.
Here are some ways you can use leftover Super Bowl eats:
salsa and guacamole are great on scrambled eggs, in breakfast tacos, quesadillas and in this chicken and avocado soup recipe.  Throw some leftover tortilla chips into that soup, too.
casseroles, like enchiladas, can be transformed into soup.  Trust me!  Place in a pot and add enough chicken stock to make it soup-like and reheat.  Totally delicious.  Check out my instagram post when I took leftover cassoulet and made it into cassoulet soup.
chili is obviously delicious the next day, but if you don't have enough for a full meal for the family, make some baked potatoes or sweet potatoes and reheat the chili as a topping.
crudités, if they look a little dry for a salad, can be chopped and sautéed for a soup, frittata or a fried rice.
stale bread and cornbread can be made into croutons for soup or salad.
Here's my dinner planner for the week with some ideas for how to prep ahead
Meatless Monday:  Homemade ramen noodle soup and hard boiled eggs and veggies, veggie potstickers (I'm going to buy the potstickers frozen); see notes above for how to use Super Bowl leftovers.
Tuesday:  Chef Jonathan Waxman's roasted chicken and lemons with salsa verde from Food + Wine, roasted cauliflower, salt and vinegar potatoes
Wednesday: Tuna patties, green salad (I'll probably add red cabbage, radishes and carrots), Everyday Salad Dressing #2, and avocado toast
Thursday:  Grilled/broiled rosemary and garlic lamb chops, quinoa with spinach, feta, pine nuts
Friday:  Pantry pasta (this is a flexible recipe geared to use up whatever you have in the fridge/pantry,) sautéed greens (I am thinking kale)
Saturday:  Butternut squash and wild rice soup
VALENTINES DAY: Chicken pot pie, green salad with heart-shaped carrots and beets.  A special dessert would be nice, too.  Flourless chocolate cakes or the raw cookie dough truffles I am posting on Tuesday would be perfect!
How you can prep ahead (which doesn't mean you must, just some ways you can relieve some of the prep right before dinner):
Sunday:
Make stock for ramen soup, butternut squash and wild rice soup, and chicken pot pie.  Here's a recipe for veggie stock and for chicken stock.
Boil eggs for ramen soup, if using, and refrigerate.
Make salad dressing for Wednesday and Sunday green salads
Wash and dry salad greens for Wednesday
Prep cauliflower florets for Tuesday
Salt chicken for Tuesday (I like to do this.  Do not salt a kosher chicken, though.  Check out this post here.)
Monday:
Make the salsa verde for Tuesday
Wednesday:
Shape the tuna patties, cover and refrigerate (can be done in the morning)
Marinate the lamb chops for Thursday
Cook quinoa, if that will help you.
Wash greens for Friday
Thursday:
Cube butternut squash for Saturday soup
Wash and dry salad greens for Sunday
Sunday morning:
You can assemble the whole pot pie and refrigerate it, then bake it later in the day.   The pastry can even be made the day before.
Previous Dinner Planners: