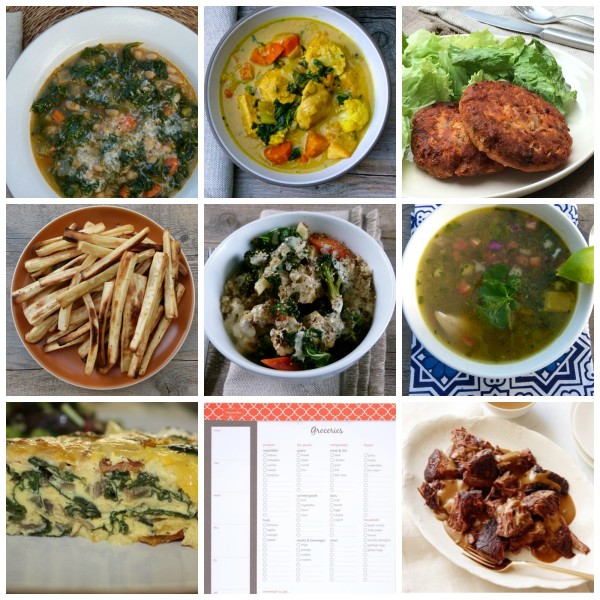 Happy Sunday!  I hope you are all having a great weekend.  Welcome to Week 3 of the Dinner Planner series.  If you missed the first two, no big deal.  Just jump in anytime for inspiration in planning your dinners for the week.  Here are the past two in case you want to take a peek.
Dinner Planner Week of January 4th
Dinner Planner Week of January 11th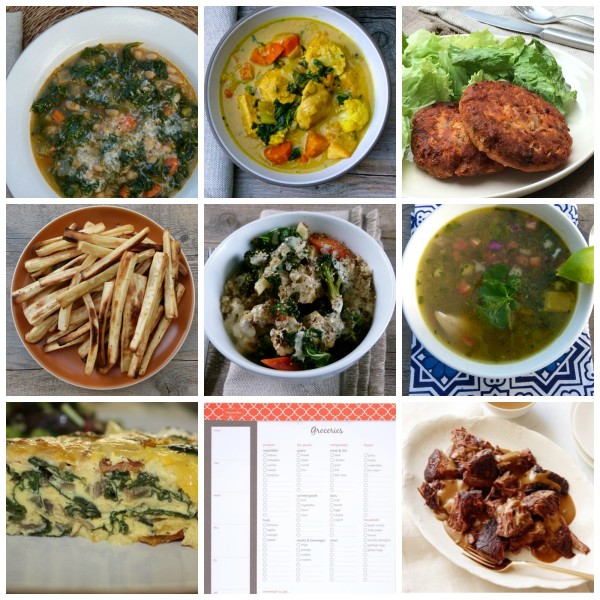 My tip this week is actually something I shared in this past Friday Favorites post.  I use a shopping list pad every week to help me create my grocery list.  I like it because it's already organized by category.  Sometimes I decide what I want to make for the upcoming week by checking the refrigerator and seeing what I need to use up, usually in the vegetable department.  I also check the freezer for inventory of stock, beans and grains.  Then I pull all the recipes and go through each one, writing down all the ingredients needed.  I usually use leftovers for the next day's lunches.  I do have a rough plan for breakfasts, though.  I check to make sure I at least have eggs, oats, bread, almonds for almond milk, yogurt, fruit and nut butters.
Monday:  winter minestrone with white beans and kale, whole wheat naan pizzas (I buy whole wheat naan breads at Whole Foods and everyone makes his/her own pizza.  I am perfectly fine having a bowl of this hearty soup for dinner, but the kids like to have something extra.  Place in a 400 degree oven and bake until warmed through.)
Tuesday:  chicken and vegetable curry, basmati rice (make extra rice and use it for the soup topping bar on Friday, if desired)
Wednesday:  wild salmon patties, parsnip "fries", mixed greens salad with Brussels sprout leaves, walnuts and Everyday Salad Dressing #2
Thursday:  roasted veggie Buddha bowl (probably broccoli, cauliflower and carrots) with quinoa and lemon turmeric tahini dressing (lemon -tahini dressing recipe plus a pinch of ground turmeric)
Friday:  chicken and avocado soup with topping bar: tortilla chips, avocado, salsa, rice, poached chicken, lime; quesadillas
Saturday:  Swiss chard frittata, mixed greens salad with red cabbage, carrots and radishes and aged balsamic vinegar, olive oil, salt and pepper
Sunday:  unstuffed pork chops from 100daysofrealfood.com or Italian pot roast with porcini mushrooms from Giada de Laurentiis, noodles, steamed broccolini
Do ahead prep (if you want):
Sunday prep
Salad dressings
Lemon-Turmeric-Tahini Dressings
Soak and cook white beans for soup
Wash kale for soup, greens for salads
Make stock for soups
Wash Swiss chard for frittata
Cut veggies for Tuesday and Thursday
Freezer-friendly (make extra and freeze for a rainy day):
Kale and White Bean Minestrone
Chicken and Vegetable Curry
Cooked rice and quinoa
Chicken Stock