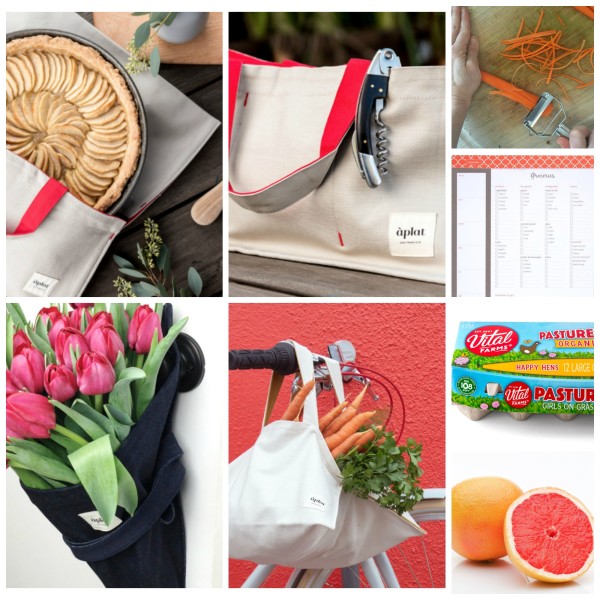 Titan Julienne Peeler
I am all about any kind of kitchen gadget that is going to cut down on prep time in the kitchen or make your life easier. I am always telling my students to utilize the blades on their food processors, showing them more than one way to use a vegetable peeler, multiple uses for a microplane, etc.  One tool I have been using a lot lately is my julienne peeler.  A julienne peeler works basically the same way as a regular vegetable peeler except instead of peeling one thick ribbon off of the vegetable, it juliennes it, which means to cut it into several small ribbons or strips. This is really useful for all you zoodle lovers out there as it can be used on zucchini or sweet potatoes to make noodles, and carrots into perfect strands for salads.   I have had a smaller simple julienne peeler for years but recently my mother-in-law got me this one by Titan and I have been loving it. It is bigger which means it juliennes more per swipe and it is very sharp which allows it to glide easily along without having to use too much force.  I received my peeler as a gift but it looks like they have it available on Amazon sold as a set with another standard peeler for a good price!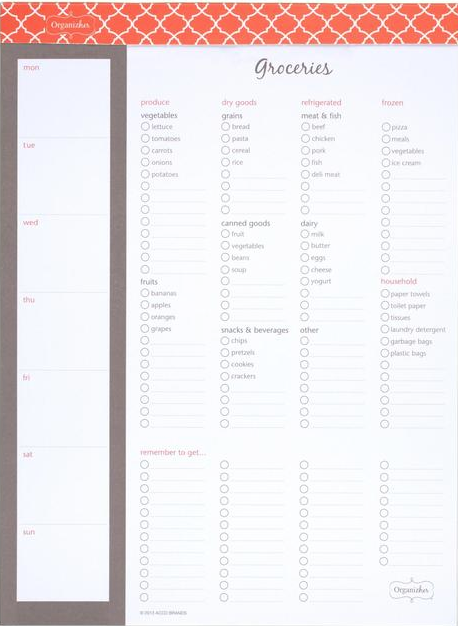 Grocery Checklist
You want to know what is no fun? Getting into the kitchen to make dinner and pulling out the ingredients you need for a particular recipe only to realize that you are out of something. The worst, I tell you! Sure you can adapt or use a substiution or check to see if you can borrow from a neighbor, but that's a little bit of a pain.  I learned years ago to create a system in my kitchen to ensure that that doesn't happen to me as seldom as possible.  Whenever I run out of a certain product, I write it down and use that list to go off of the next time I go to the store. The kids do the same thing too, since it is front and center on my fridge. I then take that list and go through my meal plan for the week and complete my grocery list.
I have been using this grocery checklist pad from Target for years and I couldn't live without it.  What is so great about using a pad like this rather than just a plain piece of paper is that everything is organized by category and therefore area of the grocery store, which makes my shopping trips way more efficient.  And I am pretty sure there isn't anyone here that has ever said "I wish I could spend more time in the grocery store!"  I have been hearing from a lot of you that you are following the weekly meal plan, so I think this is perfect to help you get organized and have a starting point for your grocery-list making!  I have been getting the OrganizHer checklist at Target for years but could not find it on Amazon.  You can buy it directly from Mead here if you can't find it from Target.  For those of you Amazon-only shoppers, this one is also great and will work just as well!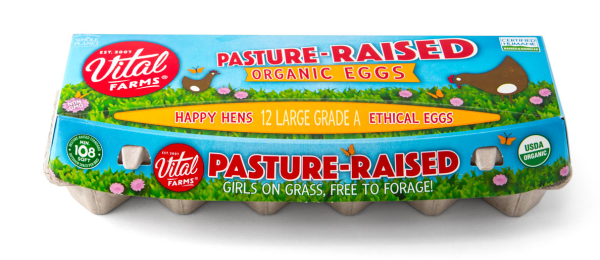 Vital farms eggs
I am kind of amazed these days at how many options there are when it comes to buying a dozen eggs.  It is definitely not what is used to be- now there are dozens of choices: organic, cage-free, free-range, omega-3, pasture-raised, etc. It can be overwhelming and hard to to figure out what you are getting for your money.  I have tried many different types of eggs over the years, including ones from my local farmer's markets, and no one has impressed me quite like eggs from Vital Farms. Vital Farms eggs are "pasture-raised" meaning that the chickens are free to roam pastures and have almost 100 times more space to do so than caged hens. Cage-free and free-range hens have slightly more room than caged do, but not by much. (Check out this interesting graph here). So why does it really matter? Pasture-raised hens provide top quality eggs in terms of nutrition and flavor. The yokes are a bright, deep yellow and they are rich in flavor and loaded with nutrients. In terms of nutrition, pasture-raised eggs contain 1/3 less cholesterol and ¼ less saturated fat. And since they are roaming a green pasture and feeding off of grass, they have more Vitamin A, Omega-3's, Beta Carotene, and even some naturally occurring Vitamin D, since the hens are free to roam out in the sunlight!  Now that we all have settled down about eggs and their cholesterol content, I feel like we should all be consuming eggs regularly in our diet.  They are a wonderful source of high-quality, inexpensive protein and are perfect for breakfast, lunch or dinner.  Vital Farms sells their eggs under several different names depending on which farm the eggs come from.  The ones I get at my local Whole Foods are the standard Pasture-Raised Organic Vital Farms Eggs, but you can read about the different types of eggs they sell here, and check out where to get them locally to you here!  I will warn you though these are going to cost you more than you conventional dozen (I pay around $7.99 for a dozen), but when you really compare the two I think it is worth it!  And if you want to be more economical, save these eggs for when you are making something that is mostly egg- frittatas, scramble, omlettes, etc., and get another more economically priced carton for using in baking where you only need 1 or 2 and you aren't necessarily going to be getting nutritional value from 1/16th of an egg!

Aplat Canvas Totes
My husband really outdid himself on this one, let me tell you.  He recently came home with a set of these canvas tote bags for me and I have been going nuts over them ever since.  I think they are so darling and clever and you know I love anything that is reusable and sustainable.  Aplat is a company based out of San Francisco and created this line as an ode to French culture, to friendship, socializing and sharing.  You will see that reflected as their totes are designed for carrying wine, bread, flowers and platters- all things that you partake in while socializing with your friends.  I especially love the "A Plat" line that is so convenient for carrying items such as a casserole, cake or pie to someones house, which can always be a bit awkward to maneuver.  The wine tote and the baguette tote are prefect for a beach day with friends or an evening picnic in the park, and who wouldn't love to receive a bouquet of flowers in one of these lovely totes?  They are also very chic and stylish and come in neutral colors such as canvas and denim.  They are available on the Aplat website with free shipping.  I only wish I had discovered these before the holidays since they would have made the perfect gift!

Seasonal Produce:  Grapefruit
Citrus season is in full swing and while oranges and clementines get all the love, I wanted to shed a little light on one of my favorite citrus, grapefruit.  Grapefruits come in a many varieties, from pink to ruby to white.  The color or description of the grapefruit actually refers to the color of the flesh, not the color of the outer skin that you see at the market.  Grapefruits have a very unique flavor- they are slightly tangy and tart with an underlying sweetness that I find to be very unique and not overwhelming.  This fruit is not only great for weight loss since it is loaded with water and fiber, but it is also packed with nutrients such as Vitamin C, lycopene (which fights free radicals and may lower the risk of certain cancers,) and contains the flavenoid hesperidin which helps regulate cholesterol levels, among other benefits.
The funny thing to me about grapefruit is that I can have grapefruit sitting on the counter for weeks and no one in my family touches it.  I segment it and put it in a container in the fridge, and it is gone in a flash.  Many people think that peeling a grapefruit is too time-consuming or tedious, but I actually think that segmenting a grapefruit is one of the easiest citrus to segment due to its large size.  Check out my post for how to segment citrus if you are not sure what I am talking about.  Once you have mastered this skill and see how easy it is I guarantee you will be more likely to buy grapefruit regularly.  I recently posted a  Fennel, Citrus and Avocado salad where grapefruit would work beautifully and is actually how I taught it when we made it in my classes last month.  Check out a few other recipes from around the web using grapefruit!
Grapefruit Chermoula from Bon Apetit 
Grapefruit Salad with Candied Ginger from Food and Wine 
Grapefruit, Feta and Mint Salad from Food52
Pink Grapefruit, Cucumber and Rose Skin Quencher from Kale and Caramel
Grapefruit with Pistachios from Martha Stewart