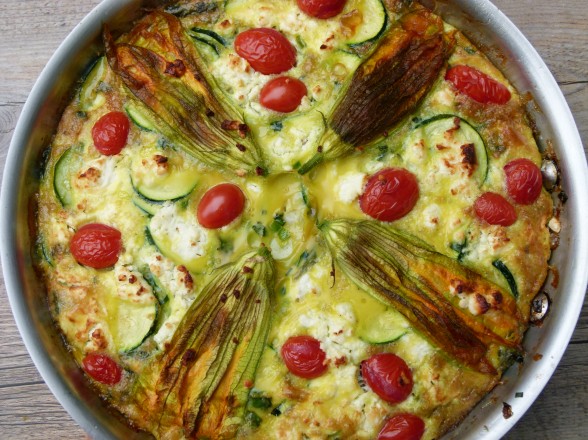 While I was away last week, my husband thought it would be a great idea to refinish the cabinets in the kitchen.  No wait, we might as well do all the cabinets in the entire house, he thought to himself.  Why do those four words generally end up as a bad idea?  Why do people think that a small project might as well be a big project?  We had a simple plan.  Mr. Picky and I would go back East to bring Daughter #1 to camp while my husband brought Daughter #2 to camp and we would come back a week later and my house would look like nothing had ever happened except that my kitchen cabinets would look pretty and fresh instead of beaten up because I've taught a hundred cooking classes in my kitchen.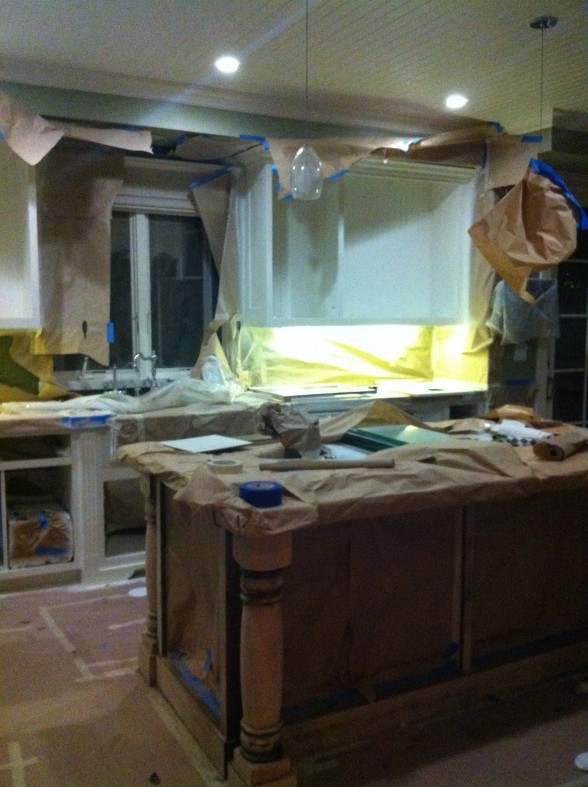 Guess what?  This is what my kitchen still looks like!  And so does the rest of my house until who knows when.  So yours truly is in a bit of a funk because she didn't get to make and photograph the sure-to-be-adorable and tasty raspberry-blueberry-yogurt popsicles she wanted to post today for Fourth of July.  Pouty face.  And yours truly has been eating take-out since she returned home from Long Island on Friday night.  Verrry pouty face.  I'll get to the frittata in a minute.  What I'd like to discuss is takeout.  I definitely struggle with finding places to eat when I do need to eat out.  Fresh, organic, seasonal prepared food is not as common as you would think, even in Manhattan Beach, California. So I've been to Le Pain Quotidien for breakfast two days in a row and Veggie Grill for lunch two days in a row and Whole Foods for one meal.  And here's what I've got to say — holy $$$$$! friends.  How do people eat out all the time?  It's downright unaffordable.  Not only that, it's beyond difficult for everyone to agree on what to eat.  Dinner should not be a democratic decision!  Seriously, the last few days have totally reinforced what I have said about cooking at home being easier, cheaper and always more healthful.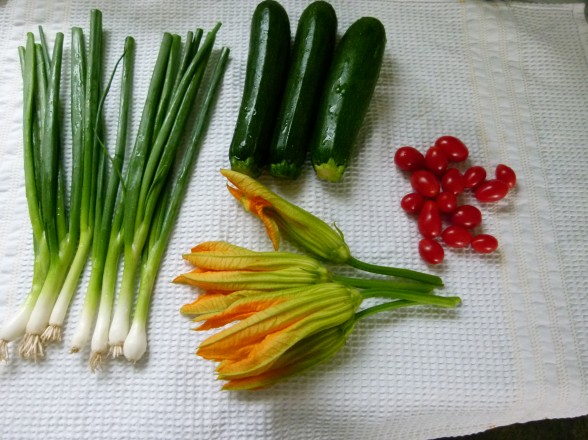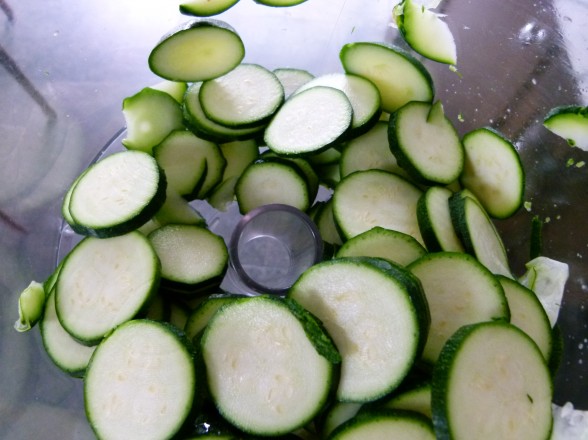 Now let's get to the frittata, which I photographed at my house two weeks ago and again at my parents' house last week (two different frittatas, naturally.)  I was going to post this recipe next week, but like I said, my husband thought it would be nice to surprise me.  Pouty face.  In any event, a frittata recipe fits in perfectly with my anti-takeout sentiment.  Eggs, and therefore frittatas, are an incredibly versatile and high-quality source of inexpensive protein.  They are also very easy to make on the fly with whatever you've got in your kitchen/garden.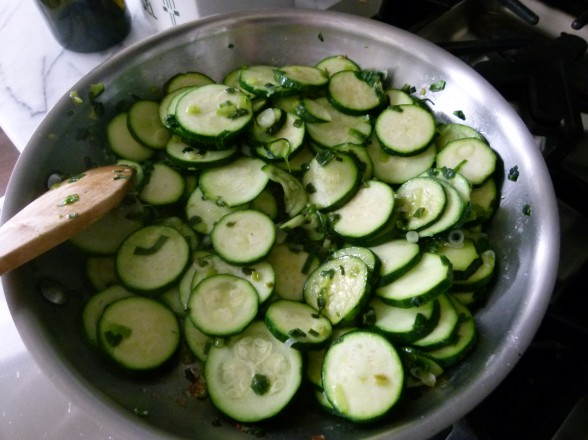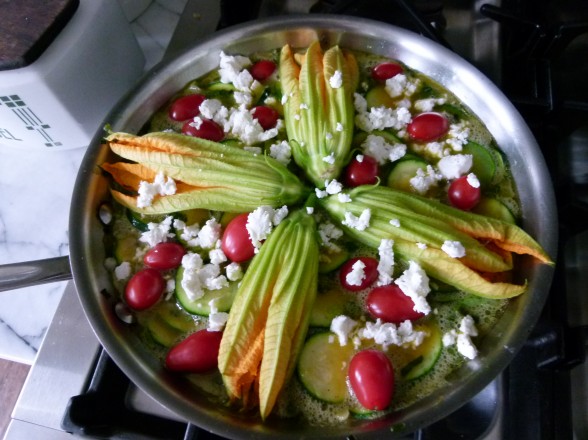 I prepare frittatas all year long varying the ingredients based on what's in season.  Click here for a delicious swiss chard frittata recipe.  A few weeks ago, when I saw zucchini blossoms at our farmers' market with beautiful, tender zucchini, I knew I had to make what I call "Summer Garden Frittata."  It's the frittata I make most often in the summer and it's really about celebrating whatever my garden or market has to offer.  My family inhaled these last week.  You certainly don't need to use zucchini blossoms, especially if you can't find them, but I think they're so pretty and they have a nice, subtle flavor.  The blossoms without a zucchini attached are the male flowers which basically just sit around the plant doing absolutely nothing while the female blossoms actually produce zucchini.  Why not put those males to good use?  I'm here to tell you that if you don't find something for them to do, you never know what kind of trouble they'll create for you.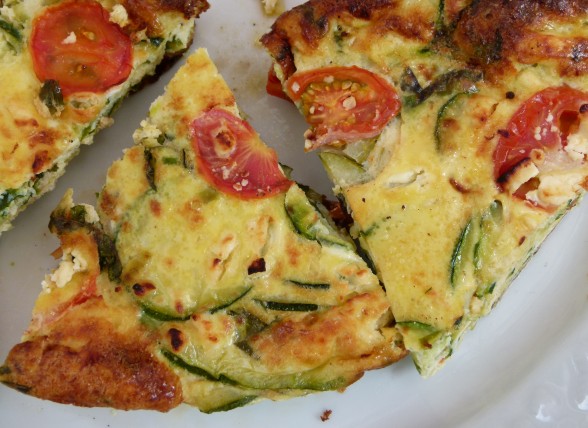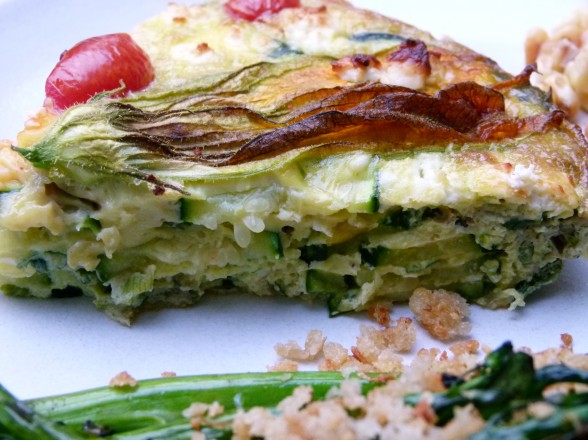 Summer Garden Frittata
Serves:
6 (although when I'm hungry, I could eat a fourth of this frittata)
Ingredients
2 Tablespoons unrefined, cold-pressed extra-virgin olive oil + additional
1 bunch scallions, trimmed and sliced
3 cloves garlic, sliced thinly
3 medium zucchini (about 1 pound), ends trimmed and sliced thinly by hand or by the slicing disk of the food processor
Fine grain sea salt
Freshly ground black pepper
8 large eggs
¼ cup chopped fresh basil leaves
½ cup ricotta cheese or goat cheese or feta (optional, but I used feta in the photographs)
5-6 zucchini blossoms (optional, I used 4 large ones)
½ cup cherry tomatoes or 2 Roma tomatoes, sliced
Instructions
Preheat oven to 375 degrees. In a 10-inch skillet, warm the olive oil. Sauté the scallions until softened. Add the garlic and cook for 1 minute. Add the zucchini slices and a generous pinch of salt and sauté until tender, about 6 minutes.
In a large mixing bowl, beat the eggs, basil, 1 teaspoon salt, and a few grinds of black pepper. Stir the cooked zucchini mixture into the eggs and combine well.
Place the skillet back over medium heat and add a little extra oil if the pan seems dry. Pour the egg and zucchini mixture into the pan. Arrange the zucchini blossoms on the surface of the frittata or chop and scatter on top. Dollop tablespoonfuls of the ricotta and the cherry tomatoes around the frittata. Transfer skillet to the oven and bake until firm, about 40 minutes.
Notes
Alternatively, bake in a larger skillet for less time for a thinner frittata.

Or, cook gently over medium-low heat, covered until slightly set on the bottom, 15-20 minutes. Transfer the skillet to the oven and broil until the top is slightly puffed and golden, about 3-5 minutes. Serve warm or room temperature.