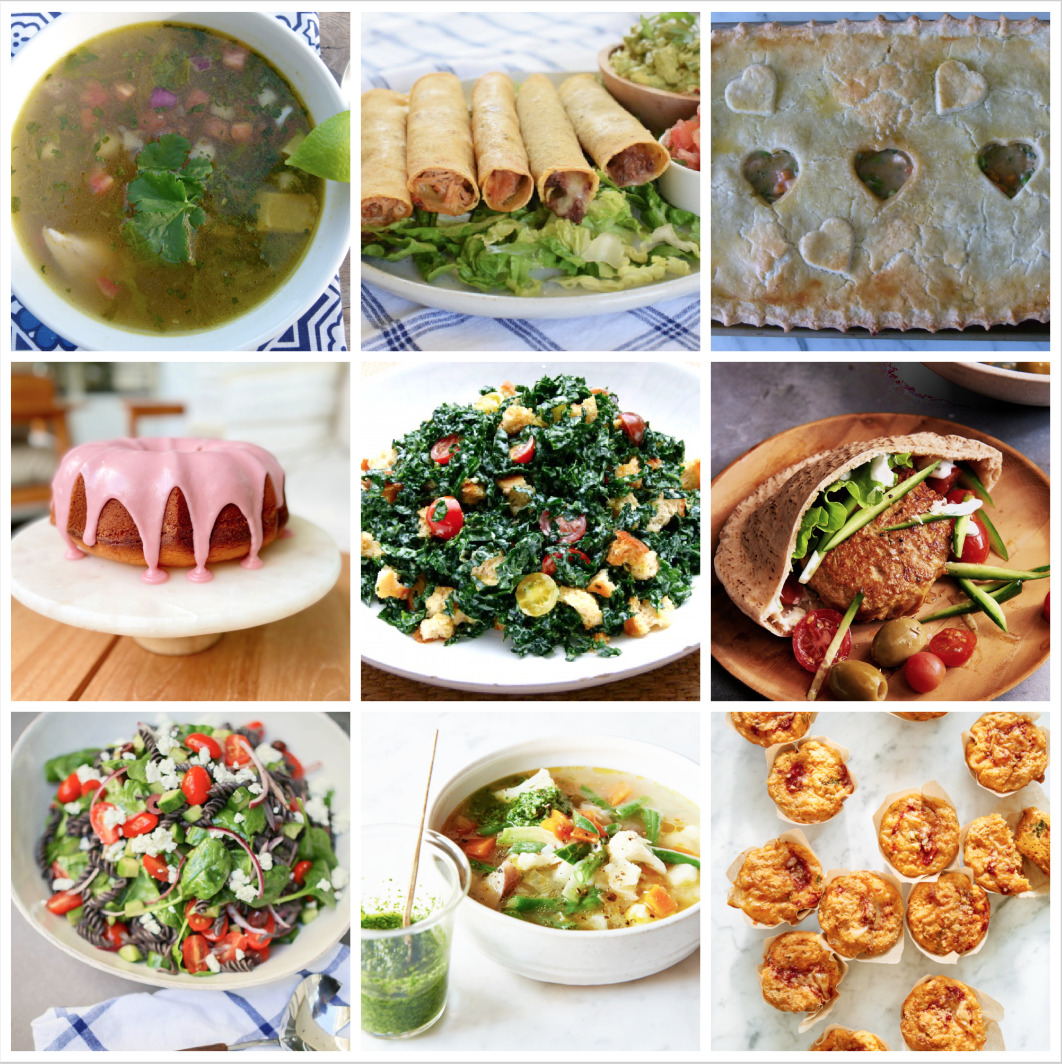 Check out last week's dinner planner for Super Bowl ideas! I'm doing loads of vegan queso, nachos, carrot pigs in a blanket for the first half, and then I'm changing it up and doing an Italian theme for half-time this year! This week's newsletter will have my new favorite soup which I made last week on IG live. It's an anti-inflammatory chicken and vegetable soup which can be made vegan or paleo, as you wish. I will also give you ALL the details of a super last-minute Galentines lunch I hosted and it involved take-out. I know! I'm such a rebel! Subscribe to my free newsletter here.
Here's your dinner planner for the week:
Meatless Monday: Use those Super Bowl leftovers! My go-to is usually this Chicken and Lime Soup with Avocado, but you can also do Taquitos with homemade guacamole, Mexican sauteed greens
Tuesday (Valentine's Day): I always used to make my Chicken Pot Pie (you can omit the chicken and sub extra veggies for a vegetarian version) with a simple fresh side salad; and this year I'm making the vegan brookies or molten chocolate cakes for dessert! This olive oil cake with citrus glaze is spectacular. Other dinner options that I love for Valentine's Day are Salmon with Beets and Spinach, or Hearty Vegetable Vegan Lasagna or even Lasagne Cupcakes along with a lightly tossed green salad (for fun I take out my mini heart shape cookie cutter and cut radishes and avocado into hearts.) Another dessert option could be these Mini Flourless Chocolate Cakes with Raspberry Sauce or Chocolate Bundt Cake with Chocolate Ganache. Yum! If you're making a Valentine's Day breakfast instead of dinner I love making these pink Pitaya Pancakes. Also, this Valentine's Day Snack Board is the perfect snack.
Wednesday: chicken pot pie soup (or leftovers soup) – take your leftovers and cut into bite size pieces, if necessary. Put in a pot and add enough chicken or vegetable stock to create a soup consistency. Heat and serve!
Thursday: kale salad with creamy lemon dressing served with grilled or roasted fish
Friday: Chicken shawarma burgers from Quicker than Quick, arugula salad with pine nuts, radishes, cucumber and everyday salad dressing #1
Saturday brunch: Greek pasta salad
Sunday: Hearty vegetable soup with kale pesto (p. 96) from Kitchen Matters, pizza muffins also from Kitchen Matters but that recipe is also accessible here.
Here's what you can do in advance if it helps you:
Sunday:
Make stock, if making from scratch
Make pastry for chicken pot pie
Monday:
Wash salad greens
Make salad dressings
Make brookies or olive oil cake
Thursday:
Assemble chicken shawarma burgers
Friday:
Cook pasta
Make kale pesto
I have LOVED seeing all your creations of my recipes on Instagram. If you make any of my recipes, please tag me @pamelasalzman #pamelasalzman so I can check them out! I have a free Monday newsletter with my thoughts, new recipes, and things I'm loving lately. Subscribe here!
Order my cookbook, Quicker Than Quick! If you have 1 minute, would you mind leaving a review on amazon? I would be so grateful, thank you! Take a peek at my first cookbook "Kitchen Matters"!