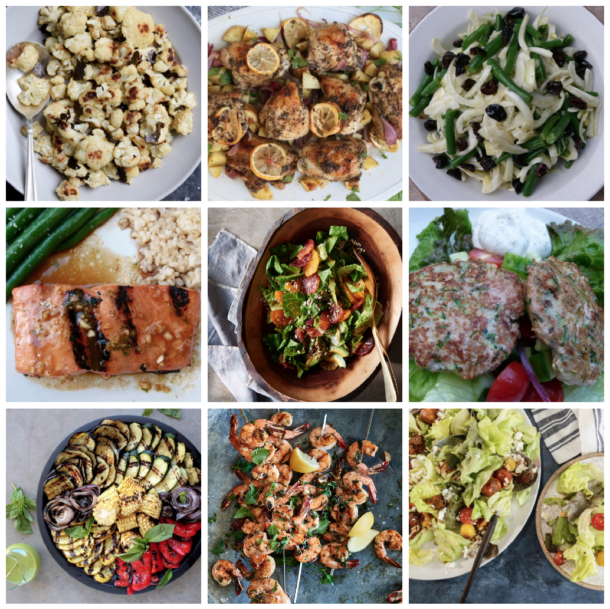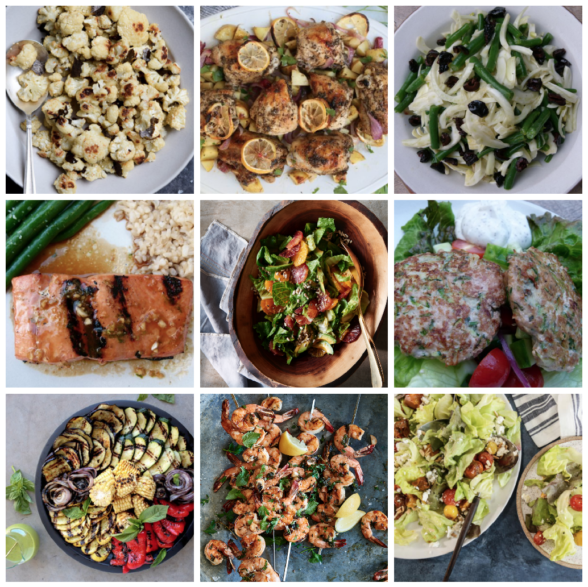 I am in Dallas as you read this, so forgive me if I'm not quite as present on Instagram as usual.  It's not every day that my daughter graduates from college!  My husband and I are beaming with pride as we celebrate her and her achievement with our extended family.  I'll be back soon, but I haven't forgotten this week's dinner planner:
Meatless Monday: stir-fried soba noodles with tofu, sesame roasted cauliflower with nori
Tuesday: Greek sheet-pan chicken, fennel and green bean salad with olives
Wednesday: lime soy grilled fish,  Asian green salad with avocado and oranges from my cookbook
Thursday: Mediterranean turkey and zucchini burgers and grilled veggies with lemon-basil dressing
Friday: grilled lemon-herb shrimp from my cookbook (if you don't have my cookbook, just use this recipe but sub shrimp instead of chicken), roasted cherry tomato and feta salad
Memorial Day Weekend: There are a ton of yummy early summer and grilling recipes on my site and in my cookbook, but here are a few possibilities for your memorial day weekend:
Mains
Slow cooker pulled bbq chicken sandwiches
Black bean burgers with smoky red pepper sauce
Grilled lemon-herb chicken with mint drizzle
Grilled summer salad with chicken and spicy cashew dressing
Sides
Charred corn salad with tomatoes and avocado
Chopped grilled vegetable salad
Baked chipotle sweet potato fries
Desserts
Apricot, cherry and almond crisp
Here's what you can do ahead:
Sunday
Cut up cauliflower into florets
Wash/dry greens/lettuce and herbs
Make salad dressings and smoky red pepper sauce
Salt your chicken when you get home from the market
Blanch green beans
Monday
Marinate chicken
Tuesday
Segment oranges
Wednesday
Make turkey burgers up to the point of cooking and refrigerate, covered
Wash, dry and cut the vegetables for grilling and refrigerate them (you can even grill them a few hours in advance and keep them at room temperature)
Thursday
You can prep the entire cherry tomato salad in advance: wash and dry the lettuces, toast the almonds, make the dressing and roast the cherry tomatoes ahead and bring them to room temp before eating (just save all the oil used to roast them because it's part of the dressing.)
Here's a link to my previous dinner planners.
I have LOVED seeing all your creations of my recipes on Instagram.  If you make any of my recipes, please tag me @pamelasalzman #pamelasalzman so I can check them out!
Click here to learn more about my online cooking classes!
If you like my recipes, you'll LOVE my cookbook!