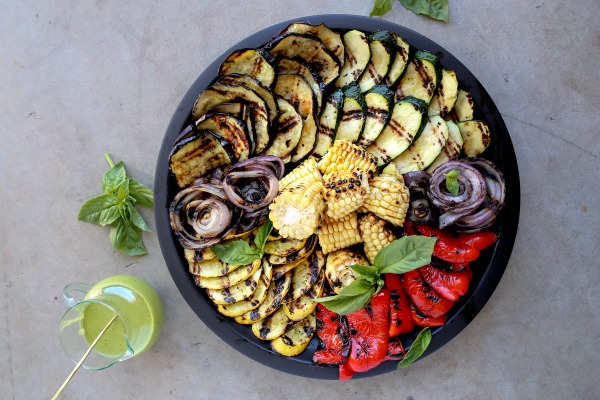 Well, let me tell you, Sunset Magazine knows how to throw a party.  I was only able to attend one day of their Celebration Weekend in Sonoma this past weekend, but it was amazing.  Live demonstrations from food to gardening to outdoor grilling, plus wine, shops and live music.  I was gone for a quick 24 hours, but it was worth it.  I demonstrated a recipe from my new cookbook, which is out on June 13th — mini lemon yogurt cheesecakes, to be exact.  Cooking that recipe and talking about the book made it all feel so real!  I am getting super excited!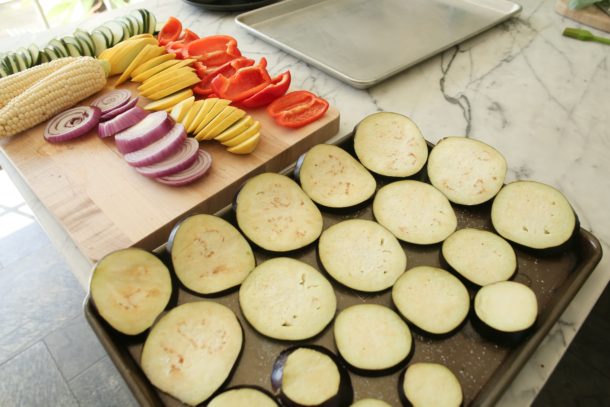 So far I have two open-to-the-public events in June, one at Pages Bookstore in Manhattan Beach on June 22nd and another at Book Larder in Seattle on June 28th.  I'll keep you posted as I confirm additional events in NY, Dallas and Portland.  Stay tuned!  In the meantime, I looked at my calendar and saw that this weekend coming up is Memorial Day weekend.  Already!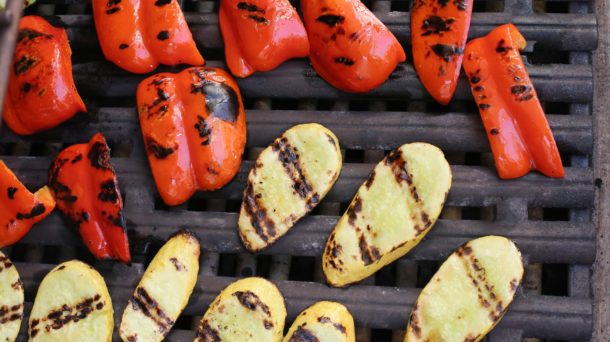 Do you consider this weekend the unofficial beginning of summer?  It kind of feels like it to me.  We can count the days left in the school year, and people are talking about vacations.   This is also the start of backyard entertaining and grilling anything and everything.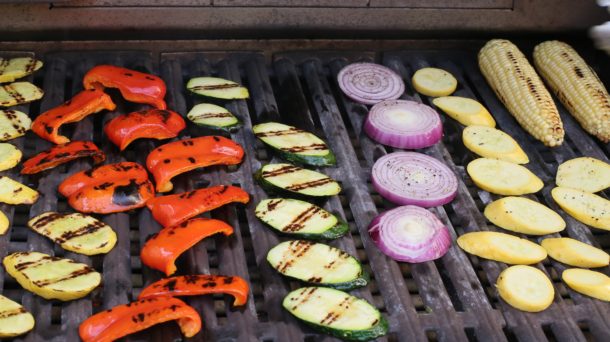 I'm the girl who shows up to every potluck with something veggie-heavy — a big salad, a platter of seasonal vegetables, a bowl of quinoa with whatever looks fresh.  BBQ's and potlucks always seem to need more of those dishes to balance out all the animal food and starchy sides.  One of my favorite, and easy, sides to bring in the summer is lots of grilled vegetables with a side dressing or sauce.  You can serve them hot, warm or room temp, and I always serve the dressing on the side so the leftover vegetables can be used in a frittata, pasta or soup the next day.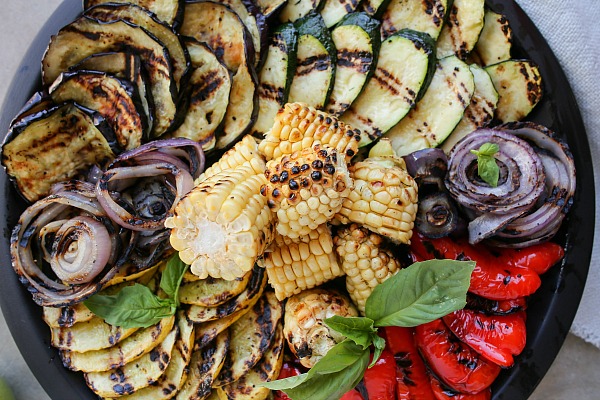 You can grill virtually anything, so don't feel limited to what you see here.  I have also grilled halved endive and radicchio heads, asparagus, par-boiled halved new potatoes, broccoli, cauliflower (better if this is steamed a little prior), artichokes, blanched Brussels sprouts and more.  Some vegetables take longer than others and some need a little head start by way of steaming or blanching before hitting the grill (e.g. Brussels sprouts, cauliflower, carrots and potatoes.)  Key to remember when grilling vegetables:
brush both sides of the veggies with olive oil or avocado oil or melted coconut oil so the vegetables don't dry out or stick;
don't leave the grill unattended; vegetables can go from done to charred in seconds;
don't cut soft vegetables like zucchini too thinly because they'll get mushy;
you can wash, dry and cut the vegetables a day ahead and refrigerate them;
grilled vegetables can be cooked a few hours in advance and kept at room temperature.
Although this recipe provides a delicious lemon-basil dressing, you can also take some aged balsamic vinegar and drizzle it over the whole platter and call it a day.  Or if you've got a little extra time, the roasted tomato dressing from this recipe is outstanding.  Leftover vegetables are amazing on pizzas, sandwiches, omelets and frittatas, green salads, grain salads, lasagne, enchiladas and so on.  Although straightforward and simple, grilled vegetables are welcome and healthful side dish at any party.

Grilled Vegetables with Lemon-Basil Dressing
Ingredients
Lemon-Basil Dressing: (this makes a lot of dressing, but if you cut it in half the blender doesn't have enough stuff to blend well)
¼ cup fresh lemon juice
2-3 teaspoons Dijon mustard
¾ teaspoon sea salt
2 small garlic cloves
¾ cup basil leaves
½ cup unrefined, cold-pressed extra-virgin olive oil
Unrefined, cold-pressed extra-virgin olive oil
Sea salt
Freshly ground black pepper to taste
2 sweet bell peppers, cut in half, cored and halves cut in half
2 medium zucchini, trimmed and sliced lengthwise in half or into thirds or sliced on a diagonal into ½-inch slices.
1 medium eggplant, trimmed and sliced crosswise into ½-inch slices
1 red onion, cut cross-wise into ¼-inch slices
Instructions
Preheat a grill over medium high heat or heat a grill pan.
Place all dressing ingredients (start with 2 teaspoons of Dijon) in a blender and puree. Taste for seasoning. Set aside.
Lightly brush the vegetables with olive oil. Sprinkle with sea salt and black pepper to taste.
Grill each vegetable according to doneness. Each one takes a different amount of time, but plan on 2-5 minutes per side.
Arrange vegetables on a platter and serve the dressing on the side or drizzled on top.