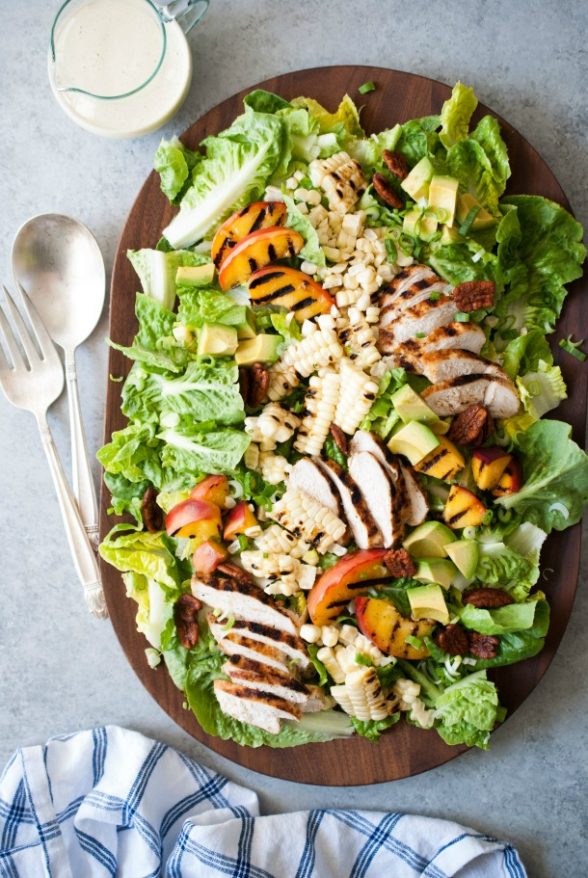 I keep doing this thing where I look at the calendar and something major is tomorrow or coming up really soon.  Oh no, Father's Day is tomorrow and I haven't sent cards or gifts!  I am in Seattle right now and then en route to Portland, and I just realized July 4th is on Tuesday.  Not only do I not know where we're going or how we're celebrating, I haven't photographed a single striped pie or red, white, and blue fruit plate!!  Well friends, this salad will have to do.  There's not a smidge of red, white or blue in it, but I can guarantee this recipe from my new cookbook, "Kitchen Matters," will be the STAR of your 4th of July BBQ.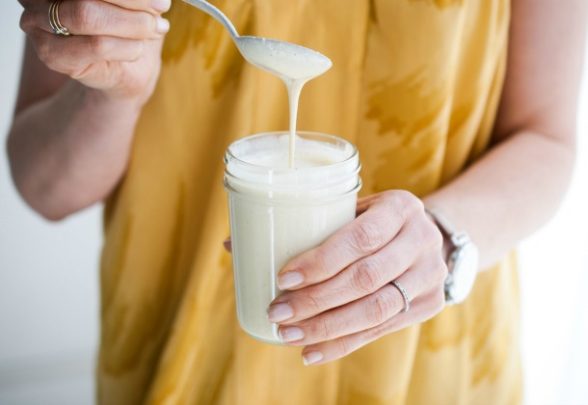 Following my belief that what grows together, goes together, I paired two summer favorites – corn and peaches – over greens with crunchy pecans, creamy avocado and the most divine cashew dressing ever.  There's chicken in it too, but I have made this without chicken and I didn't miss it.  In fact, I have also subbed blanched green beans (what grows together, goes together) for the chicken and it was FAB!  This salad is for sure a meal unto itself.  When I have made this for family dinners, I didn't make anything else.  Besides a refreshing cocktail, what more you could you want?  You've got your protein (chicken, nuts), good fat (avocado, cashew butter, nuts), and fiber (greens, avocado, peaches, corn.) Done, done and done!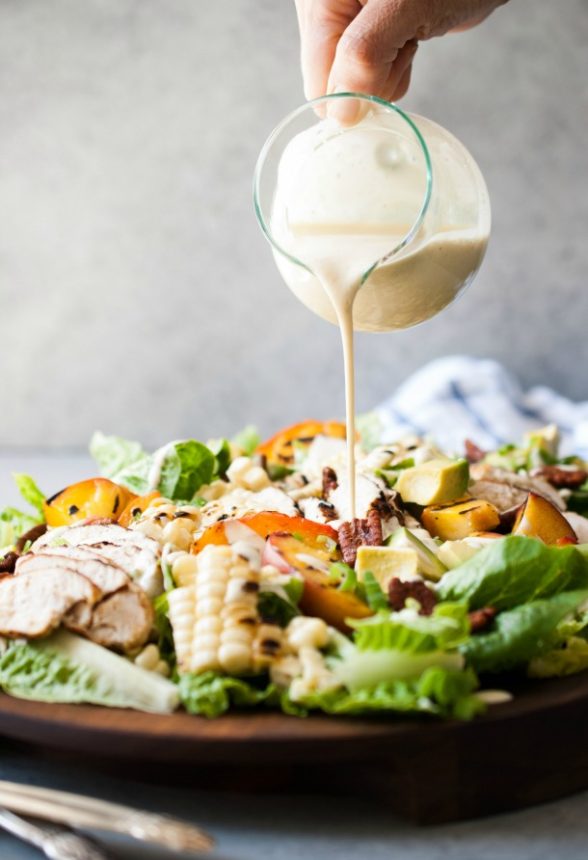 Now let's talk about this dressing!  New favorite.  And do you notice that in the recipe you can use 1/4 cup soaked raw cashews OR 1/4 raw cashew butter?  Um, do you know what this means?  It means you don't need to soak raw cashews anymore.  It means you don't need a Vitamix or another high-speed blender to achieve super smooth results.  GAME-CHANGER! I have been substituting an equal amount of raw cashew butter in recipes which call for soaked raw cashews and I am having total success!  Even the vegan mac and cheese recipe which calls for soaked cashews works perfectly with raw cashew butter.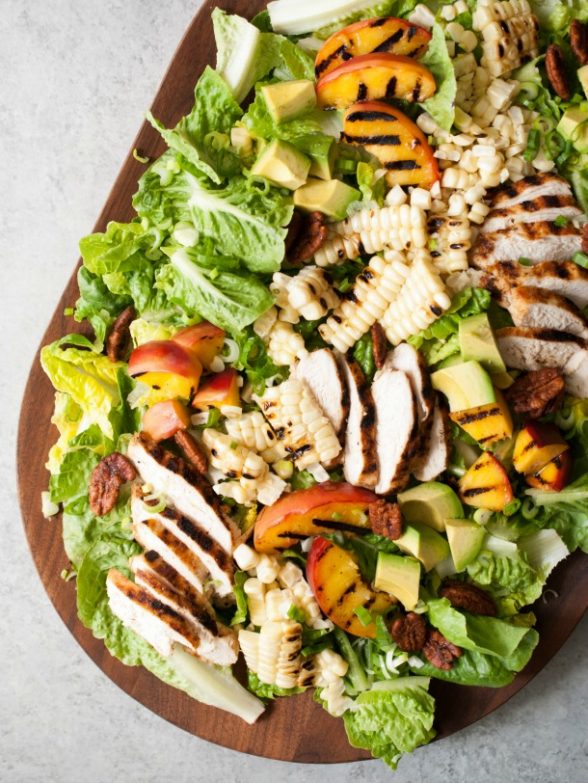 I've actually made this dressing to use as a dip for a few book parties I have had recently and it is utter creamy deliciousness.  Cashew butter is so bland and creamy, it can be a great stand-in for dairy heavy cream which is hard to digest for many, can be pro-inflammatory, and who has heavy cream just hanging out in the fridge?  Raw cashew butter wins on every count.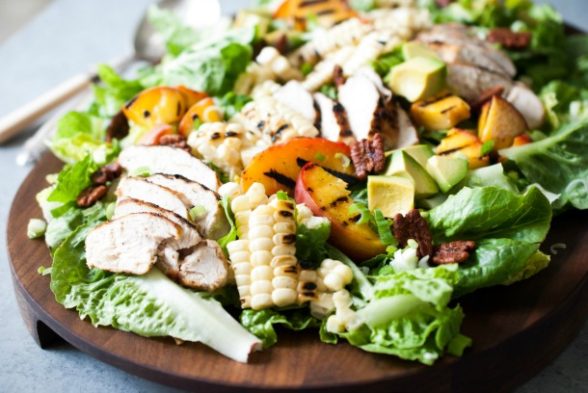 And like I always tell you, take liberties (I had no intention of making a 4th of July pun here.  It just happened.) with the recipes.  If you like the dressing, use it on a grain bowl or change up the salad ingredients.  I am participating in a fun blogger peach recipe round up. For other delicious summer peach recipes visit the following blogs who participated in this project too! Head to Instagram and check out our hashtag, #summerlovespeaches – and use this hashtag for your own summer peach recipe!
www.lemonthymeandginger.com, www.amandaskrip.com, www.floursinyourhair.com, www.cocoaandsalt.com, www.pricklyfresh.com
www.mindyscookingobsession.com, www.thegoodcooker.com, www.farmandcoastcookery.com, www.sproutingradiance.com
www.smartinthekitchen.com, www.cooksandkid.com, www.thewholeelchilada.com, www.gobblethecook.com, www.weelicious.com
www.pamelasalzman.com, www.feedtheswimmers.com, www.thegingeredwhisk.com,
 www.itsavegworldafterall.com, www.whatannieseating.com, www.blossomtostem.net, www.holajalapeno.com, www.squaremealroundtable.com
www.somethingnewfordinner.com, www.foodfash.com, www.cloudykitchen.com, www.allomamanwhatscooking.com
www.alwayseatdessert.com, www.myafternoonkitchen.com, www.especiallysoutherndishes.com, www.bakingthegoods.com
www.easyanddelish.com, www.forktosummit.com, www.playzwithfood.com, www.hatibon.com, www.flottelotte.eu,
www.carlydiaz.com, www.piegirlbakes.com, www.teebsie.com, www.nocisonoma.com, www.wellnesswithalyssa.com, www.jessiesheehanbakes.com,
 www.measuringcupoptional.com, www.weeknightbite.com, www.confettikitchen.com,
www.ful-filled.com, www.lindarcampos.com
Grilled Summer Salad with Chicken and Spicy Cashew Dressing Recipe
Ingredients
Spicy Cashew Dressing:
¼ cup raw cashews, soaked in water for 1-4 hours (depending on the strength of your blender), and drained OR ¼ RAW cashew butter (not soaked obviously)
2 Tablespoons unseasoned rice vinegar
2 Tablespoons unrefined, cold-pressed extra-virgin olive oil
¼ cup water
2 teaspoons Dijon mustard
1 ½ teaspoons pure Grade A maple syrup or mild raw honey
1 medium garlic clove
½ teaspoon sea salt + more to taste
a few grinds of black pepper
pinch cayenne pepper (or more to make this actually spicy)
1 ½ pounds boneless skinless chicken breasts (about 2 medium)*
Unrefined olive oil for brushing on chicken, peaches and corn
½ teaspoon paprika
1 teaspoon sea salt
Freshly ground black pepper to taste
3 medium firm, but ripe peaches, pitted and quartered
6-7 ounces baby Romaine lettuce, Butter lettuce or mixed greens, about 8 cups
3 ears of sweet corn, husked and silks removed
4 green onions, green and white parts, thinly sliced
1 large or 2 small avocados, cubed
⅓ cup sweet and spicy pecans or candied pecans, such as Trader Joe's prepared pecans
Instructions
To make dressing, place all ingredients in a high-powered blender or food processor and blend until smooth and creamy. This will take a little longer in a food processor. Taste for seasoning. Refrigerate until ready to use. Dressing will thicken as it sits, especially if refrigerated overnight.
Heat a grill to medium/medium high heat, about 400 degrees. Alternatively, you can use a cast iron grill pan. Brush chicken lightly with oil and season with paprika, salt and pepper to taste. Place the chicken on the grill and flip when the entire sides of the breasts are white and they can be easily released from the grill. Continue cooking on the other side until the chicken reaches an internal temperature of 160 to 165 degrees. This should take around 7 minutes per side. Set chicken aside to rest. This can be done up to 1 day ahead of time and chicken refrigerated.
Brush peaches and corn lightly with oil. Grill until peaches and corn have light grill marks, turning occasionally. This should only take a minute or two on each side. Set aside to cool, then slice peaches crosswise into thirds or fourths and cut the corn kernels off the cob.
Slice chicken crosswise into ½-inch slices or as desired.
Place mixed greens in a bowl. Add corn and green onions, drizzle dressing to lightly coat and toss. Arrange on a platter and top with peaches, avocado and pecans. Drizzle with some additional dressing and serve. Extra dressing can stay in the refrigerator for up to a week.
Notes
*Alternatively, you could use a pre-cooked rotisserie chicken or <g class="gr_ gr_82 gr-alert gr_gramm gr_inline_cards gr_disable_anim_appear Punctuation only-del replaceWithoutSep" id="82" data-gr-id="82">cooked,</g> cold leftover chicken.

Tip: a small spoon can help remove stubborn peach pits.