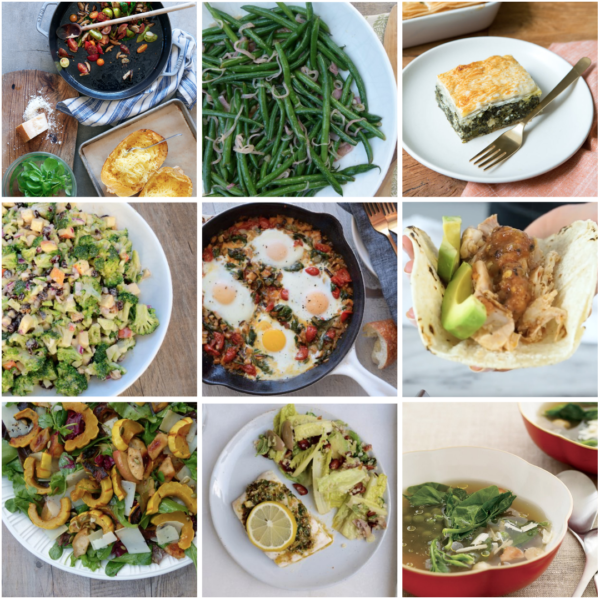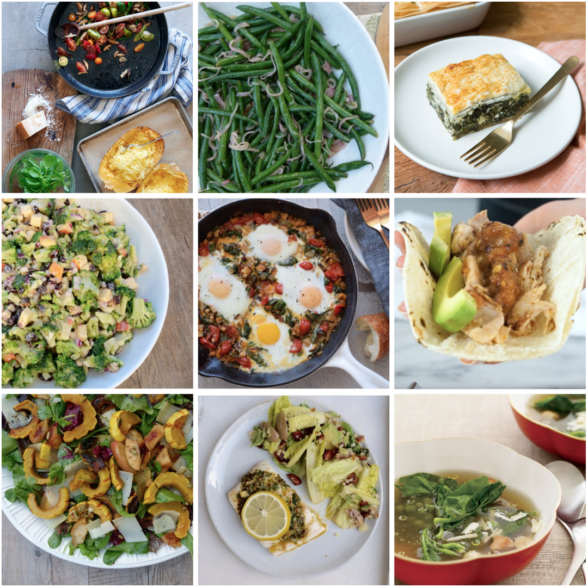 I have another busy week this week.  I am taping a couple segments with KABC Los Angeles on Monday and then on Tuesday I am taping Hallmark's Home & Family Show.  I believe that airs the next day, Wednesday, September 19th.  Yom Kippur is Wednesday and that's one of the holidays I always host.  I love feeding people that have been fasting all day.  Anything and everything tastes good to them!  Ha!
For those of you that ask about the recipes that I teach in my classes that you often see me showing on my Instagram stories, I keep those recipes exclusive to my in-person and online cooking classes for at least a year or I will save them for my next book.  Do check out my online cooking classes – they're the exact same lessons I teach in person.  The September class was just uploaded today and I am doing a Facebook Live with my private online class group on Monday at 5:00 pm PST!
Here's your dinner planner for the week:
Meatless Monday: Spaghetti Squash with Cherry Tomatoes, Mushrooms, and Spinach from my book.
Kol Nidre (day before Yom Kippur): Brisket, Easy No-Fail Whole Roast Chicken with Onions, Fennel and Potatoes, Shredded Sweet Potatoes and Apple, Honey-Lemon Green Beans, green salad with Everyday Salad Dressing #2
Yom Kippur Break Fast: I make so many different dishes, including Spanakopita, Frittata, salads (like this Delicata Squash and Apple Salad, Kale Salad, and Spinach and Quinoa Salad with Feta, Broccoli Crunch Salad), Tuna Salad, chicken soup, noodle kugel (my mother-in-law's recipe)
Thursday: Leftovers from Yom Kippur. However if you want to make something else you can make Baked Eggs and Greens. Serve with grilled bread drizzled with unrefined extra-virgin olive oil and sea salt.
Friday: Instant Pot Chicken Tacos with a side of organic lentils, use this method, and roasted veggies.
Saturday Brunch/Lunch: Salad using leftover Instant Pot Chicken. I suggest tossing the chicken in with your favorite fresh greens, herbs and roasted nuts. Dress with unrefined extra-virgin olive oil, red-wine vinegar, and sea salt. Add in a healthy grain or veggie rice if you're feeling extra hungry.
Sunday:  Roasted white fish, use this method. Serve with this unique Pea Consume with Mint from Food and Wine.
Here's what you can do ahead if you need to:
Sunday
Make all dressings, marinades, sauces
Wash and prep all veggies, including lettuces
Make quinoa
Make chicken stock
Tuesday
Make Tuna Salad
Make Spanakopita up to the point of baking
Saute vegetables for frittata
Make kugel up to the point of baking, keep topping separate
Here's a link to my previous dinner planners.
I have LOVED seeing all your creations of my recipes on Instagram.  If you make any of my recipes, please tag me @pamelasalzman #pamelasalzman so I can check them out!
Click here to learn more about my online cooking classes!
If you like my recipes, you'll LOVE my cookbook!