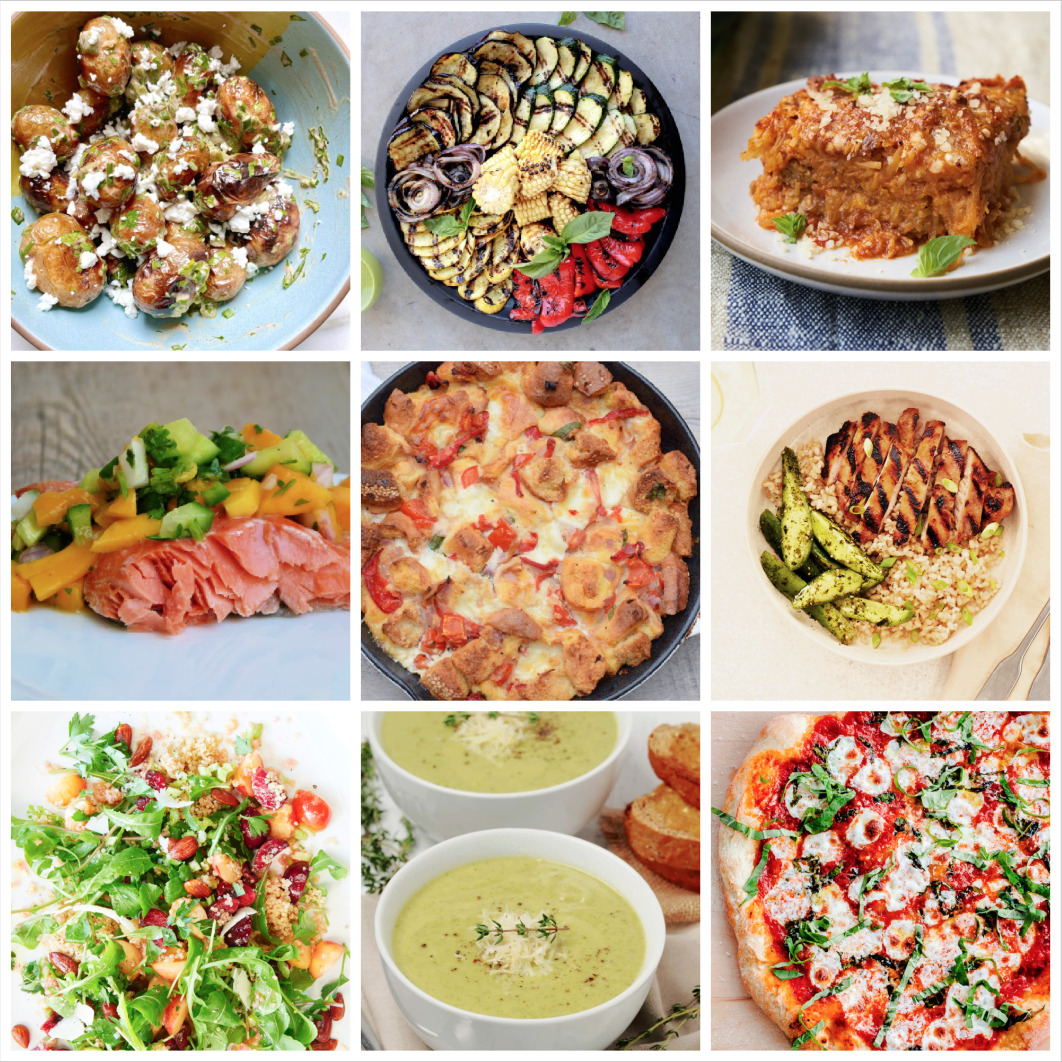 Happy Weekend! I have a lot of recipes that can work for a BBQ or get-together this weekend – too many to list here! I am not sure if Hubs and I will be home in time for Monday IG live at 5. Check my Instagram stories on Monday and I'll let you know. If you take my monthly online cooking class, I will have the JUNE class up for you later next week. It's a GOOD one! Here's your dinner planner for the week:
Meatless Monday (Memorial Day): Lentil and grilled eggplant salad, Tasty Turkey Burgers, Wild Salmon Burgers, The Best Grilled Flank Steak, Grilled Vegetables with Lemon-Basil Dressing or Red Pepper Vinaigrette or Chopped Grilled Veg Salad, Grilled Potato Salad Mexican Street Corn-Style, Sparkling Blackberry Shrub, Apricot-Cherry Almond Crisp, Grilled chicken with cherry tomato vinaigrette, Grilled lemon-mustard-rosemary chicken, Quinoa tabbouleh, Quinoa and Jicama Salad with Avocado Dressing, Asada mushroom tacos, roasted strawberry bruschetta (or see this post for more ideas for your memorial day bbq) + I have so many great recipes in both my books (the black bean and mushroom veggie burger from Quicker Than Quick is perfection and can be grilled!)
Tuesday: (use those leftovers!) Turkey bolognese spaghetti squash casserole (swap lentils for the turkey for a plant-based version), fresh green salad with everyday salad dressing #1 (you can also swap in crumbled leftover cooked turkey or beef burgers from your holiday cookout). I like chopping up leftover crudites for soups and stir-fries or roasted and added to salads. Cooked burgers can be crumbled and added to tomato sauce or stir-fried with riced veggies or mixed with rice and seasonings and stuffed into a bell pepper.
Wednesday: slow roasted Copper River Salmon (if you see this salmon, splurge! It's only in season for a very short time and it's amazing!) minted sugar snap peas, green salad
Thursday: Tomato, Roasted pepper and Basil Strata (use leftover burger or hot dog buns, if you have them from the weekend), big green salad with simple lemon/olive oil dressing + if you have any leftover grilled vegetables, mix those in as well.
Friday: miso chicken bowl with cucumbers and furikake from GOOP
Saturday brunch: quinoa salad with cherries, almonds, celery, and pecorino
Sunday: Zucchini-leek soup p. 96 from Quicker than Quick, store-bought pizza dough for a quick pizza (Banza makes a good frozen chickpea flour crust for a last-minute easy pizza) or corn muffins and a slice of manchego or Violife vegan feta
Here's what you can do in advance if it helps you:
Sunday:
Make salad dressings
Wash greens
Roast spaghetti squash
Thursday:
Cook quinoa for salad
Marinate miso chicken
Friday:
Make stock for zucchini-leek soup
I have LOVED seeing all your creations of my recipes on Instagram. If you make any of my recipes, please tag me @pamelasalzman #pamelasalzman so I can check them out! I have a free Monday newsletter with my thoughts, new recipes, and things I'm loving lately. Subscribe here!
Order my cookbook, Quicker Than Quick! If you have 1 minute, would you mind leaving a review on amazon? I would be so grateful, thank you! Take a peek at my first cookbook "Kitchen Matters"!