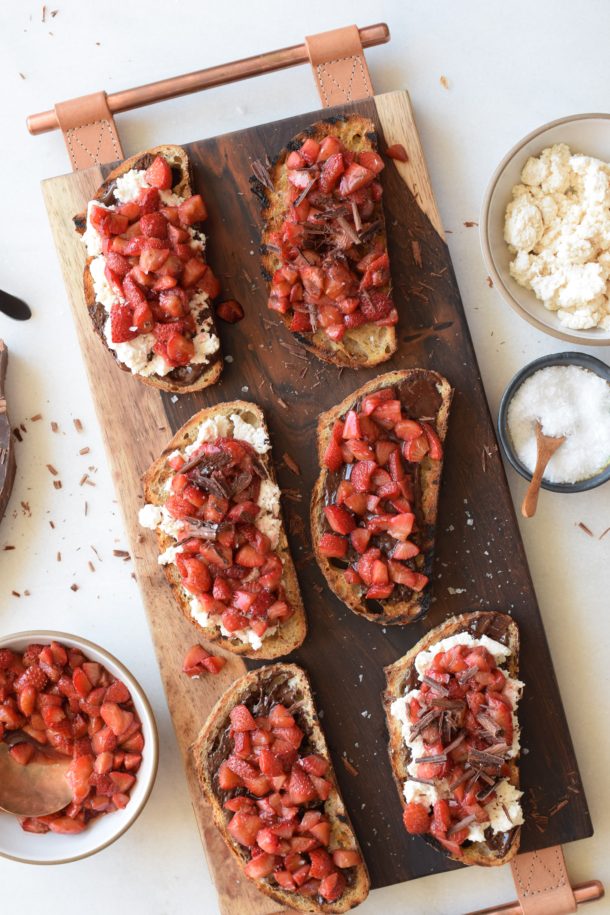 I would probably eat anything if it was served on grilled bread.  It's in my DNA to love good bread. My father (who I might add hasn't gained weight ever in his life) eats bread with every meal.  Sweets, not so much.  Snacking, never.  I rarely indulge in bread.  Sweets, sometimes.  Snacking, it's my life. My weight, let's not discuss. Hmmm, maybe I should rethink this bread thing.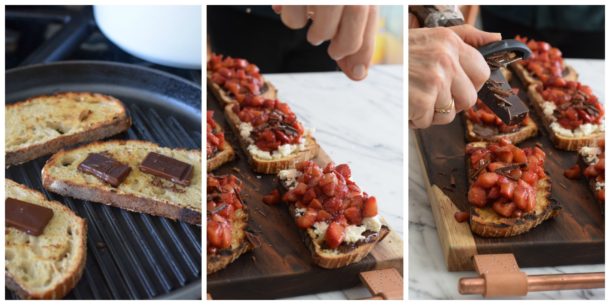 I saved up my carb calories every day in March for this delectable treat, which I taught in all my classes.  I called it a "Roasted Strawberry Bruschetta Bar."  I am always a fan of making people work for their food, and this is a great example.  Put out a platter of warmed, lightly charred grilled bread, a bowl of sweet, roasted strawberries, some lightly sweetened ricotta, shaved dark chocolate and, wait for it, flaky sea salt!  It is HEAVENLY.  It's ridiculously simple, but everyone will go crazy for these toasts, I promise.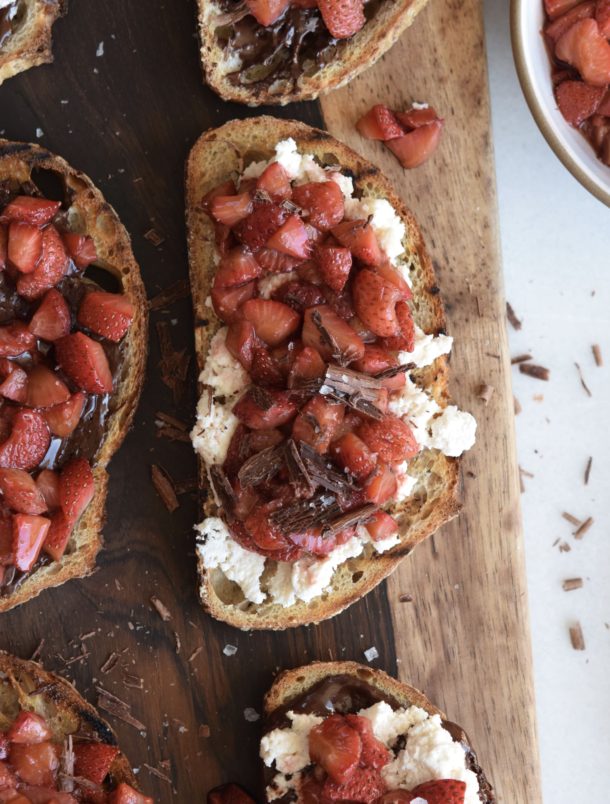 Here's what I'm thinking — this would be so perfect for Mother's Day breakfast or brunch or you could even serve it for dessert.  It is a little messy to eat if you over do it on the strawberries like I always do.  And if you're going to take the time to prep strawberries for this recipe, just keep hulling and chopping because leftover roasted strawberries are incredibly good on oatmeal, pancakes, yogurt, ice cream, etc.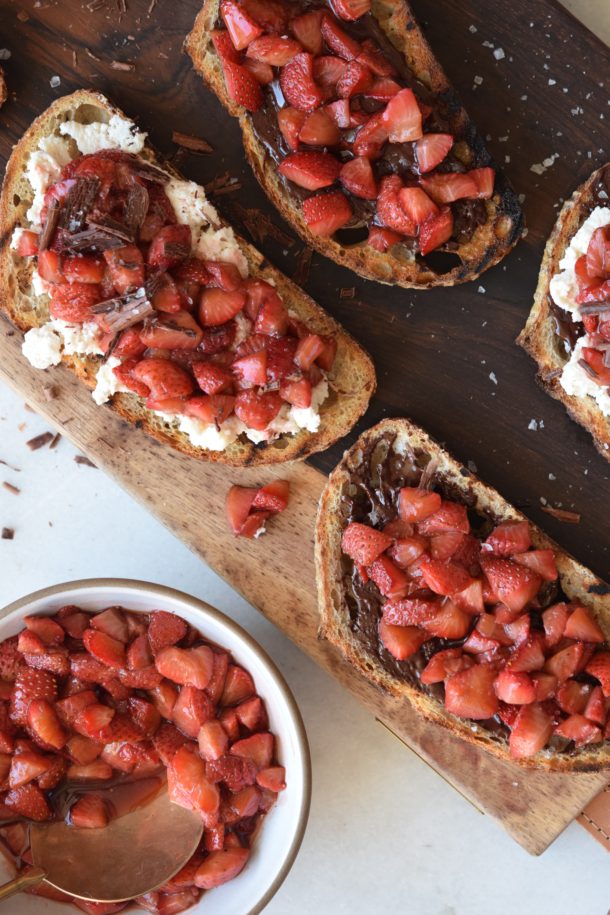 For one of my cooking class groups, I had a bunch of gluten-free and dairy-free gals (or GF's and DF's as I like to refer to them.) So I found a lovely GF bread at a local bakery called Rising Hearts and I used Kite Hill almond milk ricotta.  I actually used the Kite Hill ricotta in these images.  It's a game changer.  No, this is not a sponsored ad (although I wish it was lol.)  I am just obsessed with all their products.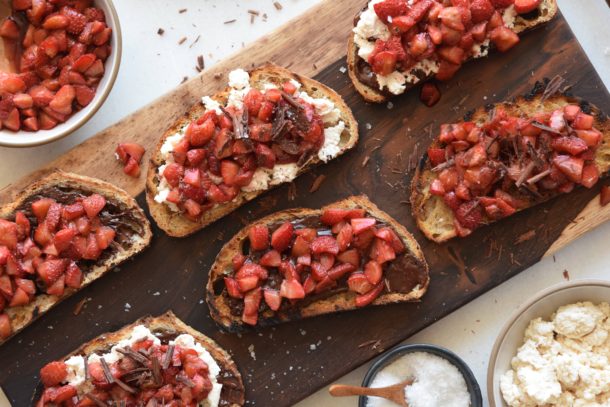 You can easily do this with lots of different toppings.  In the fruit category, I would love roasted or fresh, ripe stone fruit, pears or figs.  Instead of ricotta, you could use mascarpone or even smashed avocado.   Chocolate or not, but I say chocolate.  And the sea salt is an absolute must.  It changes everything for the better.  Trust me.  If you want to wow your wife or mom, bring her a homemade goodie like this.  It's slightly decadent, but really not.  Or if you are the mom and it's your day off, make this the next time you have friends over or if you just want to have a special treat for yourself. Worth it.  You and the toast!

Roasted Strawberry Bruschetta with Ricotta
Serves:
Makes 6 Bruschette
Ingredients
2 pints fresh strawberries, hulled and diced
2-3 Tablespoons dry sweetener of choice (coconut sugar, maple sugar, brown sugar)
3 large slices of crusty peasant bread, about ½-inch thick (I used a half whole wheat/half white round bread from Whole Foods)
unrefined, cold-pressed, extra-virgin olive oil or melted coconut oil for brushing on the bread
¾ cup whole milk or almond milk ricotta cheese (mascarpone also works)
2 teaspoons raw honey or pure maple syrup
Maldon salt (flaky sea salt)
Optional: shaved dark chocolate and/or thin pieces of dark chocolate for melting on top of the toast
Instructions
Preheat oven to 400 degrees. Pile the strawberries onto a large rimmed baking sheet lined with unbleached parchment paper. Sprinkle with sugar. Toss to coat and spread in an even layer. Roast strawberries for 15 minutes or until they soften and start to lose their shape.
Meanwhile, preheat a grill to medium. Brush both sides of bread with oil. Grill bread on both sides until toasted and slightly charred, about 30-60 seconds on each side. Cut the bread in half crosswise and arrange on a platter.
In a small bowl, mix together the ricotta and the honey/maple syrup.
Spread a few tablespoons of the ricotta onto the grilled bread. Top with about ¼ cup of roasted strawberries and a pinch of flaky salt. Sprinkle with dark chocolate shavings, if desired.
Notes
Another way to go is to grill one side of the bread, flip it over and immediately place a thin piece of dark chocolate on the top of the bread while it grills. You don't need a lot, just a square or two. Remove from the heat and spread the melted chocolate with a knife. Top with roasted strawberries and ricotta if you like.