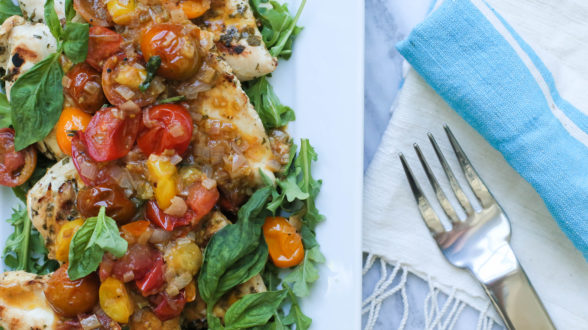 Do you ever smell a food or something in nature that takes you back to a time in your life or an experience you had?  For me, certain smells sum up my childhood, e.g espresso and garlic cooking in oil.  And then certain smells are specific to my childhood summers – freshly cut grass (because in NY, you only cut grass in the summer) and fresh tomatoes with basil (again, something we only ate in the summer.)  Whenever I get a whiff of tomatoes and basil, I feel instantly relaxed because I know it's summertime, and back then I didn't have a care in the world.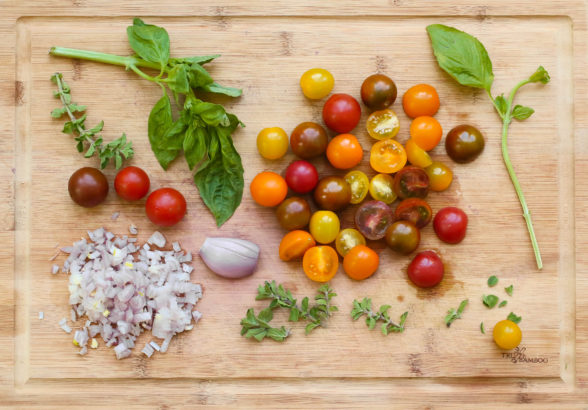 My father had a tremendous vegetable garden, and actually he still does.  He grew loads of tomatoes and basil, more than we could consume ourselves. We had tomatoes and basil incoporated into summer meals multiple times a week, and no one was complaining.  We waited all year for homegrown summer tomatoes and we were never disappointed.  One of our default recipes was quick sauteed cherry tomatoes with garlic, olive oil, salt, basil and crushed red pepper.  We would eat that on anything from bread to pasta to grilled or roasted meat, poultry or seafood.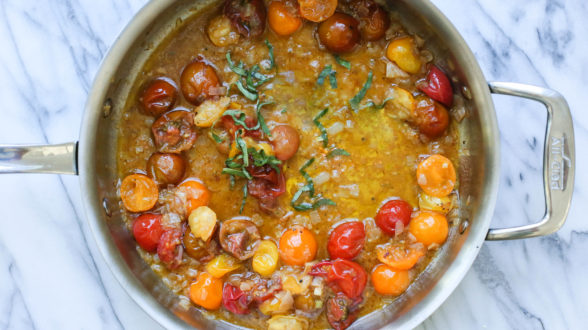 I have two recipes on the blog which my mother made constantly, although nothing revolutionary — pasta with 5-minute cherry tomato sauce (quick-cooked sauce) and pasta alla checca (raw tomato sauce.)  Both can of course top gluten-free pasta, grain-free pasta or spaghetti squash, none of which my father considers to be "real" pasta though. 😉  I wanted to put a twist on that old standby with more of a vinaigrette feel to the tomato mixture because I often top arugula with grilled or roasted chicken, steak or fish and I love a little extra acidity.  Enter, grilled chicken with cherry tomato vinaigrette!
I went to my friend Molly Sims' house to cook with her one day and she wanted to learn this recipe. We both love light, flavorful, healthy and easy recipes, and this hit all the marks.  She told me afterwards her kids and husband happily polished off the whole platter of chicken.   Lately, I have been offering suggestions for how to adapt a recipe for a vegan diet and for a grain-free diet since so many people are auditioning one of the above.  This is already Paleo/grain-free.  To enjoy the tomato concoction without the chicken, it would be excellent on cod or salmon, or even cauliflower steaks or cooked farro.
Serve with sautéed corn or smashed potatoes and you've got yourself the perfect summer meal!

Grilled Chicken with Cherry Tomato Vinaigrette
Ingredients
4 boneless skinless chicken breast halves
¼ cup fresh lemon juice
¼ cup cold-pressed extra-virgin olive oil
1 Tablespoon red wine vinegar
4 cloves garlic, thinly sliced
2 Tablespoons minced flat-leaf parsley
2 Tablespoons minced fresh oregano
2 teaspoons kosher salt
1 teaspoon freshly ground black pepper
Cherry Tomato Vinaigrette
3 Tablespoons cold-pressed extra-virgin olive oil, divided
1 medium shallot, minced
1 pint cherry tomatoes, halved
pinch sea salt
black pepper to taste
½ teaspoon Dijon mustard
1 Tablespoon red wine vinegar or sherry vinegar
1 Tablespoon finely sliced fresh basil
A few handfuls of arugula
Instructions
Place the chicken breasts one at a time in between to pieces of parchment paper or plastic wrap and pound to a ¼-inch thickness. You can use a meat mallet or a rolling pin. The idea is to get the chicken to an even thickness all around. Set Aside.
Whisk together the lemon juice, olive oil, vinegar, garlic, parsley, oregano, salt and pepper in a glass baking dish.
Place the pounded chicken in the dish with the marinade and coat it thoroughly. Cover and marinate in the refrigerator for 4-6 hours or allow to sit at room temperature for 30 minutes if you're in a hurry.
Heat the grill to medium.
In the meantime, prepare the vinaigrette: In a large skillet, heat 1 Tablespoon of olive oil and sauté the shallots until tender and translucent. Add the tomatoes and salt and sauté until they start to loose their shape, about 2-3 minutes, as your sautéing, try to mash the tomatoes slightly with your spoon. Turn off the heat and whisk in the Dijon mustard, remaining 2 Tablespoons olive oil and the vinegar. Stir in sliced basil. Set aside.
Remove chicken from marinade and place the chicken on the grill and flip when the edges of the breasts are white and they can be easily released from the grill. Continue cooking on the other side until the chicken reaches an internal temperature of 160 to 165 degrees. This should take around 4-5 minutes per side if you pounded the chicken breasts. Set chicken aside to rest, tented with aluminum foil.
Place the arugula on a large platter and place the chicken on top. Top with the tomato vinaigrette and serve.