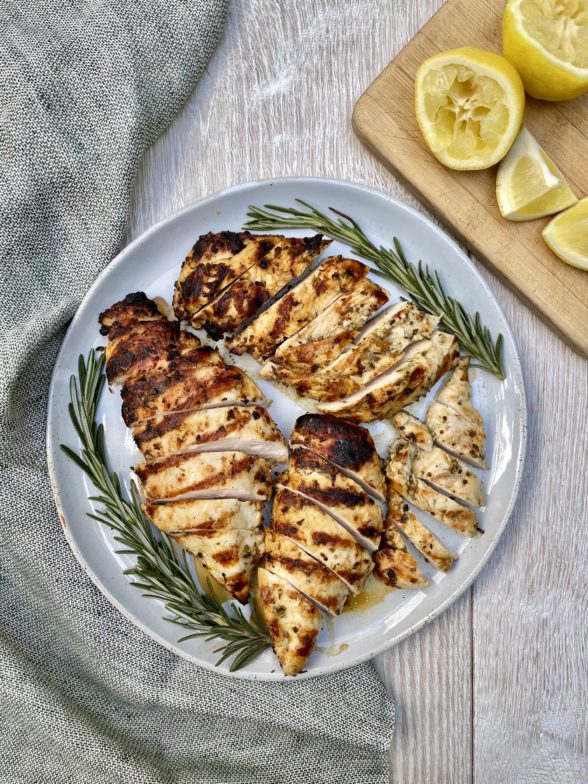 GREAT NEWS:  I am repeating my original "Health Cooking Made Quick and Easy" bootcamp as well as one of my most popular, "Entertaining with Ease" starting NEXT WEEK!!  My bootcamps are fun, educational, game-changing, and you have me live for 4 weeks to answer any and all questions.  Plus, people who take my bootcamps are the absolute most awesome and you will love learning with this community! Here are some discount codes to sweeten the deal:  EASY 100 for Healthy Cooking course and EWE100 for the entertaining course.  Join me live or watch the recorded class and Q&A on your own time.  You will LOVE these classes!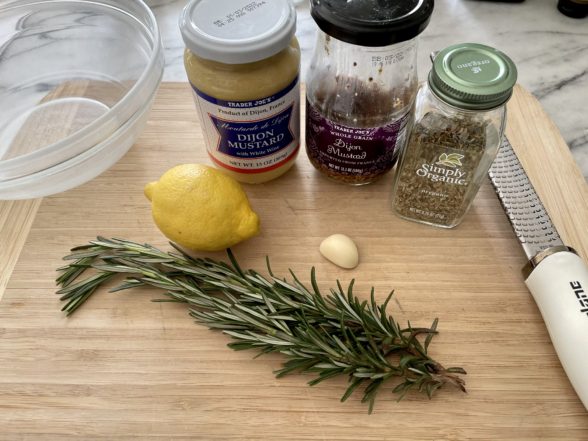 Onto the recipe for this week! chicken is something I eat only on occasion, it is the most requested protein recipe by my students. "We need more easy, flavor-packed chicken recipes!"  It is probably the most popular protein that people make for their families for dinner/order in restaurants.  I am sure we can make an argument that in some parts of the country beef may be the protein of choice, but let's not get muddled in the weeds here.  I have a great chicken recipe for you and YES there is a plant-based option!
What I love about this recipe is that it is so easy, tasty, light, and goes with everything.  You can serve with burgers or you can serve with a more elevated menu.  The leftovers are fabulous cold, chopped into a salad or one of my classic saute-everything-in-the-fridge meals.  I thought this would be perfect for the unofficial kick-off of BBQ season, which is this weekend!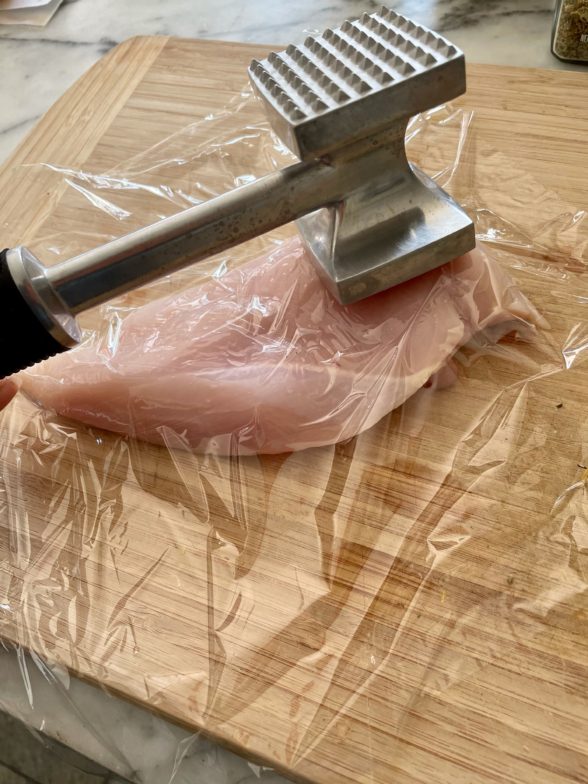 Ok, you see this photo above?  This is what I do with all boneless, skinless chicken breasts that I am cooking whole like that.  I pound out the thicker end to match the thickness of the thinner end.  This is really key to making sure you don't overcook your chicken.  (The thinner, the smaller something is, the faster it cooks.). It's a good technique to employ even if the recipe doesn't tell you to do it.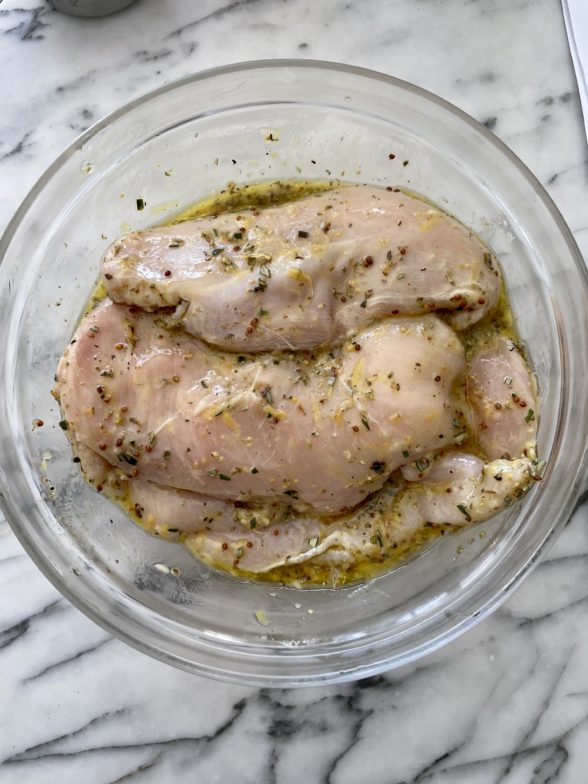 See the photo above?  This is showing you that you don't need to drown protein in marinade.  That lemon zest packs tons of flavor, as does the mustard.  No rosemary or just not a fan?  Try fresh thyme or even 1/3 of the amount of dried rosemary.
I grill a lot in the summer, but not a ton all year.  If grilling is not for you, you can broil these on a broiler pan and broil 5-6 inches from the heat source for about the same time as on the grill.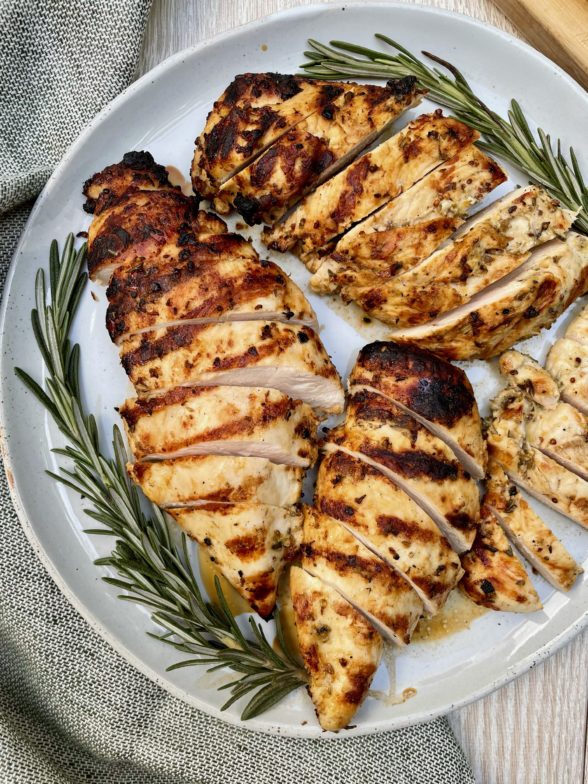 Chicken breasts can often get dry and flavorless, but not these!  That said, if you prefer boneless, skinless thighs, go for it!!  They will cook in the same amount of time and are easier to not overcook.  If you make this recipe or any of my recipes, please tag me on Instagram so I can see your beautiful creations @pamelasalzman #pamelasalzman.
You can shop the tools I used for this recipe by clicking on the images below:

Grilled Lemon-Mustard-Rosemary Chicken
Ingredients
1 ½ teaspoons finely grated lemon zest
1 ½ teaspoons finely chopped fresh rosemary
2 Tablespoons freshly squeezed lemon juice (about half a lemon)
1 large garlic clove, minced
1 ½ teaspoons dried oregano
2 Tablespoons unrefined, cold-pressed extra-virgin olive oil
½ Tablespoon Dijon mustard
½ Tablespoon coarse grain mustard
1 ¼ teaspoons kosher salt
Freshly ground black pepper to taste
1 ¾ pounds boneless-skinless chicken breast halves, thick ends pounded slightly* between two sheets of parchment or wax paper or plastic wrap or boneless, skinless chicken thighs, trimmed of excess fat
Instructions
In a medium bowl, whisk together all ingredients except chicken. Add the chicken, and toss to coat. Marinate at room temperature for up to 1 hour or refrigerate covered, overnight.
Before preheating the grill, remove chicken from the refrigerator. Heat the grill to medium-high. Grill until the chicken turns white on the edges and releases from the grill easily, about 4-5 minutes. Turn chicken and cook until other side is done, about 4-5 minutes. The thinner the chicken pieces, the more quickly they will cook through. Serve hot, warm, room temp or cold.
Notes
*This is to even out the thickness of the chicken
For a plant-based option, this marinade is great on steamed cauliflower steaks (steam for 6 minutes) that you then grill for a couple minutes on each side or tofu slabs which you just get quick char marks on both sides.