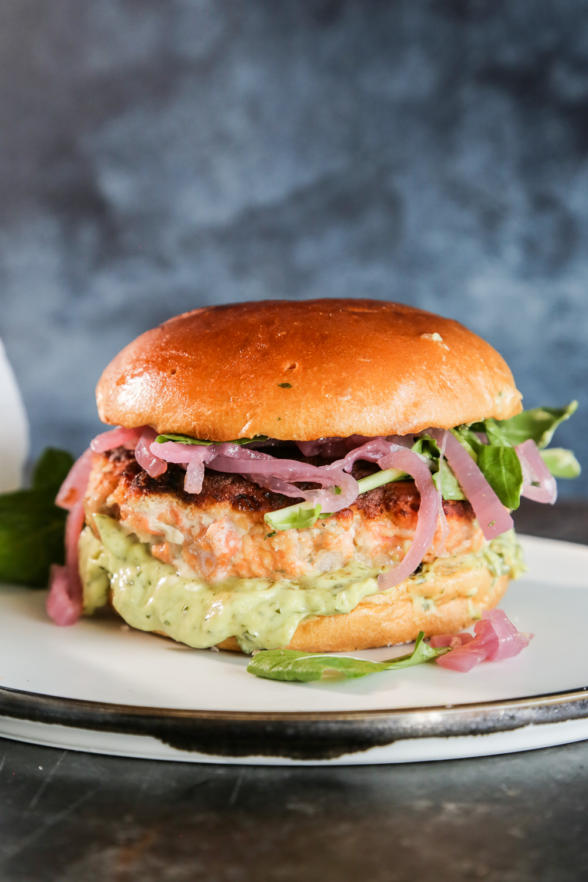 The past two nights I set 5 places at the dinner table and I could not have been more grateful or HAPPY.  All three of my kids are home, and although it will be a short time that we're all together, I'll take what I can get!  I am going to pull back a little from social media and lengthy blogposts in the very short term, so bear with me.  I have to walk the talk and enjoy some balance in my life.  So I am going to spend some more time with my kids over the next week or so.  And then I have to get cracking on several projects which I have mentioned in a previous post.  It's all super exciting, but something's gotta give!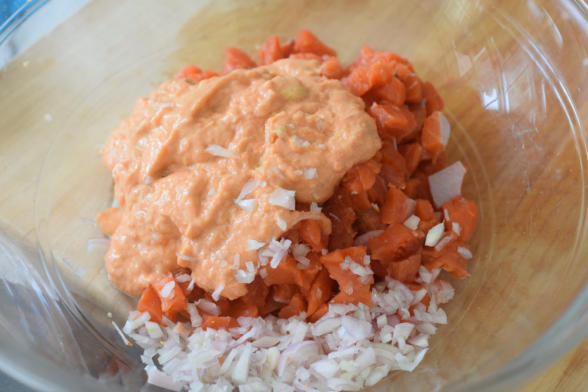 I posted a tease of this salmon burger on Instagram a few weeks ago and I know many of you are excited about this recipe.  It really came as a response to one of my students asking me how to get her kids to like wild salmon. Ah, yes.  Wild salmon is the only salmon I buy and I don't bother with any kind of farm-raised salmon, even the fancy ones from Scotland.  I want Omega-3 fats and antioxidants, not pro-inflammatory fats and food coloring.  Plus, fish farms are destroying the aquaculture and I am not going to use my dollars to support that.  But wild salmon has a stronger flavor, more salmony, than farm-raised which has more fat and oil and is definitely blander.  Wild salmon is also easier to dry out which is a bummer.  In my cookbook, there is a two-page spread on "How to Cook Wild Salmon 7 Ways."  Definitely check that out if you've ever come back from the market with wild salmon and no plan.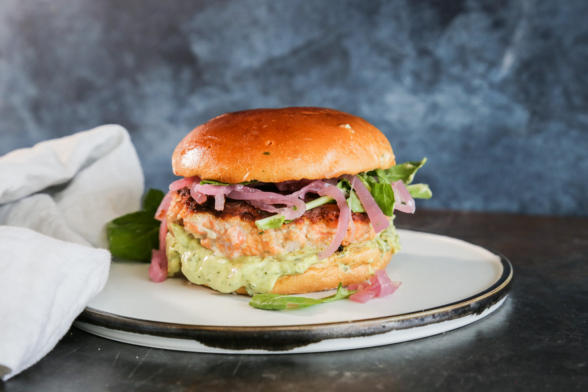 I immediately suggested a salmon burger to this mom because you can really doctor up the fish with lots of great flavors and kids love burgers!  Set out a topping bar and you're halfway there.  The technique here may be a little scary because you have to make a paste with some of the salmon and a few ingredients, but go with it and have faith.  This is how the salmon gets bound together and turns into a moist burger.  These are different from the salmon patties on my site which are made with canned salmon.  Those are fabulous and you should give them a try, but they're much thinner and not burger-like.
I like topping my burger with avocado blended with cilantro and lime, plus some pickled onions (how to quick pickle onions in the roasted broccoli recipe in my cookbook) and arugula or in a big lettuce leaf instead of a bun.  Basic avocado slices + chipotle Vegenaise + caramelized onions are always a favorite. Or do what my picky son does and eat it plain with nothing on it and touching nothing else on his plate.  I am just grateful and happy he's eating wild salmon.
You can shop the tools I used for this recipe by clicking on the images below!

Wild Salmon Burgers Recipe
Ingredients
1-1 ¼ pounds wild salmon filet, skin and pin bones removed, divided
2 Tablespoons Dijon mustard
1 large egg or 3 Tablespoons Vegenaise or your favorite mayonnaise
½ teaspoon grated lemon zest
1 Tablespoon fresh squeezed lemon juice
Pinch cayenne pepper
1 small shallot, minced
¼ cup panko breadcrumbs or oat flour (use GF if needed)
¼ cup parsley leaves and tender stems, finely chopped (dill is also nice)
½ teaspoon sea salt
freshly ground black pepper to taste
2 Tablespoons unrefined, cold pressed extra-virgin olive oil or avocado oil
accompaniments: toasted buns, arugula, avocado, garlic aioli, or tartar sauce
Instructions
Cut three-quarters of the salmon (just eyeball it) into ¼-inch pieces. Put in a large bowl. Cut the rest of the salmon into chunks; transfer the chunks to a food processor along with the mustard, egg, lemon zest, lemon juice and cayenne. Pulse to make a paste.
Add the salmon paste mixture to the bowl with the diced salmon. Add the minced shallot, panko, parsley, salt, and black pepper to taste. Gently mix until just combined. The mixture will seem like a sloppy mess.
Line a platter or a baking sheet with parchment paper or wax paper. Divide the salmon mixture into 4 mounds on the parchment paper (if you started with 1¼ pounds of salmon, you can probably squeeze out 5 patties.) Form into 4-inch-wide, ¾-inch-thick patties. Cover and refrigerate at least 30 minutes, up to 12 hours ahead. This step helps bind the burgers.
Heat the oil in a large non-stick or cast-iron skillet over medium-high heat or 375 degrees on a griddle. Add the patties (in batches if necessary) and cook until browned on the bottom, about 4-5 minutes, adjusting the heat if necessary. Turn and cook until the other side is browned and the patties feel springy in the center, 4-5 minutes. Serve immediately with desired accompaniments.