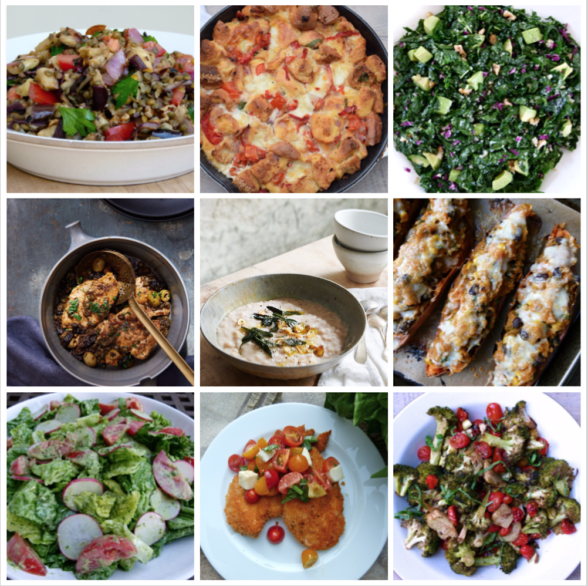 Memorial Day usually brings to light the men and women who have died serving our country and protecting our freedom.  This year, I also want to honor those who have been on a different type of front lines.  All the essential workers who have lost their lives due to this epidemic are in my thoughts this Memorial Day as well.
Some of you may be socializing for the first time in a while, so I am posting this dinner planner a bit earlier than usual.  Are you guys seeing friends yet?  We actually saw friends this week on two different occasions this week and felt pretty comfortable with how we handled it.  We are all trying to figure out how to transition into our new lifestyle.  A few things we did was ask our friends to remove their shoes before they entered the house; wash their hands after entering; keep a 6-ft-ish distance between us; and wash hands again before dinner.  That's about the best we could do and it felt just fine!  I think socializing outdoors is best and keeping it to a few people rather than a big group.  But I think everyone will figure out what works for them and their circle of family and friends.   Here's your dinner planner for the week:
Meatless Monday (Memorial Day) Lentil and grilled eggplant salad, Tasty Turkey Burgers, Wild Salmon Burgers, The Best Grilled Flank Steak, Grilled Vegetables with Lemon-Basil Dressing or Chopped Grilled Veg Salad, Sparkling Blackberry Shrub, Apricot-Cherry Almond Crisp, Grilled chicken with cherry tomato vinaigrette, roasted strawberry bruschetta (or see this post for more ideas for your memorial day bbq)
Tuesday: (use those leftovers!) Tomato, Roasted pepper and Basil Strata (use leftover burger or hot dog buns, if you have them from the weekend), arugula salad with simple lemon/olive oil dressing (or leftover dressing from the salads yesterday, if you have any leftover grilled vegetables, mix those in as well)
Wednesday: raw kale salad with citrus dressing, parchment baked halibut with cilantro and ginger
Thursday: Quicker Chicken Marbella p. 212 with white bean puree with garlic and sage p. 189 from Quicker than Quick, sauteed spinach
Friday: tex-mex stuffed sweet potato skins , green salad and/or grilled asparagus
Saturday brunch: green goddess salad with protein of choice (e.g. canned/jarred tuna or salmon, hard boiled egg, chickpeas, poached chicken)
Sunday:  baked parmesan chicken caprese, balsamic roasted broccoli and cherry tomatoes (but skip the cherry tomatoes since there are tomatoes on the chicken and use thinly sliced red onions), toss with warm lentils or white beans if you need more or serve grilled garlic bread on the side.
Here's what you can do ahead if you need to:
Sunday:
Wash salad greens and vegetables
Make salad dressings (make green goddess closer to the weekend)
Wash and strip kale from the stem
Tuesday:
Cook white beans unless using canned
Wednesday:
Roast sweet potatoes and assemble filling
Saturday:
Cut broccoli into florets
My new cookbook, Quicker Than Quick, is here!  I have LOVED seeing all your creations of my recipes on Instagram. If you make any of my recipes, please tag me @pamelasalzman #pamelasalzman so I can check them out!  If you have 1 minute, would you mind leaving a review on amazon?  I would be so grateful, thank you!
Click here to learn more about my online cooking classes! Through the end of quarantine, choose any cooking class in the library for $10 with the code SINGLE10 and a subscription for future classes for $17  (normally $27/mo.) with the code CLASSES17.
Take a peek at my first cookbook "Kitchen Matters"!