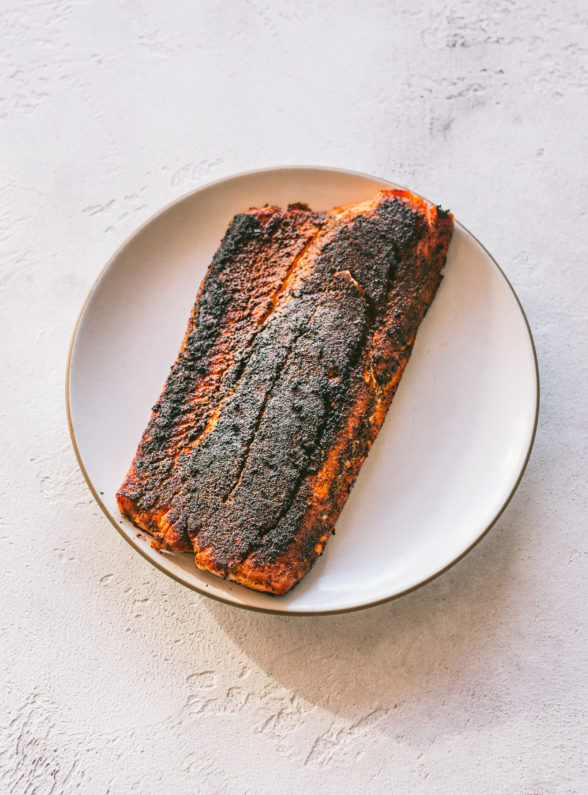 Most people think of produce having seasons, which it does.  But wild salmon has a season too, and it just started!!!  I do buy frozen wild salmon in the "off-season," but I prefer it fresh.  So from now until late summer/early fall, I will be indulging once a week at minimum in my favorite fish.  Now to get more specific, I am most fond of Copper River Salmon, a variety of wild salmon that is even more flavorful, more luxurious, and more rich than regular wild salmon.  Copper River Salmon has a shorter season of about 3 weeks, and it is just getting going.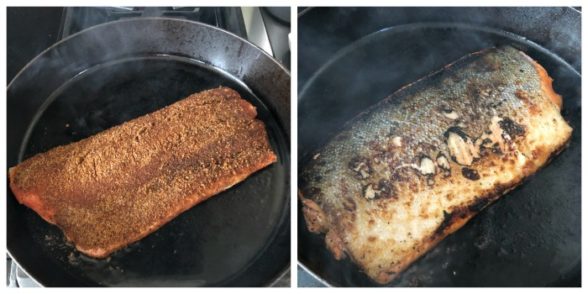 If you struggle with enjoying wild salmon over farm-raised, I have a couple tips.  First, don't overcook it.  Overcooking wild salmon makes it tough and "salmon-y."  It's easy to overcook wild fish because it has less fat than farm-raised, although the fat in wild is rich in anti-inflammatory Omega-3 fats.  Cook it less than you think or try slow roasting which is a foolproof way to not overcook salmon.  Second, try King salmon which is the richest variety, for both wild and Copper River, and has less of strong flavor.  Another tip is to try this blackened salmon recipe!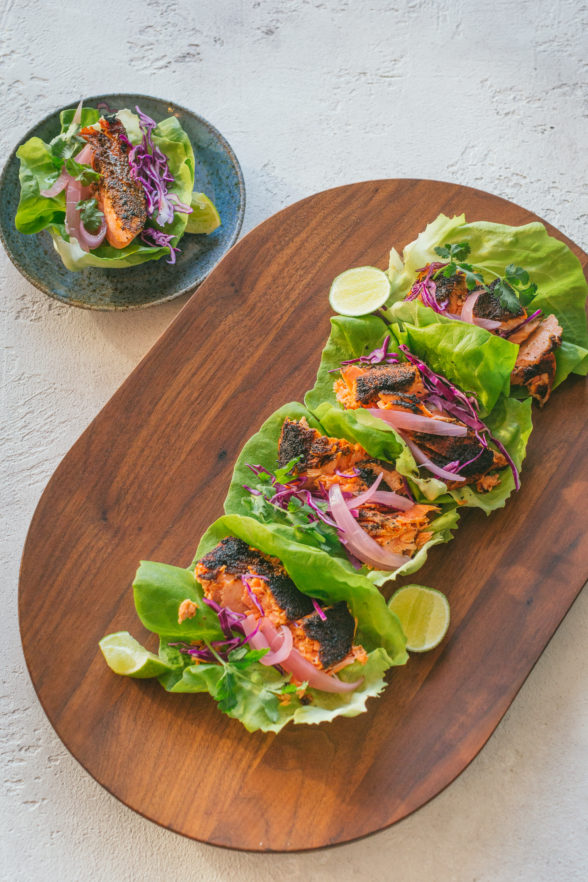 It's not the salmon itself that gets blackened, it's the spices and coffee grounds on the salmon that gets blackened.  The spice rub is a fabulous combination of earthy, spicy (but not too spicy), sweet and savory.  I know coffee sounds a little weird, and if you need to skip it, feel free.  But it adds a lot of depth and makes them different from regular fish tacos.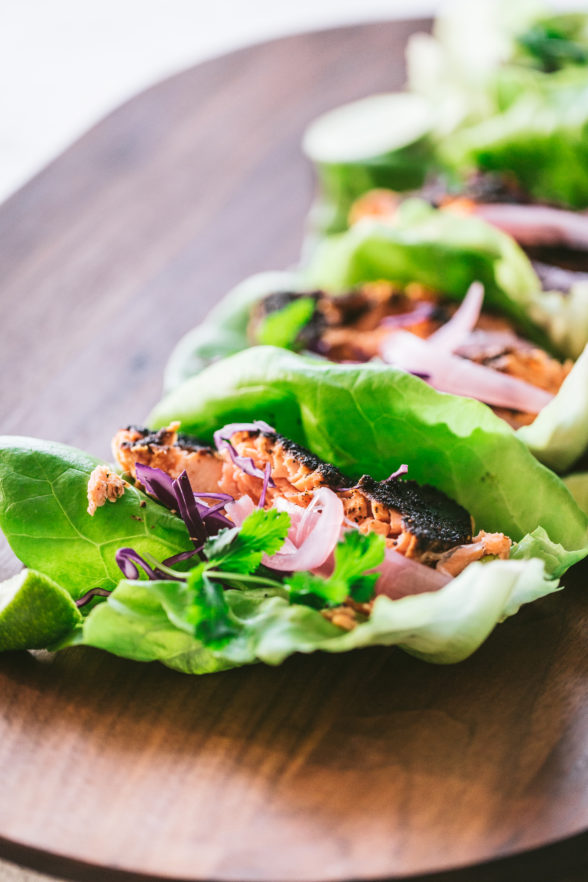 I buy wild salmon from VitalChoice.com or from my local fish market (Quality Seafood in Redondo Beach.) I have had success with the fresh Copper River salmon from Costco when it's there, and the fresh wild salmon from Trader Joe's.  I don't like wild salmon that has been sitting in an open case for too long.  These tacos are a great way to enjoy salmon in a new and delicious way.  Load them up with all your favorite toppings, especially the juicy and creamy ones like lime/salsa and avocado/guacamole.  This would be perfect for Memorial Day weekend, which, if you've lost track of time, is in a few days!
As always, I'd love to see photos if you make this or any of my recipes!  Tag me on Instagram @pamelasalzman #pamelasalzman
You can shop the tools I used for this recipe by clicking on the images below:

Blackened Wild Salmon Tacos
Ingredients
1¾ pounds center-cut fresh wild salmon fillet (this can also be in multiple fillets), pinbones removed*
Unrefined avocado oil or cold-pressed extra-virgin olive oil
1½ teaspoons ground cumin
1½ teaspoons chili powder
2 teaspoons maple sugar or brown sugar
1 teaspoon ground coffee, decaf is fine
1 teaspoon sea salt
freshly ground black pepper to taste
Tortillas or lettuce leaves
Shredded cabbage, avocado slices or guacamole, pickled onions or radishes, fresh lime wedges
Instructions
Preheat a grill to medium heat or 400 degrees. Make sure the grates are very clean. Or preheat a cast iron skillet.
Drizzle a little oil on both sides of the salmon.
In a small bowl, mix together all the spices, sugar, coffee, salt and pepper to taste. Sprinkle the fleshy side of the salmon with the spice mixture and press lightly so the spices stick.
Brush the grill with some oil or drizzle a teaspoon of oil in the skillet. Grill/sear the salmon skin side down for 3-4 minutes. Turn over and cook skin-side up until still rare in the center, but starting to flake. For salmon that is 1-inch thick, it will take about 8 minutes total. Remember that it will continue to cook off the heat. So if the salmon is not quite done, but both sides are blackened, let it rest on a platter until the fish "flakes" when you poke it with the tip of a knife.
Break up into big chunks and serve with desired accompaniments.