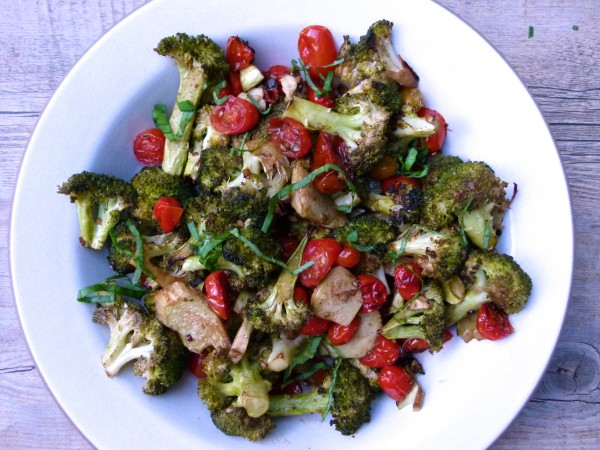 I'd like to sneak in a nutritious recipe before Halloween if you'll let me.  I need to one last swan song before local tomatoes go out of season until next June.  Moment of silence.  Until then, I am enjoying these sweet little orbs as much as I can.  I have always had a soft spot for cherry tomatoes, which seem to be consistently sweet as sugar.  I love to make a quick sauce out of them for pasta and they don't weigh down salads like a chopped up beefsteak.  And as sweet as they are raw, they are even more so and more tomato-y roasted.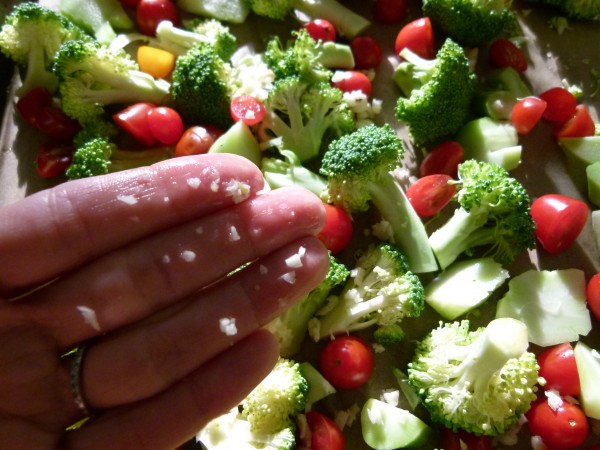 This is a super easy and delicious way to enjoy broccoli and tomatoes while they are in season at the same time.  What I love about this combo is how the juice from the tomatoes mingles with the balsamic vinegar and olive oil and gets trapped in the nooks and crannies of the broccoli florets.  So delish.  You can keep it really simple here and just roast the veggies with garlic, balsamic and oil or add a little fresh basil at the end like I did.  If you want to get fancy, toss on some toasted pine nuts and a few shavings of Parmesan cheese.  You can't go wrong.  I think you could also make the same thing with eggplant and cherry tomatoes or zucchini and cherry tomatoes.  I served this the other night with some roasted salmon and corn-chimichurri sauce.  Yum!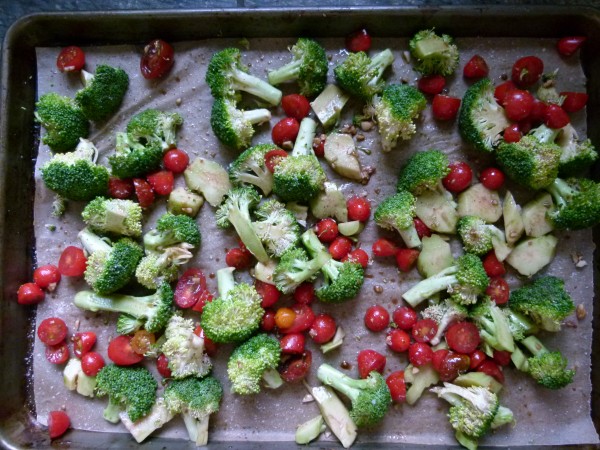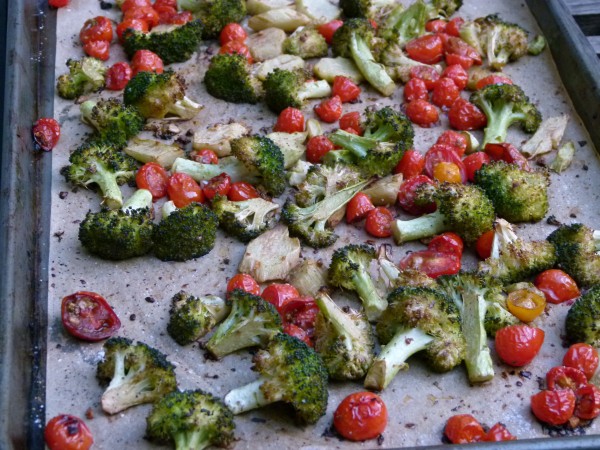 Forgive the short post today, but as I mentioned in a previous post, I'm not very organized in areas of my life that don't relate to food.  As I predicted, Mr. Picky's birthday party is being held tomorrow, 3 1/2 weeks after his real birthday.  I can't remember the last time his party was actually in September.  Am I lame, or what?  He's being a good sport about it and said, "That's okay, Mom.  It makes my birthday last longer."  Love that little guy.  I was actually so proud of myself that my son and I pulled together his Halloween costume already.  That's about 2 1/2 weeks earlier than normal!  And then I opened my mail today and saw two catalogs for holiday cards.  I mean, really.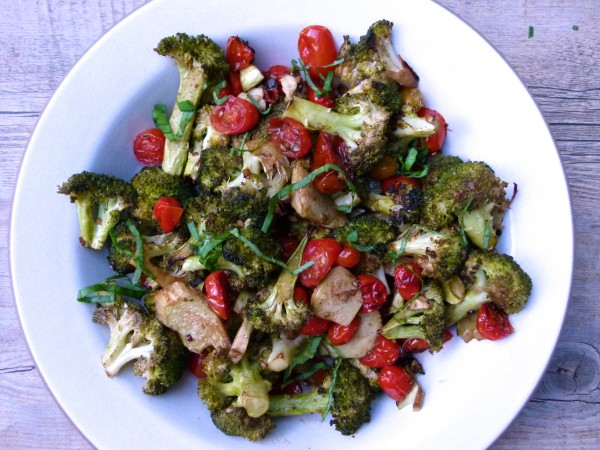 Balsamic-Roasted Broccoli and Cherry Tomatoes
Ingredients
1 pound broccoli crowns, cut into florets and stems sliced
1 pint cherry tomatoes, halved
3 garlic cloves, chopped (or halve the garlic cloves for a more subtle flavor)
2 Tablespoons unrefined olive oil or melted coconut oil (I prefer the taste of olive oil here.)
1 Tablespoon balsamic vinegar (don't use the super expensive kind in this recipe)
¾ teaspoon fine ground sea salt
freshly ground pepper to taste
some fresh slivered basil to garnish (optional)
Instructions
Preheat oven to 400 degrees. Line a large baking sheet with parchment paper.
Place the broccoli, tomatoes and garlic on the prepared pan. Drizzle with oil and vinegar and toss to combine. Spread out in a single layer on the pan and sprinkle with salt and pepper.
Roast for 30 minutes.
Serve hot or at room temperature. Garnish with fresh basil if you have it. Don't worry about it if you don't.
Notes
Broccoli "crowns" refer to just the tops, with minimal stalks.  I use the stems for juicing or for this delicious Broccoli Stalk Soup.