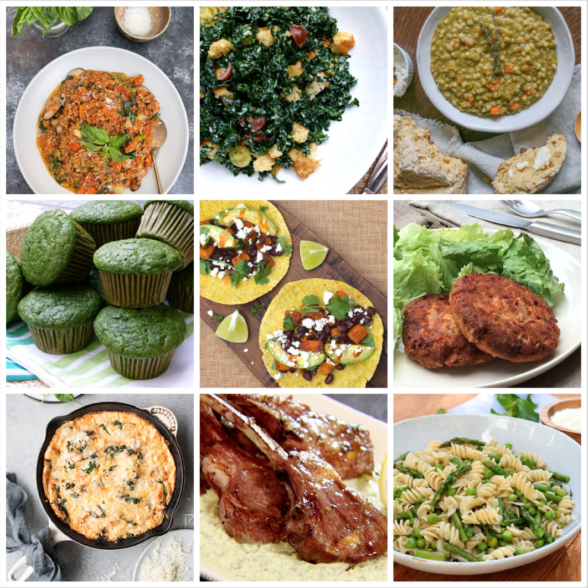 If you have kids and you have a hard time getting them to eat green vegetables, the biggest opportunity of the year is THIS WEEK!  That's right, St. Patrick's Day is your chance.  No offense to Saint Patrick and all my Irish friends, but kids are expecting green food, so I would go big or go home!!  Here's your dinner planner for the week:
Meatless Monday: One pot farro primavera (even though this has a lot of veggies, I usually serve it with a side salad or a side of sauteed greens; for protein, shower with grated Parmesan and add some beans or nuts to the salad)
Tuesday: kale salad with creamy lemon dressing served with grilled or sauteed shrimp.
Wednesday (St. Patrick's Day): We don't eat beef, but if you want to make a traditional corned beef and cabbage recipe, I would listen to my friend Marcia Smart.
You can make an array of yummy "green" things for St. Patrick's day without using food coloring. We will most likely make split pea soup and Irish soda bread.  Other green food you could try: green pancakes, green muffins (these have been around the world and back!), green breakfast cookies, green matcha chia pudding, "leprechaun juice" smoothie, vegan mint chip smoothie, green spinach risotto, asparagus or broccoli soup, one pot barley with melted cabbage from my cookbook or any recipe using a green vegetable such as minted sugar snap peas, Brussels sprouts, broccoli, cabbage or spinach
Thursday: Sweet potato and black bean tacos served with jicama slaw or salad
Friday: tuna or wild salmon patties, Mediterranean quinoa salad
Saturday brunch: Savory dutch baby pancake with spinach and gruyere
Sunday: Spring Green Pasta with Asparagus and Peas, Greek lamb chops with yogurt-mint sauce by Ina Garten
Here's what you can do ahead if it helps you:
Sunday:
Make salad dressing
Wash greens
Strip Kale
Tuesday:
Cook beans, if making from scratch
Make green muffins
Thursday:
Cook quinoa
Assemble salmon patties
My new-ish cookbook, Quicker Than Quick, is here!  I have LOVED seeing all your creations of my recipes on Instagram. If you make any of my recipes, please tag me @pamelasalzman #pamelasalzman so I can check them out!  If you have 1 minute, would you mind leaving a review on amazon?  I would be so grateful, thank you!
Take a peek at my first cookbook "Kitchen Matters"!