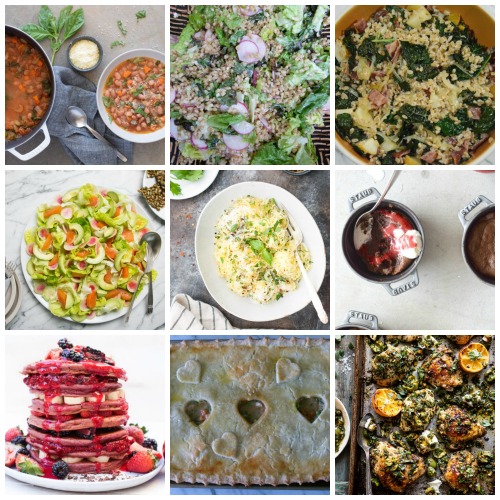 Hello, hello!!  I hope you are all doing well and staying healthy.  This has been a ROUGH winter so far!!  Some administrative business first – my online cooking class students – I am doing our monthly Facebook LIVE Saturday, February 8th at 9:30 am PST/12:30 pm EST.  I'll be in my sweats with no makeup and a matcha latte, so come as you are 😉 !  I just filmed the February class and it is GREAT!  There's so much good info that you can apply to your everyday cooking and help you on your journey to your healthiest self.  I can't wait for you to see it.  The goal is for my team to upload it Tuesday night!
For those of you in LA interested in in-person classes, click here for more information.  I have a couple spots left in a class on Tuesday, February 11th at 10:30 am in the South Bay.  Email Erika for more information.  pamelasassistant@gmail.com All other classes in February are sold out.
I am looking forward to heading out to Palm Springs next weekend for Modernism Week.  Anyone else going??  I think it's going to be a bit chilly, but it's always healthy (literally) to have a change of air!  Here is your dinner planner for the week:
Meatless Monday: Borlotti bean soup
Tuesday: Wheat Berry Salad with Lemon and Tahini Dressing, slow roasted salmon (omit mango salsa) (I made slow roasted salmon recently with a little avocado oil and a sprinkling of Countertop Foods Grilling Seasoning Blend + lemon on the side.)
Wednesday: Farro and kale with roasted pears and turkey bacon, Fennel and green apple salad
Thursday: Spring salad with oranges, radish, avocado and pumpkin seed brittle (I'm probably going to skip the brittle for a weeknight.  This could be a full meal if you wanted to add some cooked quinoa and/or feta cheese to the salad), naan pizzas with spinach sauteed in garlic and red pepper flakes and topped with kite hill ricotta cheese
Friday (Valentine's Day): I always make my Chicken Pot Pie (omit the chicken and sub extra veggies for a vegetarian version) with a simple fresh side salad and this year I'm making molten chocolate cakes for dessert! Stay tuned for the recipe coming soon!  Other dinner options that I love for Valentines Day are Salmon with Beets and Spinach, or Hearty Vegetable Vegan Lasagna or even Lasagne Cupcakes along with a lightly tossed green salad (for fun I take out my mini heart shape cookie cutter and cut radishes and avocado into hearts.) Another dessert option could be these Mini Flourless Chocolate Cakes with Raspberry Sauce or Chocolate Bundt Cake with Chocolate Ganache. Yum! If you're making a Valentine's Day breakfast instead of dinner I love making these pink Pitaya Pancakes. Also, this Valentine's Day Snack Board is the perfect snack to leave out if you have kids coming home from school that day.
Saturday brunch: Chicken pot pie soup (or leftovers soup) – take your leftovers and cut into bite size pieces, if necessary.  Put in a pot and add enough chicken or vegetable stock to create a soup consistency.  Heat and serve!
Sunday: Roasted garlic butter chicken with lemon olive dressing from half baked harvest, cauliflower rice
Here's what you can do ahead if you need to:
Make stock for soup, pot pie
Make all dressings
Wash salad greens and herbs
I have LOVED seeing all your creations of my recipes on Instagram. If you make any of my recipes, please tag me @pamelasalzman #pamelasalzman so I can check them out!
Click here to learn more about my online cooking classes! If you like my recipes, you'll LOVE my cookbook!  If you have 1 minute, would you mind leaving a review on amazon?  I would be so grateful, thank you!  My new cookbook, Quicker Than Quick, is available for pre-order!