Oh my stars.  As I sat down to write this, I realized that I have posted an entire year of dinner planners on the blog!  Time flies when you're having fun cooking, don't you think?  I hope you have found the post useful.  Even if you don't use the recipes, I hope that seeing the posts has encouraged you to sit down and organize your meals for the week.  The idea is to help you cook more from scratch, waste less, save money and just be less stressed about cooking.  Please share what helps you get organized for meal preparation during the week!
I just returned home from a much-needed and very relaxing vacation, first in Hawaii and then at my parents' house on Long Island.  Both weeks were as perfect as I could have hoped for and I am feeling restored and ready for the new year!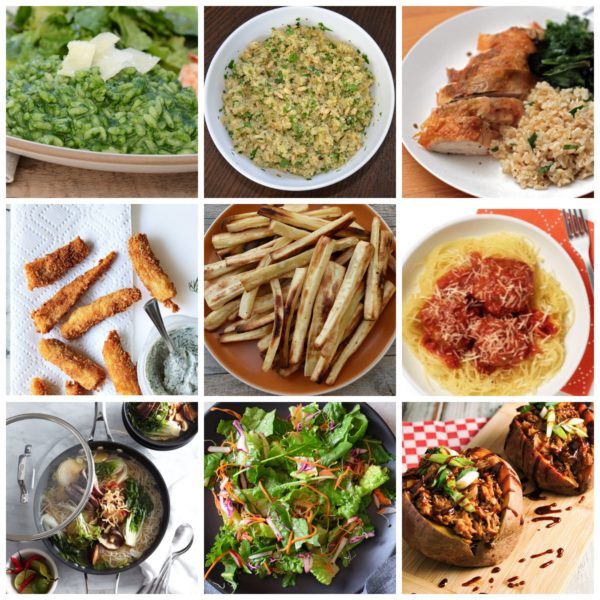 Here's your dinner planner for the week:
Meatless Monday: spinach risotto, sautéed mixed mushrooms with garlic and thyme
Tuesday: lemon and cumin scented quinoa, roasted bone-in chicken breasts from serious eats, steamed broccoli
Wednesday: fish (cod or halibut) sticks with tartar sauce (I'm going to use this recipe minus the parmesan and I'm going to add a little lemon zest), baked parsnip fries, green salad with everyday salad dressing #2
Thursday: spaghetti squash (or pasta) with turkey meatballs, sautéed spinach (follow this recipe for how to roast spaghetti squash)
Friday: steak and mushrooms in ginger-miso broth from Williams-Sonoma
Saturday lunch: clean out the fridge frittata (follow this frittata recipe for a basic template), big detox salad (recipe coming Tuesday)
Sunday: baked potatoes or sweet potatoes with shredded slow cooker pulled bbq chicken, creamy avocado slaw
Here's what you can do ahead if you need to:
Sunday/Monday
Make stock for the week.  Freeze if it won't be used within 4 days.
Prep (wash, dry, cut) broccoli
Squeeze lemon juice for quinoa
Make salad dressing
Make marinara sauce
Make BBQ sauce for Sunday (or purchase prepared sauce)
Wednesday
Make turkey meatball mixture (bake today or on Thursday)
Make spaghetti squash and refrigerate.  Reheat on Thursday.
Wash greens for Saturday's salad.
Here's a link to all my previous dinner planners.