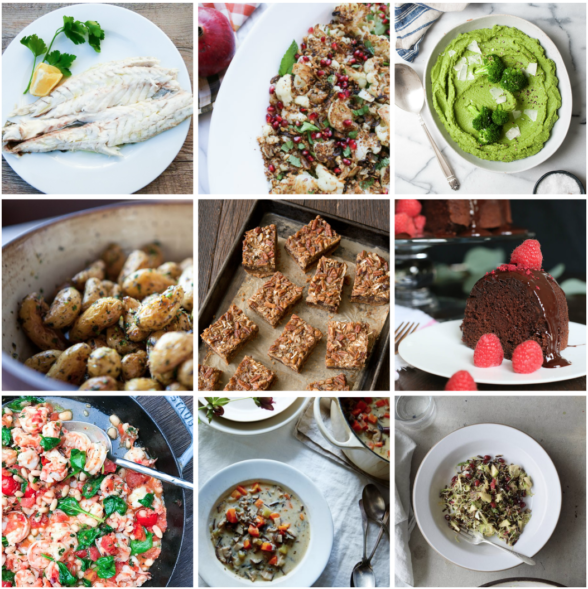 My sort-of vacation starts now, so I am very excited!  I have taught my last class of 2018, scheduled my last blogpost for next week and I am almost packed to go to NY with my family to celebrate Christmas.  I say "sort-of vacation" because I am working hard on my next book, which I am shooting in a few weeks.  Eeeek!  So exciting to be doing this again and my next book is going to be even better than the first!  I'll post from NY if you're interested to see how I cook three meals a day for 15 people and have fun doing it LOL.  In the meantime, have a very merry Christmas!!  
Here's a great dinner planner for next week if you need some inspo:
Monday (Christmas Eve): This is a potluck dinner at my aunt's house for between 100-120!  We always have dozens of fish dishes, including linguine with clam sauce, baccala, stuffed clams, eel, octopus and more.  Here's a recipe for Whole Roasted Branzino if you're in the mood for an easy and elegant fish dish. 
Tuesday (Christmas Day): My parents host Christmas dinner and we'll start off with a big cheese board with nuts, salami and crudites.  Plus I'll make the Italian 7-layer dip or the Baked Feta from my December classes. My mom always makes chicken soup with tortellini and roast tenderloin of beef.  We'll also make Cauliflower with Pomegranate Molasses, Puree of Broccoli, and Roasted Potatoes with Gremolata. I am considering a roasted carrot dish with a pomegranate-pistachio relish like this recipe.  I'm also going to make Vegan Magic Bars, and Chocolate Bundt Cake with Peppermint Ganache  MERRY CHRISTMAS!
Wednesday: Leftovers! I usually make a mushroom-barley soup and add in leftover cubed tenderloin.  The kids love it!  Here's another great option:  Vegan Cream of Mushroom and Wild Rice Soup from Food52
Thursday: Shrimp with Tomatoes White Beans and Spinach. Serve over cauli-rice (method here)

Friday:  DIY bowl night with slow cooker chicken tacos, black beans, rice, quinoa, lettuce, salsa, vegan queso, roasted brussels sprouts, chipotle cauliflower, and pickled onions (on page 109 of my book)
Saturday lunch:  Wild Rice Salad  (using leftover wild rice if you made the second soup option)
Sunday:  Homemade wood fired pizza night at my parents house! We serve pizza with Italian white bean and tuna salad with capers from my cookbook (I will use Divina slow roasted jarred tomatoes instead of fresh) + vegetarian antipasto salad.
Here's what you can do ahead if it helps you:
Sunday: 
Make all marinades, sauces and dressings
Wash and dry all veggies 
Make Gremolata 
Make Vegan Magic Bars
Make Chocolate Bundt Cake
Make Peppermint Ganache (keep separate from cake and bring to room temp when ready to spread) 
Wednesday:  
Make wild rice
Make Cream of Mushroom Soup
————————————————–
Here's a link to my previous dinner planners. I have LOVED seeing all your creations of my recipes on Instagram.  If you make any of my recipes, please tag me @pamelasalzman #pamelasalzman so I can check them out! Click here to learn more about my online cooking classes! If you like my recipes, you'll LOVE my cookbook!