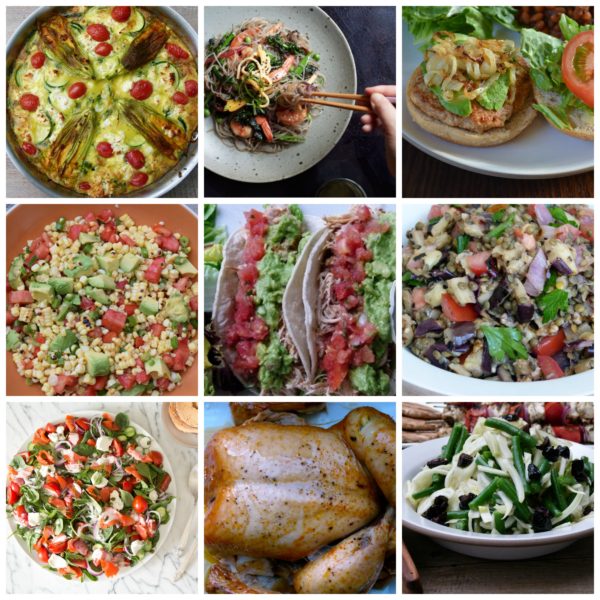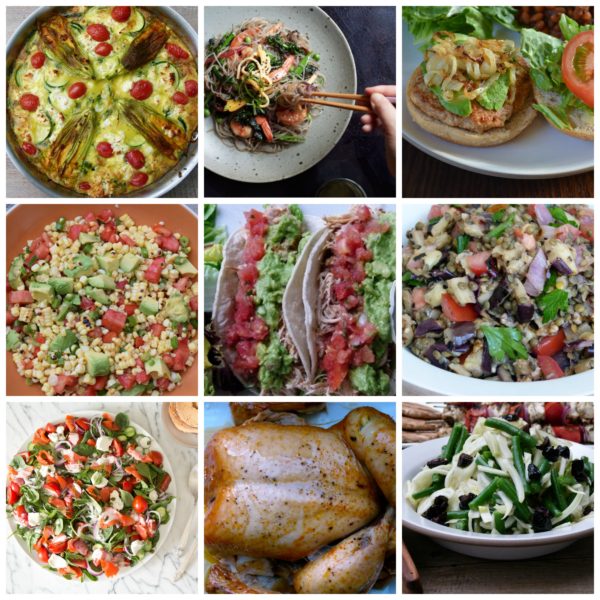 Oh, how I love summer cooking!  The farmers markets are so full of the most insanely delicious produce right now.  If you are not seeing tomatoes, eggplant, zucchini and peaches in your area, you will be soon!  This is the first week I am not making school lunch, so can I just say WOO HOO to that?!
Here's a great dinner plan to kick off summer:
Meatless Monday:  Summer garden frittata and green salad with everyday salad dressing #2
Tuesday:  Jap chae with shrimp from this month's Food & Wine
Wednesday:  Tasty turkey burgers, charred corn salad with tomatoes and avocado
Thursday:  Slow cooker chicken tacos, cilantro-lime slaw, guacamole, salsa
Friday:  Lentil and grilled eggplant salad, broiled beef souvlaki (use this recipe for chicken souvlaki and sub an equal amount of sirloin tips cut into cubes)
Saturday lunch: Deconstructed bagel and lox salad
Sunday:  Slow cooker whole roasted chicken with greek herbs (I'm going to use dried oregano, thyme and marjoram), green bean salad with fennel and olives
What you can prep ahead if you need to:
Sunday
Make everyday salad dressing #2
Wash lettuce
Prep veggies for stir-fry
Wednesday
Form turkey burgers in the morning if you want
Shred cabbage for slaw
Make dressings for eggplant, beef marinade and lox salad
Here's where you can find all my previous dinner planners.