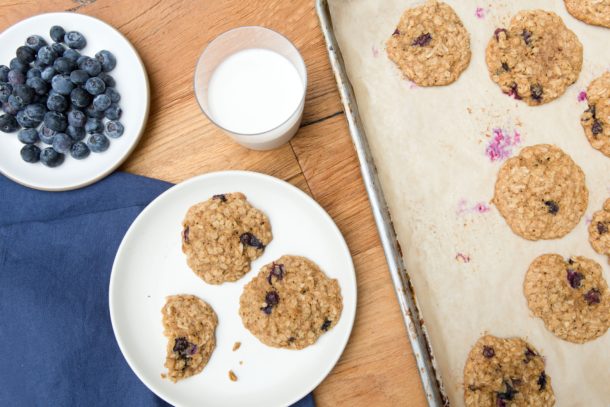 I think there might be more than a billion cookie recipes out there.  Perhaps that is a slight exaggeration, but there are more cookie recipes than you and I can make in our lifetimes.  So thinking about the fact that there are zillions of cookie recipes at our fingertips, how come oatmeal cookies and chocolate chip cookies are the ones we always turn to?  They're at every bake sale, picnic, BBQ, bakery, and in every dream I have about eating a dozen cookies in one sitting.  When I offer to bake homemade cookies for my family, what do you think they ask for? Yep!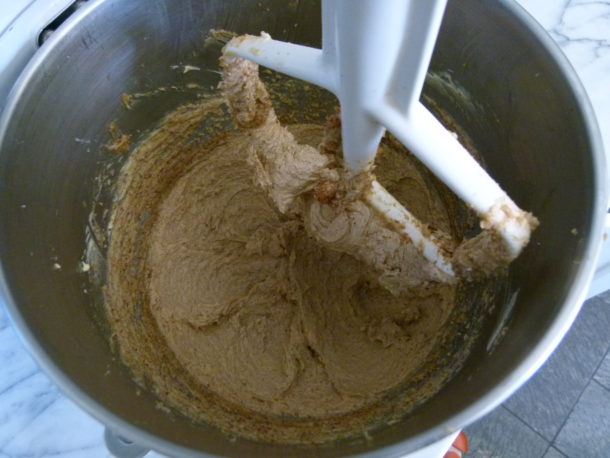 So instead of reinventing the wheel all the time, I decided to put a seasonal twist on my husband's favorite, the classic oatmeal cookie.  He absolutely loves blueberries and I add them regularly to his pancakes, waffles, oatmeal, yogurt parfaits and even salads.  I thought, why not blueberries in cookies?  It turns out these were a total winner!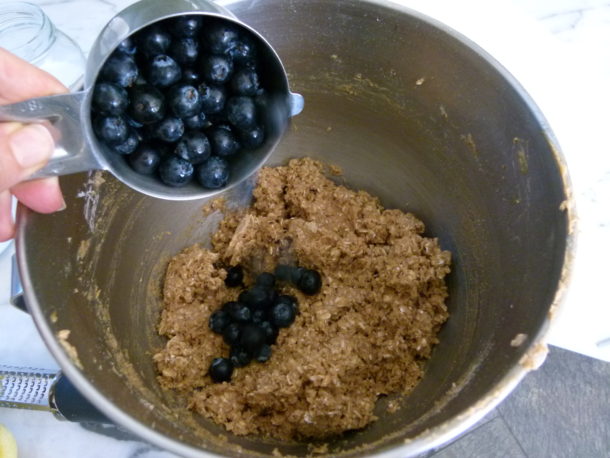 I taught these in a class a few years ago and everyone loved them.  They're not too sweet, crispy on the outside and chewy on the inside, and made with whole grains.  I baked them two different ways — one with lemon zest, which I preferred, and one without.  My kids, of course, preferred them without the lemon.  But I am here to tell you that an oatmeal cookie with fresh, burst blueberries is downright delicious and just the treat to make you feel like it's really summer.
The downside of using fresh blueberries in a cookie is that the cookies get soft after a day.  I did remedy that by taking these cookies two days after they were baked and putting them in the dehydrator to crisp them up again.  I am sure the oven at 250 would do just as good of a job.  But if you want the flavor of blueberries and these to last longer, you can absolutely use dried blueberries which worked great for me as well.  And then you can have these when blueberries are out of season, too.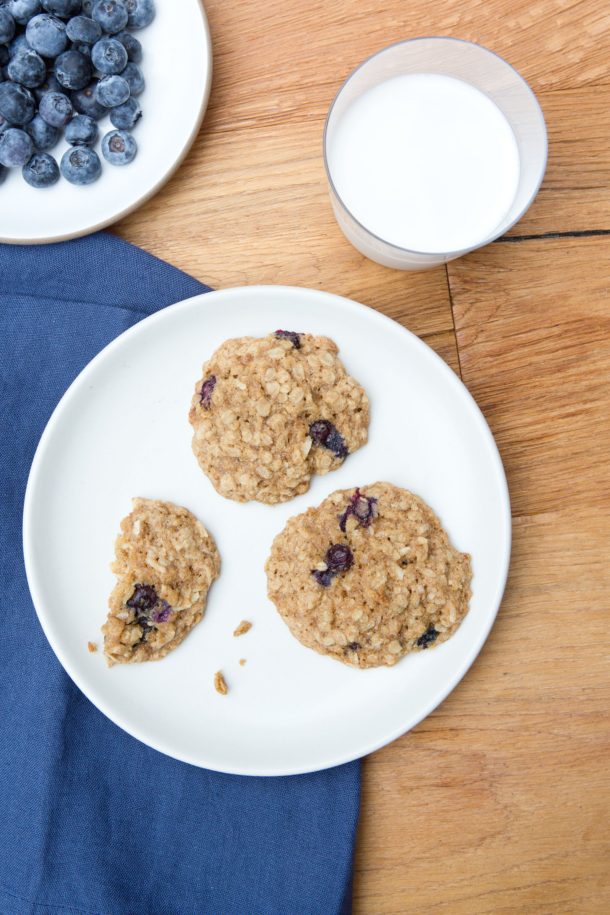 My husband always prefers thin, crisp cookies to thick, pillowy ones.  So I flatten these slightly before baking.  Feel free to not flatten them for a thicker cookie.  Ironically, after I made these cookies the first time, my husband declared, "Wow!  These are fantastic!  You know what would make them even better? ……..Chocolate chips!"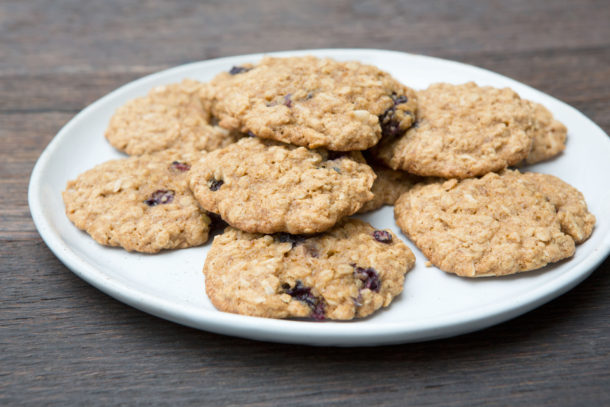 Blueberry Oatmeal Cookie Recipe
Ingredients
½ cup (1 stick) unsalted butter, at room temperature
½ cup muscovado sugar, coconut sugar or brown sugar
¼ cup organic cane sugar
1 large egg
1 teaspoon pure vanilla extract
1 cup whole wheat pastry flour, all-purpose flour or GF flour blend*
½ teaspoon fine grain sea salt
½ teaspoon ground cinnamon
½ teaspoon baking soda
zest of 1 small lemon (optional)
1 ½ cups rolled oats (look for labeled GF oats if necessary)
½ cup unsweetened shredded coconut
¾ cup fresh or frozen blueberries, the smaller the better, or dried blueberries
Instructions
Preheat oven to 375 degrees. Prepare two baking sheets with unbleached parchment paper.
Cream the butter using a stand mixer or hand mixer. Add sugars and continue to cream until light and fluffy, about 4 minutes. Add egg and vanilla, cream until smooth and velvety.
In a small bowl combine the flour, salt, ground cinnamon, and baking soda. Slowly add the flour mixture to the mixing bowl with the butter, stirring until well combined.
Remove bowl from mixer, and using a spatula add the oats and coconut. Fold the mixture until evenly incorporated. Add the blueberries and fold again until evenly distributed.
Scoop 1 ½ Tablespoons of cookie dough, shaping the dough with your hands to create a round ball, and place onto the prepared baking sheets, with about 1" of space in between each. Press down on each cookie to flatten slightly.
Bake for 12-14 minutes, until slightly browned on the bottom. Cool for 2 minutes and then transfer cookies to a cooling rack.
Notes
*If using GF flour, add ½ teaspoon of xanthan gum.