Some consider Memorial Day the start of summer, while others like to think of June 21st as the truly official beginning.  I say summer starts on the day after the last day of school.  So for me, summer just started this week and I couldn't be more excited!  I am winding down my June classes and I have been sharing some fun things and tidbits in class that I am sharing with you for the next edition of Five Friday Favorites.  Happy start of summer!
Fabanaise
Sir Kensington is a brand that is relatively new to the scene and got its start by selling gourmet ketchup. The company's popularity grew quickly and so did the brand as they expanded into other condiments such as mustard and mayonnaise. I love their products and think they are delicious and are made with clean ingredients. Recently they came out with a vegan mayo, which they coined "Fabanaise." They tell the story in a very cute way on their website, but essentially what they did to come up with this product that is so unique is by using a product called aquafaba. Aqua-what?
Well, the word aquafaba actually means "bean liquid" in Latin, and in this case it is the cooking liquid of chickpeas! It is somewhat mind-boggling, but this liquid actually has properties that allow it to emulsify similarly to an egg yolk. Sure enough, a quick Google search will allow you to see the creativity people have used this unique liquid for making meringues, Pavlovas, mousses and even marshmallows! And Sir Kensington has used the aquafaba to make vegan mayo! The rest of the ingredients in Fabaniase are pretty clean including some vinegar, lemon juice, salt, pepper and sugar. The oil used is sunflower oil, which although is not my fave I would tend to favor over worse offenders like canola and soybean. They even have a chipotle version as well which I think would be great on veggie burgers and fish tacos!  The taste is really clean and creamy and I can enjoy this as a substitute for mayo any day. Check out the website to see where you can get Fabanaise near you!
Superfood Spotlight:  Flax Seeds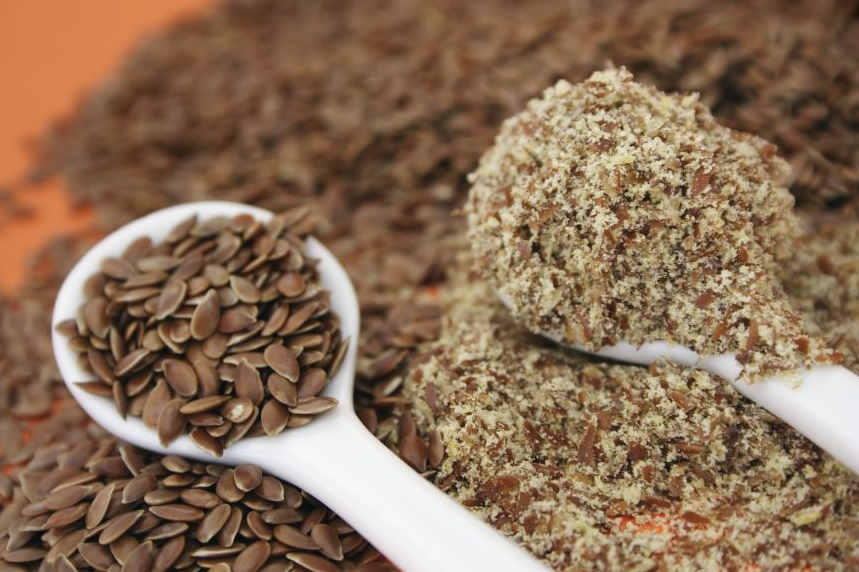 With all of the hype around chia and hemp seeds these days, I feel like flax has kind of taken a backseat as far as superfood seeds are concerned. However, when it comes to ALA, the ever-so-important Omega-3 fatty acid, flax seed is king, containing more of these valuable fats than any other plant-based foods. Flax seeds are also high in fiber and magnesium, which can help boost energy. There is one hitch with flax seeds, however, and that is that in order to receive all of these health benefits and nutrients, flax seeds first must be ground. Unfortunately these little oily seeds cannot be digested whole and will instead just go right through your system without being absorbed. So no big deal, we can just buy pre-ground flax meal right? Unfortunately, that's not a great idea.
As soon as the flax seeds are ground the health benefits start decreasing as the seeds' fragile fats are exposed to the elements—light, air, heat, etc. Flax seeds can be easily ground using a blender, food processor, or my favorite way which is the spice and nut grinder I am going to feature below! You can grind a few days' worth of flax seeds at once and store in an airtight glass container in the fridge, which will help protect the fragile fats. Ground flax meal is super versatile and can be used as an egg substitute (think in terms of binding, for baking purposes) by mixing 1 Tablespoon of flax meal with 3 Tablespoons of water and letting it sit for 15 minutes to thicken. I have also used ground flax meal in quickbreads, muffins (check out my blueberry flax muffins), and pancakes for some added nutrition. Flax meal can also be sprinkled on porridge, smoothie bowls, even tucked into burgers!
Cuisinart Spice and Nut Grinder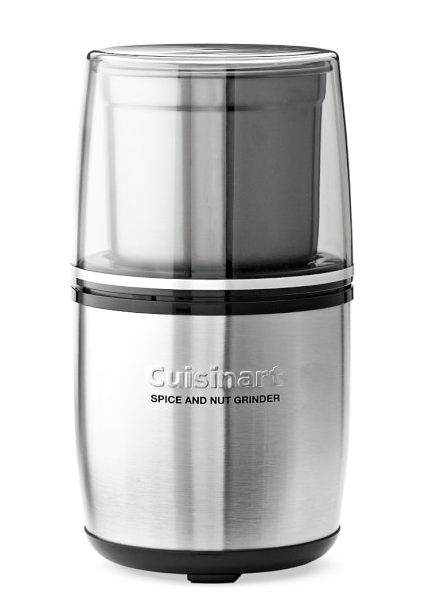 I love when I can use a small kitchen appliance to make really easy work of something. It makes cooking so much more enjoyable and I am happy to spend money on something that I will find useful often and have for years to come. Enter this Cuisinart spice and nut grinder, which I have had for years, but have been using in my classes this month to make flax meal for strawberry jam muffins! As I explained above, this machine is really handy for grounding fresh flax meals, which is reason enough to have this. However, if you have the time and can grind your own spices as well, that will really take your cooking to another level. One day I'll get around to toasting up cumin seeds, mustard seeds, whole cloves and nutmeg, you name it, and grinding them fresh in this little machine.
This grinder can also make nut meals and it can even grind up whole grains like millet and spelt to make flours! The possibilities really are endless here and I think you will find many purposes for this great little machine. The obvious and probably most common use here would be to grind fresh coffee beans. However, I do recommend having a separate grinder for that task as the beans are just too potent and the smell will leach into your seeds and spices. This is more effective than a mini food processor and can grind much smaller amounts than can be done in a blender (if you try putting a few tablespoons of flax seeds into your blender to grind into meal, you won't have much luck). This grinder is available at most kitchen stores like Williams Sonoma, Bed Bath and Beyond, and Crate and Barrel. It is also available on Amazon for the same price with free prime shipping!
Trader Joe's Graham Cracker-Sized Chocolate Bars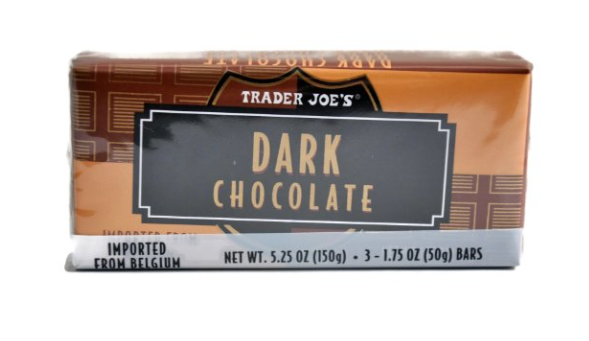 With summer rolling in as we speak, there is no better time to feature these Trader Joe's chocolate bars that are perfect for one of summer's most popular desserts: S'mores! These chocolate bars are actually the exact size of a graham cracker and the ideal thickness for a perfect S'more. I can never break or cut chocolate bars to fit a graham cracker perfectly, and I feel like the standard chocolate bar is just too thick to give you that perfect ratio of cracker to chocolate to gooey. Unfortunately there aren't any great marshmallows on the market, even though there is now everything from vegan to gluten-free, they all contain scary oils, sugars and stabilizers. My solution to this is to use roasted bananas in place of marshmallows (check out my post for Grilled Banana S'mores), but you could also spread a slab of nut butter, dollop of homemade whipped cream or whipped coconut cream, or even fresh or roasted sliced strawberries or apples would be delicious!
Seasonal Produce:  Watermelon

Watermelon is the quintessential summer fruit that we associate with BBQ's, soccer games, and snacking. While it is absolutely refreshing, hydrating, and delicious, this melon packs a punch of nutrition as well. Studies have recently shown that watermelons contain more lycopene- an antioxidant which is linked to decreased risk for cancer and heart disease- than tomatoes, which previously was the main source for this antioxidant. Watermelons also contain tons of Vitamin C, and are, as I'm sure you can guess from the name, 91% water, which is why this fruit is at it's peak season in the summer when we need to stay hydrated the most. And this melon is not just for snacking, either. It is actually super versatile and you can use is in salads such as this one here where it is mixed with tomatoes, mint and feta cheese (don't knock it till you try it!). I also love this watermelon agua fresca that is so refreshing and delicious. Have you ever tried grilled watermelon with a little lime and sea salt? Delish! When choosing a watermelon, you want to find one that is heavy for its size, has a smooth rind with a dull top, and makes a hollow thump when you hit it lightly. Check out some of these recipes using watermelon from around the web!
Watermelon Salsa from Gimme Some Oven
Watermelon Salad with Balsamic and Goat Cheese from Damn Delicious
Coconut Watermelon Slushie from Minimalist Baker
Grilled Watermelon with Yogurt from Food and Wine