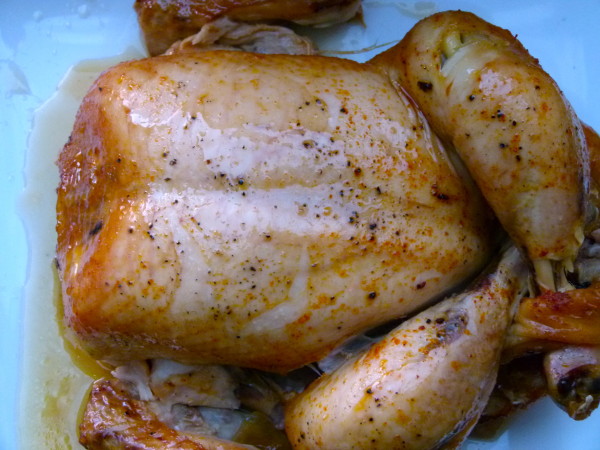 Daughter #2 asked me the other day if I was "ever going to put that thing away?"  She was referring to my slow cooker, of course.  Not that Daughter #2 is complaining since she's the first one to the dinner table every night and has always been the easiest one to cook for.  But she had a point.  That slow cooker has has become part of the family!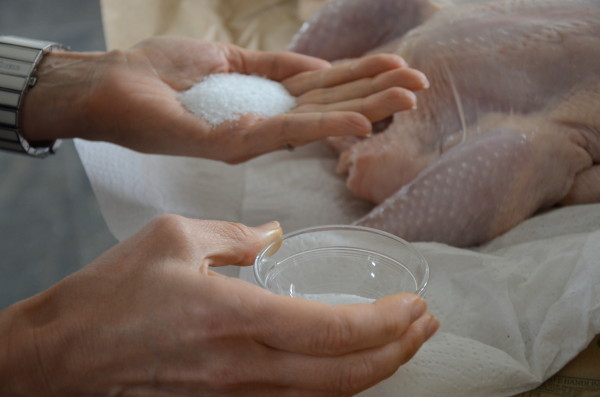 But I wasn't about to shelve my new baby so soon.  Just when I thought cooking a whole chicken couldn't get any easier, I decided to put my Easy No-Fail Roast Chicken method to the test in…the slow cooker.  Believe me, I don't normally mess with the easiest, most popular dinners in my repertoire.  But roasting a whole chicken is something that needs to be started well before I get home some days and I need a back-up.  That and I was on a roll and feeling lucky, so I figured this was going to work like everything else I've been trying.  I decided to prep the chicken in basically the same way I do an oven-roasted chicken — rubbed on the inside and out with some kosher salt early on, stuffed with a bit of fresh thyme and some crushed garlic and cooked on a bed of onions.  I usually add cut lemons to the cavity, but I was nervous that cooking the lemons for a long time would result in a bitter taste, so I left those out.  The only other change I made was to rub the outside of the chicken with a little olive oil mixed with paprika so that the skin would get a little color and not be pale and unattractive.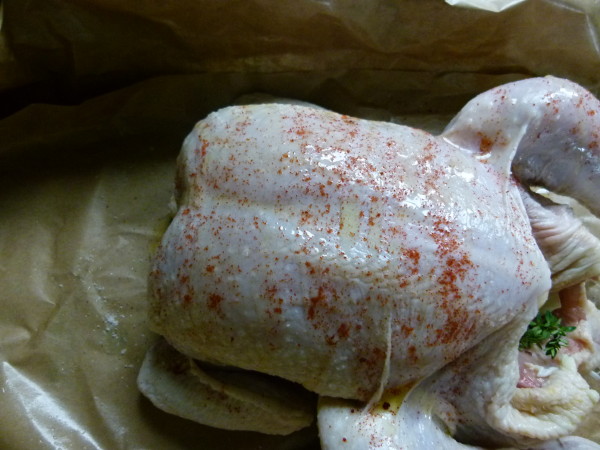 The conclusion is that I think I should call this recipe "Easier than Easy No-Fail Roast Chicken and Still So Darn Good."  The chicken was predictably fall-off-the-bones.  In fact, I had a hard time getting the chicken out of the slow cooker in one piece!  My kids love super soft meat and my husband likes chicken that is beyond well done.  I've made chicken once or twice a week for the last 17 1/2 years and he has asked me every single time if the chicken is cooked through.  No comment on whether or not that is annoying since my husband occasionally reads my blog AND Valentine's Day is coming up.  Get my drift?  My point is that this chicken satisfies everyone, including me since it takes all of 5 minutes to prep and you can do it 8 hours before you want to eat dinner.  "Is this cooked through?"  "Darling, it's been cooking for 8 hours."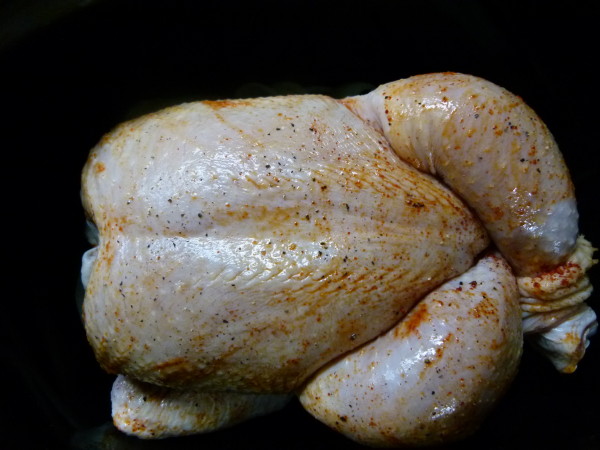 So you all know I am completely obsessed with making homemade chicken stock.  I swear, if teaching cooking classes and blogging doesn't work out, I will go into the homemade stock-making business.  The world must know the goodness of homemade stock somehow!  So before I served this chicken to the family, I removed and reserved all the bones.  I put the bones back in there with a chicken back I had in the freezer plus some stock veggies (onions, carrots, celery) and water and I made chicken stock overnight.  It was delicious.  And because there was no skin and foam and such, it turned out to be such a clear stock with minimal fat.  It's crazy not to try this!  (Sorry I don't have photos.  It was too dark in my kitchen and the images didn't turn out well.)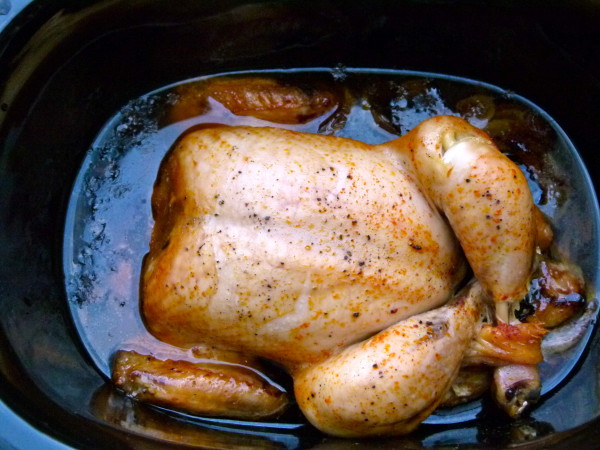 Cooking a whole chicken in a slow cooker opens up so many possibilities for what you can do with the meat.  You don't have to cut the chicken into traditional breast, thigh, drumstick pieces.  You can use the meat just as you would rotisserie chicken meat and heaven knows there have been more articles on what to do with rotisserie chicken meat than how to get your baby to sleep through the night.   Just to remind — chicken soup, enchiladas, tacos, pot pie, sandwiches, salads and so on.  For those of you who do not have a slow cooker and feel excluded, please revisit the Easy No Fail Roast Chicken Recipe.  I still love you and I will put away the slow cooker and come back to you.  Eventually.  Wink, wink.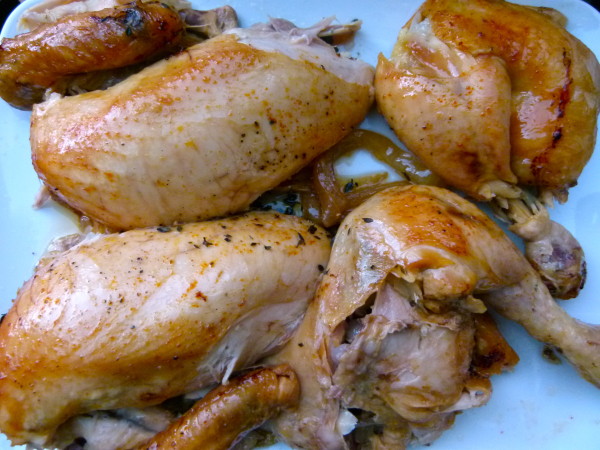 Slow Cooker Whole Chicken and Stock
Ingredients
1 whole roasting chicken, about 4-5 pounds (save the neck for stock)
kosher salt and freshly ground black pepper
4-5 cloves garlic, crushed
½ bunch fresh thyme or a couple sprigs of fresh rosemary
2 Tablespoons unrefined olive oil
1-2 teaspoons paprika
1 brown onion, peeled and sliced into thick slices
For the stock:
Some additional bony chicken pieces if you have them, such as backs, necks, wings and/or feet, up to 2 pounds
2 brown onions, cut into large pieces
3 carrots, cut into large chunks
3 celery stalks, cut into large chunks
1 Tablespoon apple cider vinegar
water (amount depends on size of your slow cooker)
Instructions
When you get home from the market, unwrap the chicken and remove any giblets from the cavity. Save the neck for stock.
Take a heaping tablespoon of kosher salt and rub it around the inside of the cavity. Any remaining salt on your hands can be rubbed on the outside of the chicken. Rewrap the chicken and refrigerate until ready to cook. This can be done up to two days in advance.
The day you are making the chicken, remove it from the wrapping and sprinkle a few pinches of black pepper, as well as the garlic and thyme in the cavity of the chicken.
Truss the chicken by tying the legs together. Rub the outside of the chicken with olive oil and paprika.
Place the onion slices on the bottom of the slow cooker insert and place the chicken on top of the onions. You do not need any liquid, I promise. Cover and cook on LOW for 7- 8 hours or HIGH 4-5 hours.
Serve with the cooked onions and pan juices, if desired.
Notes
Leave whatever you didn't use in the slow cooker (juices and onions).
Remove all the bones from the entire chicken and place in the slow cooker with any additional chicken parts you have, including the neck from the chicken you just cooked. Add vegetables, vinegar, and enough water to come up to about an inch from the top.
Cover and cook on LOW for 8 hours or overnight. My slow cooker automatically goes to WARM mode after 8 hours.
Strain and use immediately if you don't see too much fat at the top or cool slightly and refrigerate. When cold, skim and discard any fat from the top. Stock can be kept in the refrigerator for up to 4 days or frozen for up to 3 months.