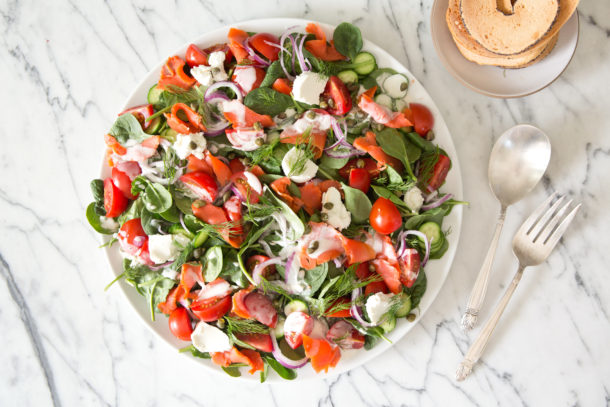 I accept with gratitude the privilege of growing older, so I don't want to complain about it.  But.  Every 5 years or so, I get away with less and less with respect to what I can eat.  Sure, I could exercise more.  But I'm kind of busy and I already exercise a healthy amount.  One of those foods that is over for me is the bagel.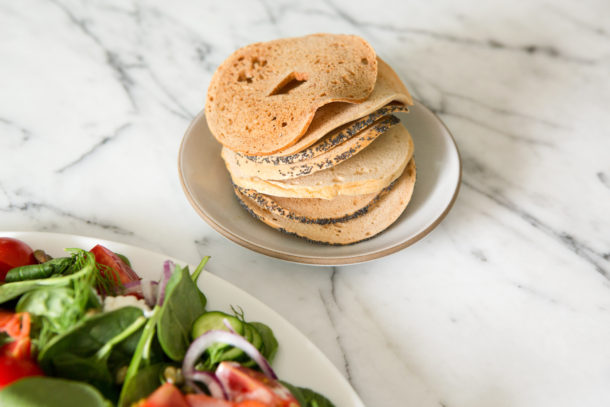 Bagels are nothing anyone really needs in his or her life.  They are completely devoid of nutrition and loaded with simple carbohydrates (and I mean loaded) which turn into sugar lickety split (and then the pro-inflammatory hormone insulin surges and fat gets stored.)  Even if I were to exercise like a maniac to burn off so many carbs, there's the fact that I don't feel great after eating a bagel.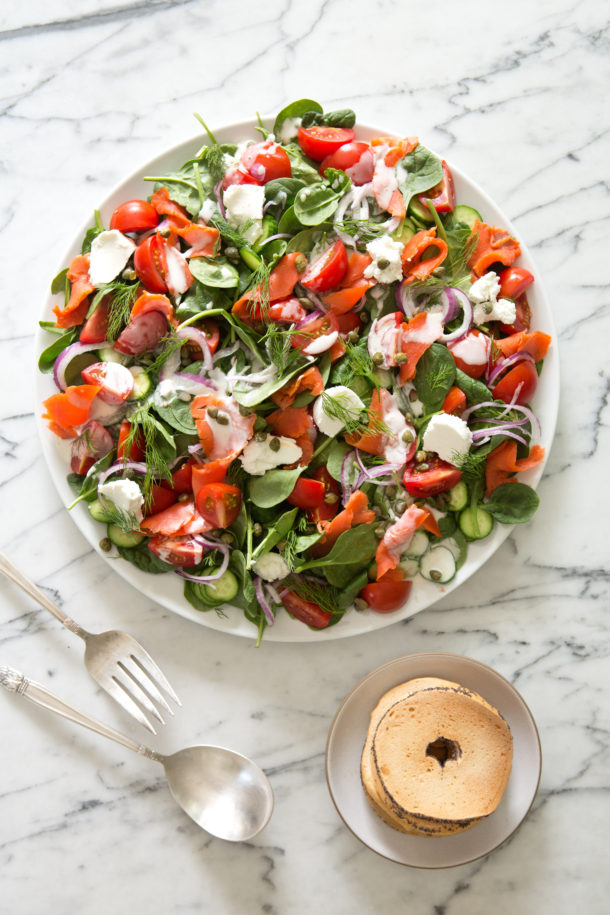 But one of my favorite weekend breakfasts used to be a bagel, lox and cream cheese with the fixings, i.e. onion, tomatoes, and capers.  One day, I gave up the cream cheese in favor of avocado, a much more nutritious option.  And soon enough I was ditching the bagel in favor of a whole grain bread.  And you can see how it has evolved from there.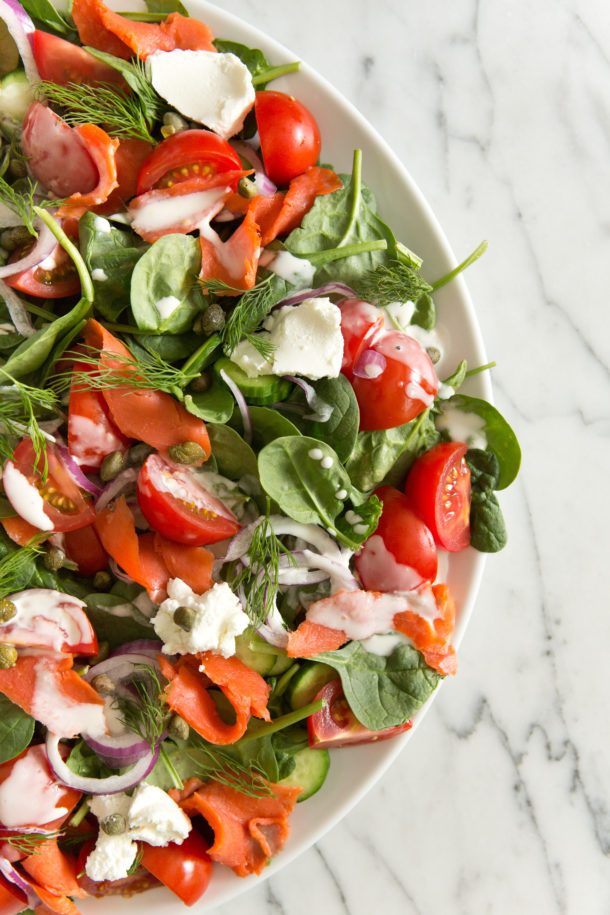 This deconstructed bagel and lox salad has been the most popular recipe in my cooking classes this month.  It has all the flavors of a lox platter, but with tons of nutrition and so much flavor.  I am naming this "the perfect brunch recipe."  The base of this salad is spinach, which I need to remind you all is just as nutritious as kale, but lacking the fancy PR firm.  Add in wild smoked salmon (so rich in anti-inflammatory Omega-3 fats), tomatoes, cucumbers, red onion, capers and dill — what else do you need with your bagel and lox?  Oh, right — cream cheese.  Thats where the goat cheese comes in and it takes this salad from delicious to divine!  Omit it if you need to make this dairy-free and substitute avocado.  Lastly a lemony, creamy (but dairy-free) dressing finishes off the whole thing.  You don't even need the bagels, but I put some bagel crisps on the side just for fun.  One crisp is all you need and it's about 1/10th of a bagel, nothing to feel guilty (or bloated) about.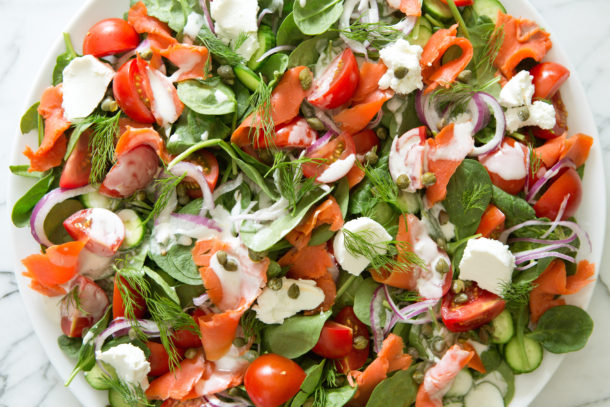 Sorry I don't have any process shots.  I screwed up and I thought I had taken some, but I didn't.  My brain is overloaded at the moment with my kids' graduation and promotion and a big project I am working on which I'll tell you about soon.  In the meantime, I hope these images will suffice and I strongly encourage you to make this salad for Father's Day breakfast, brunch or lunch.  It is sure to please!!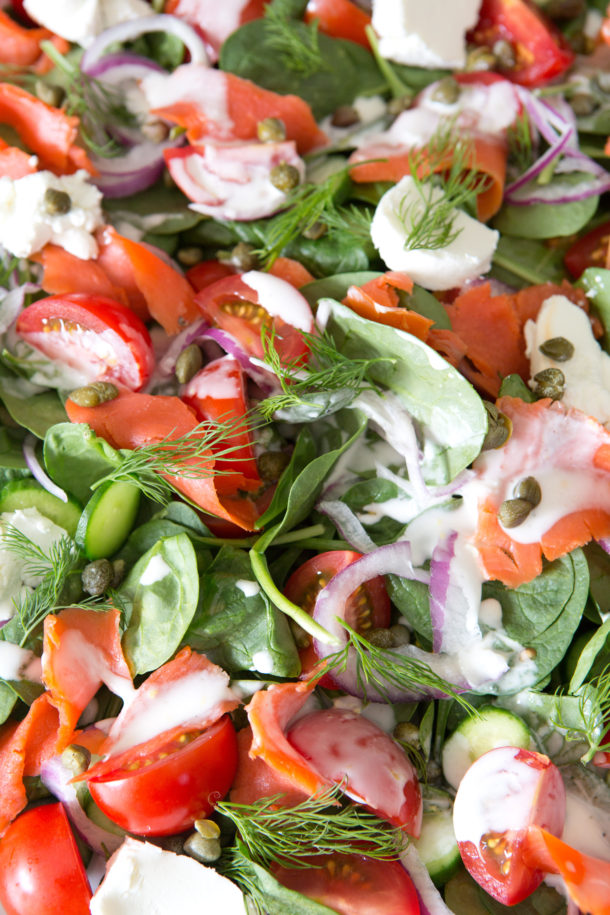 Deconstructed Bagel and Lox Salad Recipe
Ingredients
For the dressing:
½ cup good quality mayonnaise or soy-free Vegenaise
2 Tablespoons water
¼ teaspoon lemon zest
1 ½ Tablespoons fresh lemon juice
1 small garlic clove, minced
½ teaspoon Dijon mustard
pinch sea salt
freshly ground black pepper to taste
6 ounces baby spinach leaves
1 cup sliced Persian cucumber, about 1 large
2 cups quartered or halved small tomatoes
6 ounces smoked salmon, cut into strips
4 ounces goat cheese, crumbled (optional*)
⅓ cup thinly sliced red onion (about ¼ small onion)
2 Tablespoons capers, drained and patted dry
2 Tablespoons fresh dill fronds, removed from tough stems
8-10 whole wheat bagel crisps**, either store bought or homemade
Instructions
In a medium bowl, whisk together the mayonnaise, water, lemon zest and juice, garlic, mustard, salt and pepper.
Arrange spinach leaves on a platter. Top with cucumber, tomatoes, salmon, goat cheese, onion, capers and dill. Arrange the bagel crisps around the edges of the platter, tucking them under the salad.
Drizzle with dressing and serve.
Notes
*Sub avocado for goat cheese or just omit it altogether.
**To make your own bagel crisps, cut 2 bagels crosswise into ¼" slices. Brush both side with olive oil and bake at 350 degrees for 20 minutes, flipping them over halfway through.