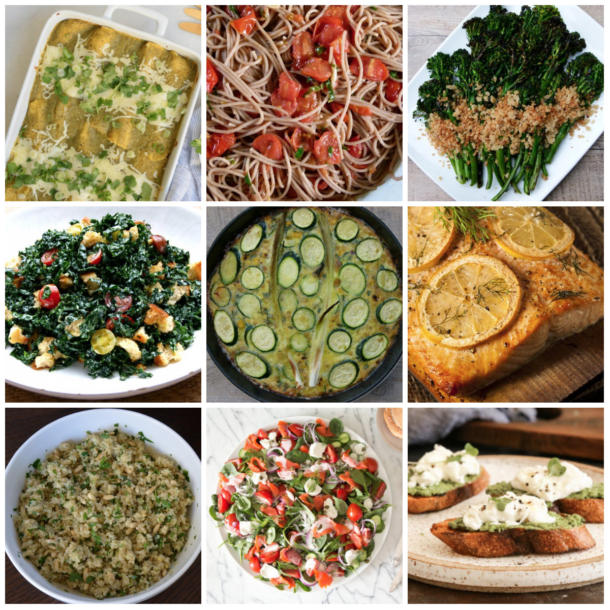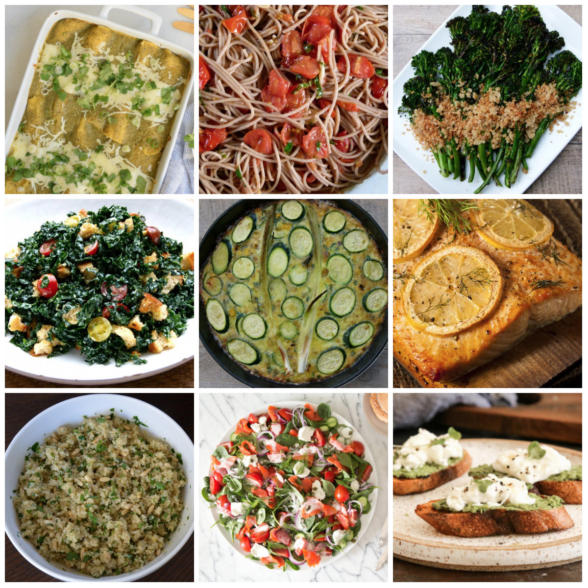 This was a busy week!  I started my new breakfast menu this week and it is crazy good!  Having the best time teaching it.  If you subscribe to my monthly classes, the breakfast menu will be released towards the middle of July.  I just filmed the next class which will be released in a week or so.  If you are an online cooking class member and you have joined the private Facebook page, I'll be LIVE Saturday morning (June 9th) at 9:00 am PST/12:00 EST.  Bring all your questions and we'll get into it!
Here's your dinner planner for the week:
Meatless Monday: Roasted vegetable and black bean enchiladas
Tuesday: GF pasta with 5-minute cherry tomato sauce, grilled broccolini with parmesan breadcrumbs
Wednesday: Sweet and smokey lickity split chicken from my cookbook, kale salad with creamy lemon dressing
Thursday: Corn and zucchini frittata, green salad with everyday salad dressing #2
Friday: Cedar plank salmon, grilled eggplant, lemon and cumin scented quinoa
Saturday Lunch: Deconstructed bagel and lox salad (this would also be an awesome brunch for for a Father's Day)
Sunday: Father's Day! Here are a few options (there are plenty more though) to make for the dads in your life:
Meat and Fish
Spiced halibut and lime skewers
Deconstructed Bagel and Lox Salad
Vegetarian
Banana French Toast Casserole from my cookbook
Sides
Grilled corn and black bean salsa
Pea pesto and burrata crostini
Chopped grilled vegetable salad
Sunday
Make enchilada sauce
Prep and roast vegetables for enchiladas and store in the fridge
Wash/dry greens/lettuce and herbs
Make parmesan bread crumbs
Make salad dressings
Tuesday
Season chicken with spice rub and store in the fridge
Make breadcrumbs for kale salad
Thursday
To save time, make the quinoa side dish and refrigerate (it's super yummy the next day)
Here's a link to my previous dinner planners.
I have LOVED seeing all your creations of my recipes on Instagram.  If you make any of my recipes, please tag me @pamelasalzman #pamelasalzman so I can check them out!
Click here to learn more about my online cooking classes!
If you like my recipes, you'll LOVE my cookbook!