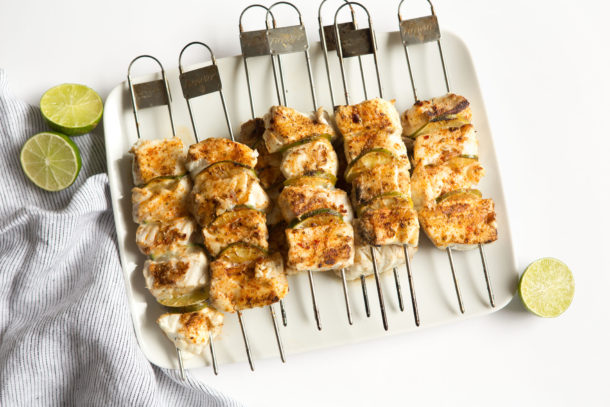 I don't know about you, but to me the perfect recipe is one that is tasty, easy, healthful, and appeals to everyone in my family.  That is a tall order for sure.  Most people that I talk to in my classes struggle with having a wide range of great entree recipes and that's where I have a hard time, too.  I only like seafood, but my younger daughter doesn't.  My husband likes everything well done, but I don't.  My son likes everything plain and simple, but the rest of us like strong flavors.  You know how it goes.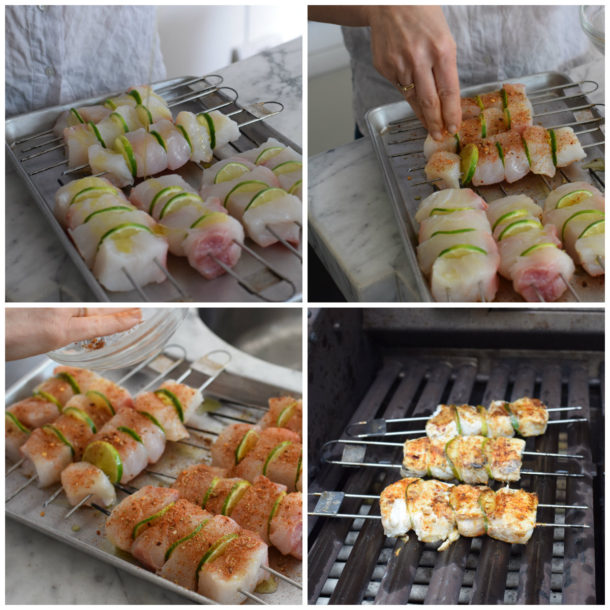 These halibut skewers are my idea of perfection.  They're dead simple to make.  The halibut is mild enough for the kids, but the spice rub is flavorful enough for me.  Plus they're light and healthy and they go with anything else you're making.  The spice rub has a hint of cumin and a pinch of crushed red pepper, which I will remind, does not make anything spicy, just delicious.  I love lime with fish, even more than I like lemon with fish.  And although these thin slices of lime aren't great to eat because the skin gets a little bitter, they impart just the right amount of flavor to the fish.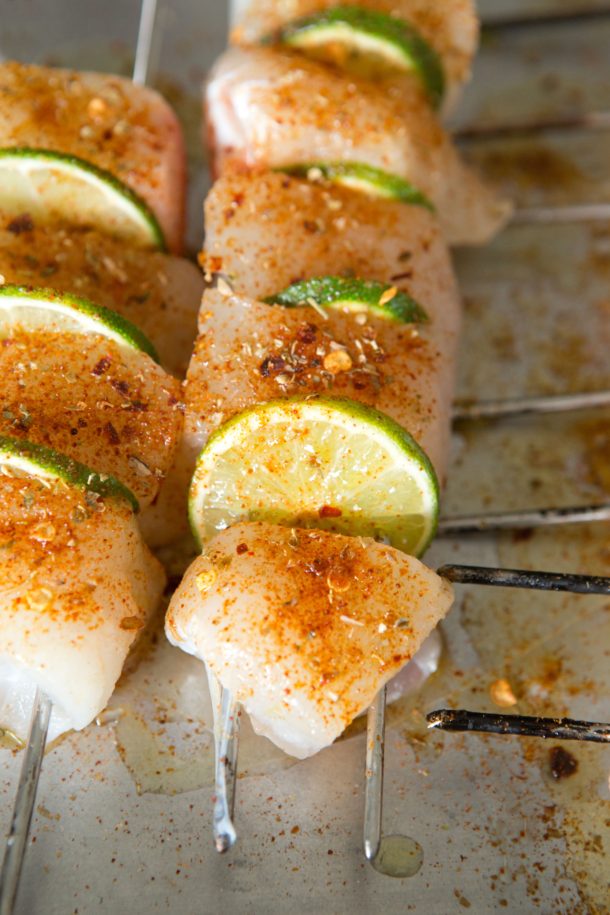 It is wild fish season right now, so you should be able to find fresh, wild halibut in your local market.  If you have some in the freezer, that'll work too.  In the off-season, I buy 5 pound random weight boxes of wild halibut from Vital Choice, although that product doesn't exist at the moment.  I have also purchased excellent frozen wild halibut from Costco.  The best halibut is from Alaska, but you can also use salmon in this recipe.  If you have trouble knowing how to make good choices with seafood, you can check out SeafoodWatch.org, an organization which makes recommendations to help you choose seafood that's fished or farmed in ways that have less impact on the environment.  They also have a free app, which is updated regularly.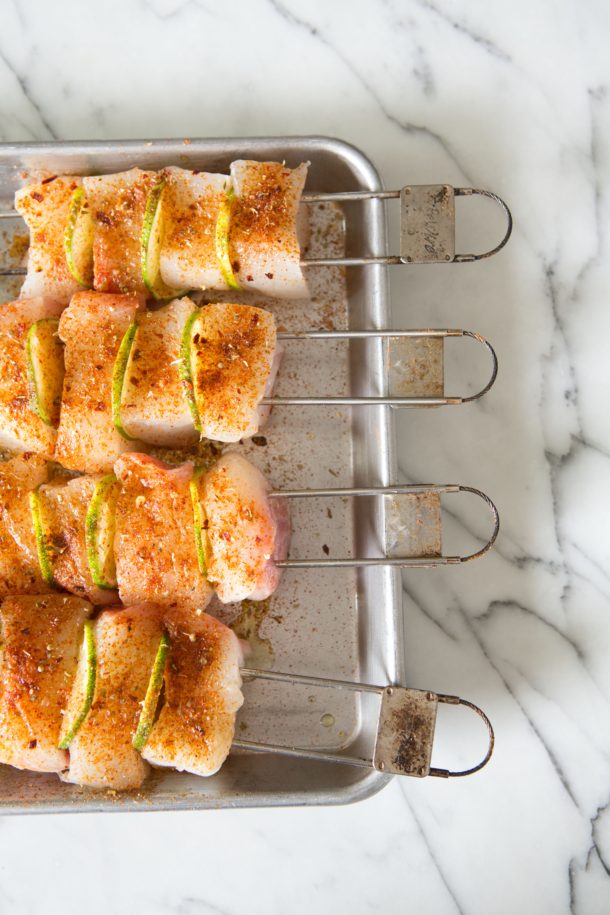 I thought these would be perfect for all your summer entertaining needs, as well as a great addition to a Father's Day BBQ.  Just to remind, Father's Day is Sunday, June 19th!  My favorite dinner is a lovely piece of fish, or pieces skewered, and a fresh seasonal salad with some hearty elements.  As shown below, I paired it with my all-time favorite salad, my Chopped Grilled Vegetable Salad.  It's also fantastic with any kind of rice, sautéed greens or as part of a grain and vegetable bowl (I love this fish with this quinoa recipe and roasted or grilled asparagus.)  Really there are infinite possibilities.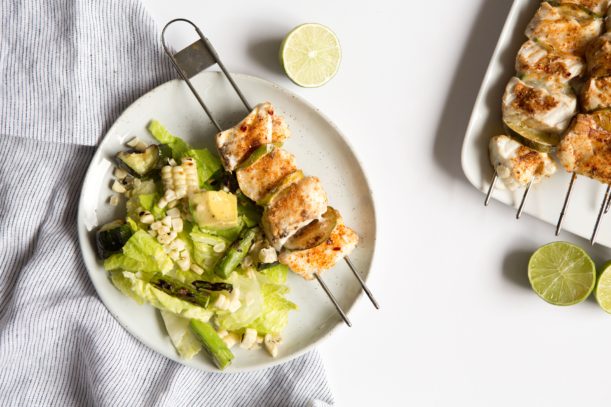 One more thing I wanted to share with you are these fabulous stainless steel double-pronged skewers.  I absolutely love them for grilling and broiling fish, chicken and meat because they prevent the cubes from spinning when you turn them.  These exact ones can be found on amazon for the best price as well as Williams-Sonoma.  There are other types of double-pronged skewers as well, such as these from Crate & Barrel.  I think that they would make a great gift for the Dad in your life!  More awesome recipes for Father's Day coming to the blog pronto!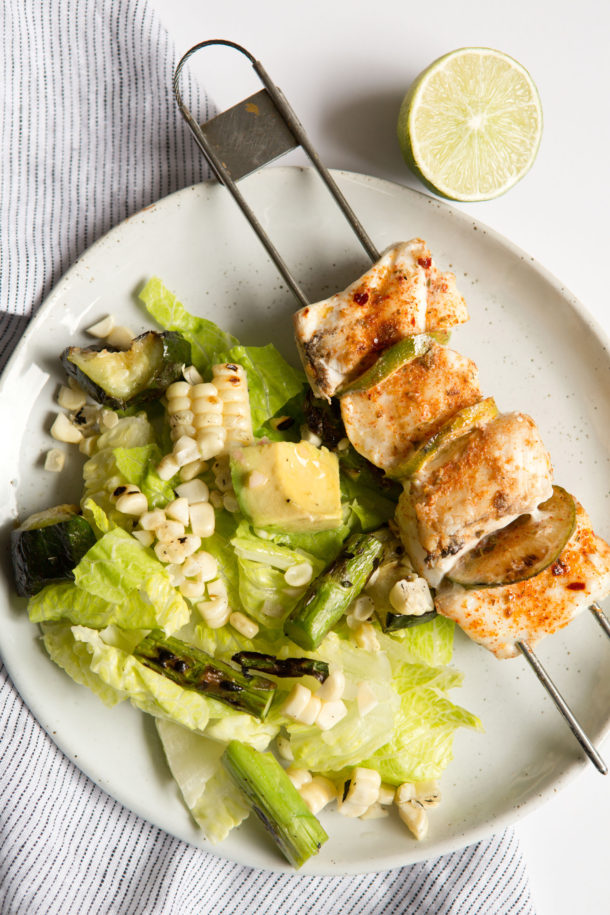 Spiced Halibut Skewers Recipe
Ingredients
¾ teaspoon ground cumin
¾ teaspoon smoked paprika
¾ teaspoon dried oregano or 1 Tablespoon chopped fresh
¾ teaspoon sea salt
¼ teaspoon crushed red pepper flakes
3 limes, divided
1 ½ pounds boneless, skinless wild halibut or other firm white fish, cut into 1-inch pieces
2 Tablespoons unrefined, cold pressed extra-virgin olive oil + additional for brushing grill
Instructions
Heat a grill over medium heat.
Combine spices and salt together in a small bowl.
Slice 2 limes very thinly into rounds.
Skewer halibut and lime slices on double-pronged or 2 parallel skewers, beginning and ending with the halibut. Brush halibut with olive oil and sprinkle both sides with reserved spice mixture.
Brush grill with olive oil and grill skewers 2 ½ to 4 minutes on each side, depending on thickness, until fish flakes easily with a fork. Cut remaining lime into 6 wedges and serve with skewers.
Notes
you can also thread cherry tomatoes or super thin ribbons of zucchini with the fish and lime.
You can make the spice mixture weeks in advance and keep in a glass jar at room temperature.
If you are using the lime slices, don't make the fish skewers more than an hour in advance otherwise the lime will "cook" the fish.