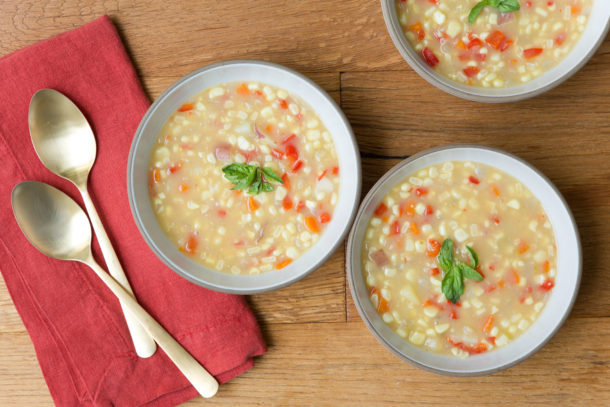 I am headed to Long Island this week and my first stop (after I say hello to my parents) is the nearest farm stand.  My father's vegetable garden is wonderful and bursting with all sorts of goodies, but there's no corn to be found.  And I can't be on Long Island in the summer without corn.  I think my father doesn't plant it because A) corn takes up too much space and B) when he was growing up on a farm in Italy, corn was fed to the pigs, not to human beings.  He just doesn't get it.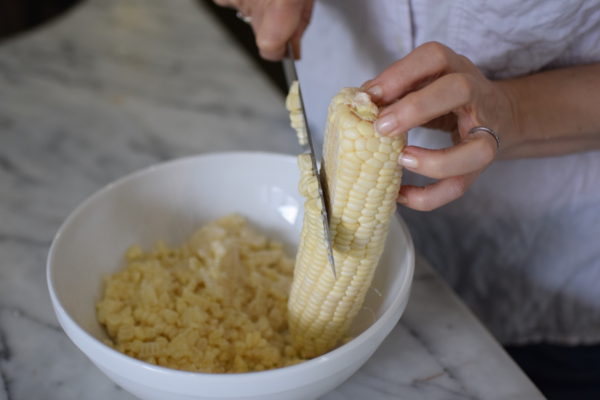 But you get it, don't you?  Americans love their corn.  Raw, sautéed, grilled, boiled, in muffins and flapjacks, whatever, love it all.  And I am not above gnawing on the cobs if no one else wants them.  I usually make something with corn once or twice a week in the summer.  How about you?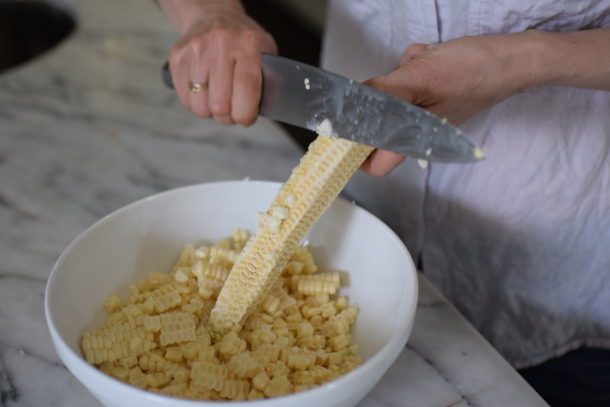 This chowder (that's really not a chowder, but a soup) is my obsession.  This soup is not technically a real chowder because it doesn't contain cream.  Or milk either for that matter.  This corn soup gets it richness from potatoes pureed in a corn stock.  Corn stock?  Yes, my friends.  Look at those cobs in the pot.  Did you know they have tons of flavor??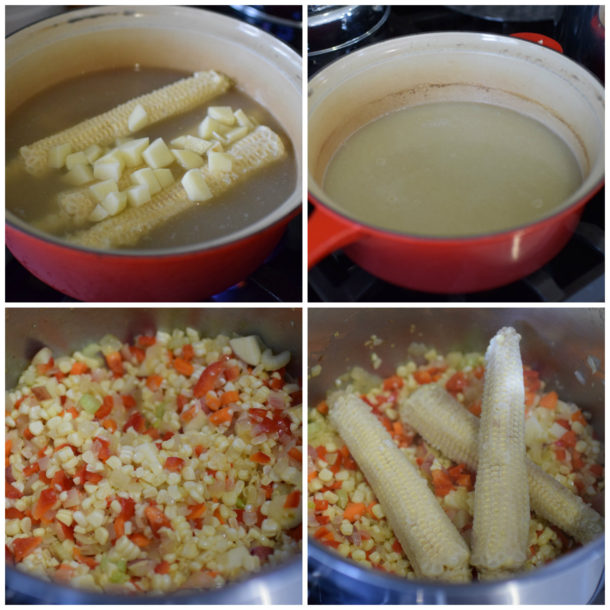 It's like a summer's farmers market in there — fresh, sweet, chunky, and silky.  So many great flavors and lots of fiber and antioxidants.  I tend to eat a little lighter in the summer and I would easily consume a huge bowl of this and call it a meal.  My kids don't always accept the concept of one thing for dinner, so I might need to put out some raw veggies and hummus for them with this soup. But everyone in my house and my classes gave this a big thumbs up.  One of my students has a few kids who aren't super open-minded about lots of visible vegetables in their bowls, so she pureed the entire soup and she said her kids were licking the bowls clean.  Is she my hero, or what?  So genius!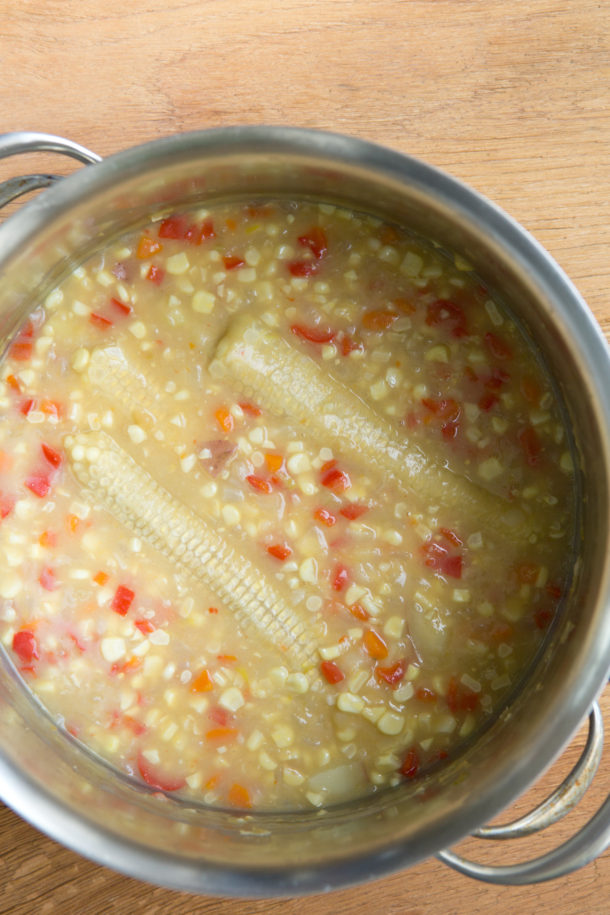 If you've hung out with me before, you know that game I like to play where I imagine all the fun tweaks you can make to a recipe? That's really fun with this soup.  Like I mentioned, you can puree the whole thing.  You can also start the soup by crisping up some (nitrate-free) turkey bacon which will add great flavor.  You can top this soup with many different herbs from basil to cilantro to chives.  It would also be great with cooked shrimp or crab on top.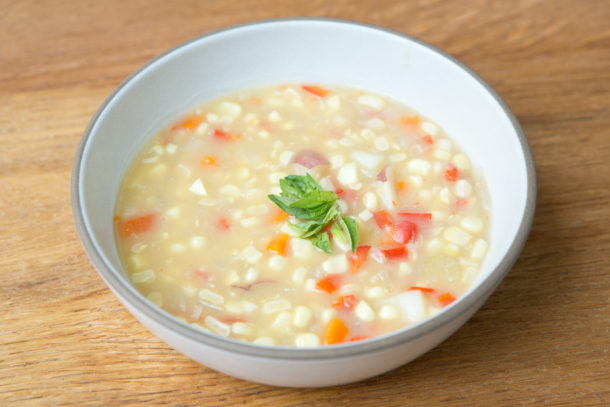 Just don't throw away those cobs once you've eaten the soup — they make for a tasty little snack!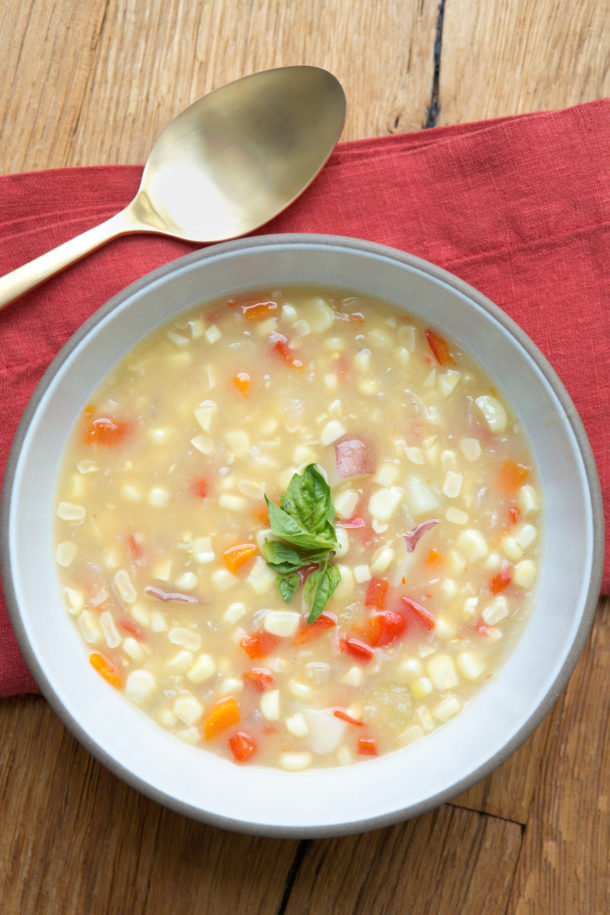 Corn and Vegetable Chowder
Ingredients
3 large ears sweet corn, kernels scraped, cobs reserved
2 cups peeled and diced new potatoes (about 1 pound) + an extra potato, diced
4 cups light chicken stock, preferably homemade, or water
2 Tablespoons unsalted butter (or unrefined, cold-pressed extra virgin olive oil)
1 Tablespoon unrefined, cold-pressed extra virgin olive oil
1 onion, diced
2 garlic cloves, minced
1 carrot, quartered and thinly sliced
1 small celery rib, thinly sliced
1 sweet bell pepper, diced
2 teaspoons sea salt (more if your stock is unsalted) + more to taste
freshly ground black pepper
chopped basil leaves for garnish (optional)
Instructions
In a medium saucepan over high heat, combine the corn cobs (halved if they fit in the pot better), 2 cups diced potatoes, and stock and bring to a boil. Reduce the heat to low and simmer for 20 minutes, or until the potatoes smash easily with a fork when pressed against the side of the pot. Remove the corncobs and place in the pot you'll use to saute the vegetables in Step 3, even if you've already started that step.
Puree potato-stock mixture until smooth (use an immersion blender or standard blender.) Reserve.
While the broth simmers, warm the butter and oil in a medium-large pot over medium heat. Add the onion and sauté for 5 to 7 minutes, until the onion is tender and translucent. Stir in the reserved corn kernels, garlic, carrot, celery, bell pepper, extra diced potato and salt. Reduce the heat to low, cover, and cook for 15 minutes, stirring occasionally, or until the vegetables are tender (especially potato.)
Add reserved stock to the vegetables. Raise the heat and bring to a boil. Reduce the heat to low and simmer for 2 more minutes.
Season with salt and pepper to taste, and serve with chopped basil if desired.