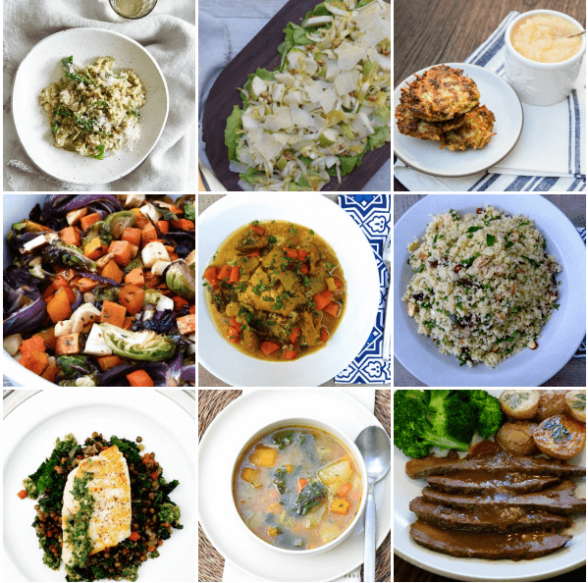 I am so excited for my daughters to come home from college this week!  We'll celebrate Hanukkah with latkes and such and then I might try to make them again in Utah, but we'll see.  I have my last book events for 2017 lined up in Malibu at Room at the Beach on Saturday 12/09 from 1:00 to 2:30 and at MILK Boutique on Wednesday 12/13 from 1:00 to 4:00.  I'll also be at Dolly's Bookstore in Park City on Thursday 12/21 from 6:30 to 8:00pm.  I can't wait to see you all!
Here's your dinner planner for the week:
Meatless Monday: baked cauliflower and rice risotto from my cookbook, substitute kale pesto for the mint pesto, endive and pear salad with walnuts and parmesan
Tuesday (first night of Hanukkah): Brussels sprout latkes, slow cooker whole roast chicken, maple mustard roasted vegetables
Wednesday: veggie fried rice with egg
Thursday: Moroccan chicken with dates, couscous with dried apricots and herbs
Friday: Seared Halibut with Lentils, Kale and Salsa Verde
Saturday lunch: rustic butternut squash soup with fennel and wild rice
Sunday: zucchini-potato latkes, onion-braised brisket, sautéed cabbage
Here's what you can do ahead of time if you need to:
Sunday
Make salad dressings
Wash lettuce, greens and herbs
Make raw cauliflower-rice or buy it
Make stock and freeze
Make pesto
Toast walnuts
You can prep all of the vegetables for the maple-mustard roasted vegetable recipe ahead of time (wait until Tuesday to cut the onion if you don't want your refrigerator to smell like onion), cover and put in the refrigerator
Cook rice for fried rice and store in the refrigerator (you want it to be cold when you make the recipe)
Thursday
Make the salsa verde for tomorrow
You could even make the braised lentils for tomorrow if you want to save time
Saturday
Make the brisket today and re-heat for tomorrow (I actually think it tastes even better the next day).
Here is a link to all my previous dinner planners.
If you would  like a signed copy of my book, please contact Pages Bookstore in Manhattan Beach.  I will be signing books there through December 14th.  You can order as many books as you like and request a specific inscription and they will mail them to you or the desired recipient!