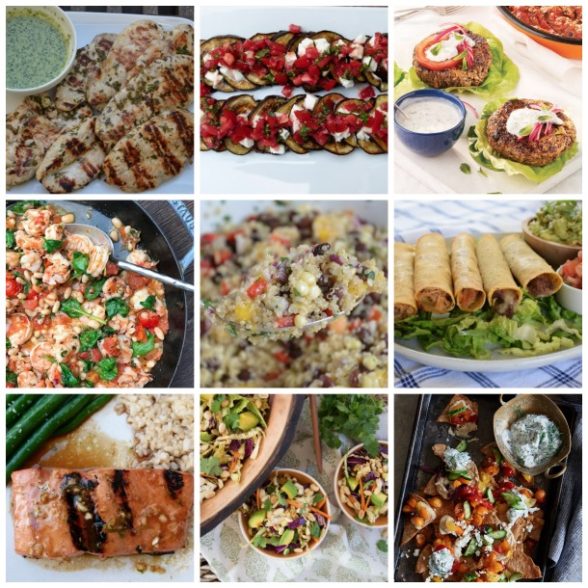 It's always funny that juuuust before school starts for us here at the beach, the weather finally gets hot and feels like summer.  We're lucky that the weather rarely makes us uncomfortable, but it's ironic the "beach days" come just after school is back in session.
Do check out the online course I developed for Clean Eating and Vegetarian Times called Batch Cooking 101.  It helps you learn how to prep ahead, set up your kitchen with the right tools, how and what to freeze, how to cook once for the whole week!  It begins on September 11, so don't waste another minute!
I hope you all have a restorative long weekend!
Here's your dinner planner for the week:
LABOR DAY!: Grilled lemon herb chicken with mint drizzle, eggplant caprese
Tuesday: miso lentil burgers from clean eating, green salad
Wednesday: Shrimp with white beans and tomatoes, grilled zucchini
Thursday: Southwestern quinoa salad, taquitos
Friday: Lime-soy fish, thai crunch salad
Saturday lunch: Greek nachos from my cookbook
Sunday: roasted vegetable tian, slow cooker whole chicken
Here's what you can do ahead if you need:
Sunday
Make marinade for chicken
Make mint drizzle
Form lentil burgers and cover in fridge
Wash lettuce for salad
Cook white beans for shrimp dish (or use canned)
Shape taquitos and freeze (or make them the day of)
Wednesday
Prep all components of quinoa salad
Make fish marinade (do not marinate fish yet)
Prep salad ingredients for Thai crunch
Friday
Salt chicken or whenever you take it home from the market
Here's a link to my previous dinner planners.